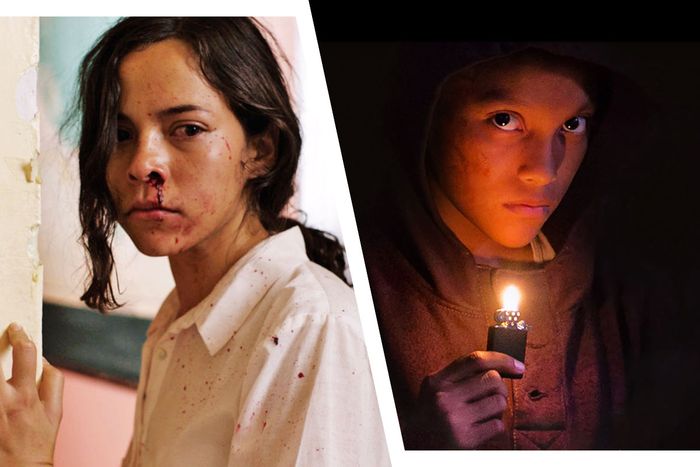 Photo: Strand Releasing and Shudder
When the words horror and Mexico are uttered in the same sentence, the name that inevitably follows in conversation is Oscar-winning director Guillermo del Toro. Sure, the virtuoso behind Pan's Labyrinth and The Shape of Water has earned contemporary recognition, but his country's tradition for scary stories to tell in the dark runs farther back in filmic history. Take for instance the movies starring wrestling icon El Santo, a Luchador enmascarado who fought mummies, werewolves, vampires, and other unworldly foes onscreen until the 1980s. Or the gorgeous tales of the occult made during the national cinema's Golden Age that bled into the 1960s. Since the early 1900s, Mexican filmmakers have conjured up terrifying ideas, from Fernando Méndez to Carlos Enrique Taboada.
Today, Issa López, director of the highly anticipated Tigers Are Not Afraid, is carrying on the tradition with her fantastical horror tale backgrounded by Mexico's contemporary drug wars. Mexican horror has always managed to squeeze the genre's tropes into legends that reflect on the culture and struggles of its people at particular points in time. That's why films made in Mexico by Mexican directors are the brightest of the genre. So you won't find del Toro's The Devil's Backbone or Alejandro Jodorowsky's Santa Sangre on this list (because the former is set in Spain, and although the latter is an Italian-Mexican film, Jodorowsky is Chilean). Instead, enjoy a 15-film primer on Mexican horror and take in some lesser-known titles ripe for discovery.
The Vampire (El vampiro, 1957)
Following in the footsteps of Bela Lugosi's Dracula, director Fernando Méndez and writer Ramón Obón transported the classic bloodsucking figure to rural Mexico, more specifically the fictional Sicomoros hacienda, giving the country its first vampire movie. Embodying the tenebrous part, Spanish-born actor Germán Robles radiates unnerving elegance as Mr. Duval, a regal vampire from Hungary looking for fresh sustenance. Upon a gruesome discovery, Marta (Ariadna Welter), a young woman visiting the town, suspects her aunt Eloisa (Camén Montejo), who hasn't aged a day, may be plotting with the undead seducer to turn her into one of them. The use of ethereal cinematography and practical effects for the flying bats, which may appear subpar for our spoiled eyes today, instilled fear in audiences at the time.
The Body Snatcher (Ladrón de cadáveres, 1957)
One of Mexican horror pioneer Fernando Méndez's greatest talents was for adapting emblematic monsters and horror plots made popular in U.S. cinema in a Mexican context. He did so again with a story centered on a deranged scientist who murdered athletes and replaced their brains with those of animals in order to prove he could defy death. Set against the backdrop of one of Mexico's favorite pastimes, lucha libre, the Frankenstein-like story line follows detective Carlos Robles (Crox Alvarado) as he joins forces with wrestler Guillermo Santana (Wolf Ruvinskis). Insanity ensues when the evil professor captures Santana and inserts a gorilla brain into his head, resulting in a King Kong–type beast that climbs a building carrying his girlfriend. Aside from the overall brilliance of the horror mash-up, Méndez notably shot a risky crowd scene inside the Arena México, Mexico City's most important lucha venue.
Macario (1960)
Mexico's first nominated submission for Best Foreign Language Film at the Oscars is laden in the mysticism of the Day of the Death tradition. Based on German author B. Traven's novel of the same name, director Roberto Gavaldón's marvel sees Macario, an indigenous man played by living legend Ignacio López Tarso, encounter the Devil and God, with whom he refuses to share a meal. However, when Death (Enrique Lucero) appears in the body of another impoverished peasant, Macario shows solidarity. His reward is a potion to cure the sick, but his misuse of it earns him a trip to the underworld. Among cinematographer Gabriel Figueroa's most stunning work, a sequence inside Death's grotto where souls are represented by lit candles rings unforgettable. Not only is this a supernatural gem, but one of the greatest cinematic productions in the history of Mexican cinema.
The Curse of the Crying Woman (La maldición de la Llorona, 1963)
Known across Latin America in multiple incarnations, the legendary La Llorona, a woman who purportedly murdered her children and whose ghostly image roams the streets wailing for them, is at the center of Rafael Baledón's terrifying repurposing of the tale. Here, Amelia (Rosita Arenas) discovers that her aunt Selma (Rita Macedo) practices witchcraft with the intent of bringing La Llorona, now a mummified corpse, back to life. Disfigured entities cursed by Selma's otherworldly powers populate the small village that has been tormented by this murderous force for centuries. The film's effectiveness rests on Macedo's performance and grotesque makeup. A 1933 iteration simply titled La Llorona directed in Mexico by Cuban filmmaker Ramón Peón is also a highly regarded take on the apparition.
Even the Wind Is Afraid (Hasta el viento tiene miedo, 1968)
Without underplaying del Toro's international achievements, it's important to note that the original Mexican horror master was Carlos Enrique Taboada, whose oeuvre reflected the fears of multiple generations through narratives that mixed the quotidian with the sinister. His first hit revolves around a group of young women in an all-girls' boarding school who have been punished by principal Bernarda (revered actress Marga López) and forced to spend their break inside the facilities. But when Claudia (Alicia Bonet), one of the students, reveals that the spirit of someone who committed suicide haunts her, strange voices and visions test everyone's sanity. What we hear in the tension built through the ambience, the eponymous wind in particular, rings more affecting than what's actually shown onscreen.
The Book of Stone (El libro de piedra, 1969)
Taboada continued his genre dominance a year later with another creepy scenario that crawls under the viewer's skin. Hired as a private tutor by a wealthy family, Julia (Marga López) meets Silvia (Lucy Buj), an introverted girl who claims to have a friend named Hugo, whom everyone believes to be the statue of a boy reading a book overlooking the family's courtyard. Although the sculpture never moves, his influence is felt as people in the periphery fall ill and experience tragedy for questioning Hugo's malicious powers. Executed with subtlety, this intriguing work succeeds in part owing to Buj's chilling turn as a child manipulated by an evil force.
Satanic Pandemonium: The Sexorcist (Satanico Pandemonium: La Sexorcista, 1975)
In a blasphemous league of its own, Gilberto Martínez Solares's nunsploitation vision was so controversial for its twisted use of Catholic imagery that the Mexican government heavily censored it. Brimming with blood and nudity, the unapologetic feast of forbidden pleasures stars Sister Maria (Cecilia Pezet), a nun touched by Lucifer himself (Enrique Rocha), who instills in her a ravenous carnal desire so intense that it pushes her to carry out brutal murder and all sorts of despicable acts to satiate her libido. Designed to provoke, the shocker of a movie features top-notch cinematography to capture all its perversion. Pezet's angelic demeanor sharply contrasts with the gory scenes she leads in a possessed convent. Fun fact, this cult film directly inspired the name of Salma Hayek's character in From Dusk Till Dawn.
Darker Than Night (Más negro que la noche, 1975)
With this timeless gem, Taboada once again delivered an eerie nightmare in a mundane location. Upon learning that her aunt has passed away and that she is the sole heir of her old house and belongings, Ofelia (Claudia Islas) moves in with her girlfriends. The main caveat, however, is that she must care for her deceased relative's black cat named Becker — a potent symbol throughout their ordeal. At first, the request seems minimal in comparison to the reward, but when the feline suddenly shows up dead, the characters are victimized by a specter from beyond the grave. Through it all, the ensemble cast of talented scream queens makes the fright believable. Back in 2014, a subpar, homegrown remake was released, more firmly cementing the great fear-inducing quality of the original.
Alucarda (Alucarda, la hija de las tinieblas, 1977)
Shooting mostly English-language films in Mexico, filmmaker Juan López Moctezuma made a career working exclusively with wicked material. His most acclaimed fever dream of madness fixates on the demonic possession of a teenage girl named Alucarda (Tina Romero), who engages in sacrilegious rituals and blood-drenched eroticism with her best friend Justine (Susana Kamini), all within a devout religious congregation. Romero's raw portrayal of a mind ravaged by a diabolical energy hits with hair-raising strength. Her image is reminiscent of Linda Blair in The Exorcist, both innocent people caught up in a battle for their souls. López Moctezuma crafts multiple moments that are certain to remain ingrained in the audience's psyche, including the scene in which a woman is stabbed to death inside a church as a priest reads to a sinful orgy that ends in carnage. Light stuff.
Aunt Alejandra (La tía Alejandra, 1979)
Famous for his astutely written dramas, Arturo Ripstein — one of Mexico's most representative auteurs who continues to direct today — dabbled in paranormal storytelling with a scary family ordeal grounded in reality. Unexpectedly, Aunt Alejandra (Isabela Corona) moves in with her niece Lucia (Diana Bracho), who is married with children. Initially, Auntie Ale attempts to mold the household to her liking through passive-aggressive comments, but soon her fondness for the dark arts permeates every aspect of the children's lives. Thirsty for vengeance after an accident caused by a disorderly home, Aunt Alejandra turns her anger toward her own. Ripstein grapples with class and psychological abuse, using unearthly elements to reinforce his themes. Corona's dignified presence as she flaunts her perceived superiority makes for a memorable villain.
Poison for the Fairies (Veneno para las hadas, 1984)
Distinct from the kind of cinema made in Mexico at the time, Taboada's final outing was unquestionably his most revered. Told from the point of view of two young girls, this antithesis to fairy tales uses innocence as fuel for the macabre. Verónica (Ana Patricia Rojo) has grown up listening to her nanny tell stories about witches, in which the sorceresses are not the antagonists, but role models worthy of emulating. Guided by this worldview, the odd heroine recruits a kid named Flavia (Elsa María Gutiérrez) as her disciple. Together they embark on a series of adventures — e.g., concocting poisons to kill fairies — that leads to atrocious consequences. Deliberately, Taboada doesn't show any of the adults' faces, emphasizing the perspectives of the two juvenile protagonists.
Cronos (La invención de Cronos, 1993)
Long before Guillermo del Toro was seen collecting golden trophies around the world for his star-studded Hollywood ventures, the King of Monsters debuted with an utterly idiosyncratic reinterpretation of vampirism. In addition to being his only creation to date set in his native Mexico, it also gave birth to two of the director's long-lasting collaborations — with Argentine actor Federico Luppi and American thespian Ron Perlman. Impeccably produced, del Toro's uncanny first feature takes us on a journey with antiques dealer Jesus Gris (Luppi) as he stumbles upon a golden scarab-shaped device. While examining the perplexing find, Jesus is stung by the metal bug giving way to physical rejuvenation and an insatiable craving for blood. Intoxicated by the effects, the tranquil and religious individual devolves into an instinct-driven creature before the truth about the object resurfaces. No doubt Cronos heralded a promising future for the Guadalajara-born genius.
We Are What We Are (Somos lo que hay, 2010)
Aesthetically, Jorge Michel Grau's extraordinary feature debut resembles the visual style of social-realist indies, a characteristic that enhances its ability to generate authentic dread. Using Mexico City's gritty streets as canvas, this portrait of a typical clan operates on two levels: a grisly look into ritualistic cannibalism and a coming-of-age scenario under unorthodox circumstances. Rattled by the death of their father, the family's lone breadwinner, Alfredo (Francisco Barreiro) and his siblings Sabina (Paulina Gaitán) and Julián (Alan Chávez) must figure out how to provide for their eccentric needs. To carry on their dad's human-flesh-consuming legacy, the brothers go out to hunt for homeless children and prostitutes to murder and eat, aware that choosing the wrong prey could have irreparable repercussions. Grau's unsettling triumph even inspired a 2013 American remake directed by Jim Mickle.
The Untamed (La región salvaje, 2016)
Cannes-winning provocateur Amat Escalante has gained international prominence for his unflinching art-house depictions of Mexico's barbaric recent past, so discovering that his most recent release involves an extraterrestrial creature, whose tentacles are the gateway into unknown physical ecstasy, was nothing if not surprising. The striking sci-fi horror flick unfolds in a small town where a couple hosts a Cthulhu-like being that yearns for interspecies sex with humans. Verónica (Simone Bucio), a young local, is brought into the fold, and soon takes on the role of partner provider for the visitor until the intergalactic coitus becomes dangerous. Beautiful in its use of exquisite VFX and evocative cinematography, this is daring even for the moviemaker's standards. What's astonishing about Escalante's latest is his ability to intermingle relevant societal issues, such as homophobia and domestic violence, with an abstract alien premise so seamlessly.
Tigers Are Not Afraid (Vuelven, 2017)
A new masterwork of Mexican genre cinema, Issa López's awe-inspiring and emotionally resonant dark fable keenly addresses the devastating side effects of the drug war in her homeland through the eyes of orphaned children. Abandoned in an unnamed, desolate city, 10-year-old Estrella (Paola Lara) seeks companionship and safety in El Shine (Juan Ramón López) a street-smart kid who serves as leader for a pack of boys. Running from the nefarious cartel, which is colluded with the local government, as well as from the ghosts of those who've been abducted and killed, the gang finds courage in the fairy tale of a prince who wanted to muster the inner strength of a ferocious tiger. It's a gloriously conceived treasure that's frightening and touching in perfect measures. Endorsed by the likes of Guillermo del Toro, Stephen King, and Neil Gaiman, Tigers Are Not Afraid finally opened in the U.S. this month thanks to Shudder, and it's ready to take its place in the cannon as an instant classic. Influenced by the greats, yet keeping her Mexican identity as artistic source, López represents an innovative voice in horror. Let's welcome the heiress to the throne.