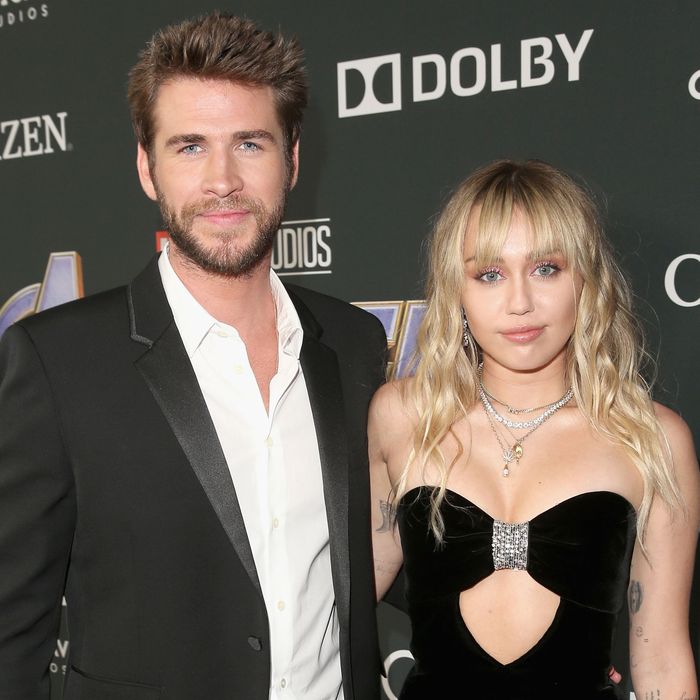 Pour one out.
Photo: Jesse Grant/Getty Images for Disney
There's nothing like marriage to get you to realize you don't want to be with someone for the rest of eternity. Miley Cyrus and Liam Hemsworth confirmed their separation this week, after ten years of being each other's endgame and six months of official matrimony. They've broken up twice, each time breaking the hearts of fans everywhere. And when they got back together, they were breaking the hearts of potential suitors everywhere. The random B-listers whom celebrities fall in love with on the heels of a breakup (sorry, Pete Davidson) are prepped and ready for Liam and Miley now that they've split up. It's been a decade of on-again, off-again Miley and Liam. Chris Hemsworth is tired of it. The animals must be tired of it. And both of them deserve to do whatever they want. Hopefully, by now, they've figured out what exactly that is. (Cut to Miley making out with Brody Jenner's ex-wife.) Here's a timeline following their journey, complete with all the flings they left behind.
November 18, 2009: The trailer for Nicholas Sparks's The Last Song premieres. The romantic drama stars Miley "Hannah Montana" Cyrus as she attempts to shed the "Hannah Montana" part of her career. Little did she know, The Last Song would usher in a new career-definer: Mr. Liam "Not My Brother" Hemsworth. He still holds onto that title. Greg Kinnear is also in this movie. Kinnear is just one casualty of the decade-long tale of Miley and Liam. In the years to come they'll leave so many peripheral characters in the wake of their quest for marriage, and subsequently, their quest for the dissolution of that marriage.
November 20, 2009: Right now is a good time to mention that Miley Cyrus is 17 in 2009. Liam is 20. She fends off relationship rumors not two days after the trailer drops because the Devil works hard, but sources close to the star work harder. (Olivia Jade knows what I'm talking about.)
March 8, 2010: Miley and Liam cover Teen Vogue (RIP, the print pages). It's all innocent, good fun.
March 31, 2010: The Last Song comes out and it's, like, fine. It's no The Notebook. And, of course, The Notebook is no A Walk to Remember. No one is A Walk to Remember. But Miley and Liam walk the red carpet together at the premiere and it's surely a lingering moment in their relationship supercut.
June 21, 2010: Pivoting to music after harsh The Last Song reviews, Miley's third album, Can't Be Tamed, comes out. She tells MTV that Liam actually inspired some of the lyrics, along with previous boyfriends. Potentially a Mr. Nick Jonas-Chopra.
August 25, 2010: It's over for Miley and Liam, in what was likely the kind of breakup where it feels like the Earth has shattered underneath your feet and like no one will love you ever again despite the fact that you are literally 20 years old and it was only like five months.
February 11, 2011: Miley Cyrus is the queen of a lot of things. Having pets. Sticking her tongue out. Pivoting genres with abandon. Also, rebounding. No one can have a fun post-breakup fling like Miley "Cannot, Will Not Be Tamed" Cyrus. Anyway, she's rumored to be seeing Josh Bowman, who fun fact, dated Amy Winehouse.
March 31, 2011: Sometimes when two people are just friends they fly across the world to see one other. Nah, they're back together. You gotta really love planes to fall in love with an Australian.
March 26, 2012: Just because they are back together doesn't mean that they're getting engaged!
June 6, 2012: They get engaged!
February 8, 2013: Miley Cyrus did not have sex with Ed Westwick but if she wanted to go out and have sex with Ed Westwick? Yes, she probably could, because she is what? Sickening.
March 6, 2013: Intense breakup rumors circulate and Miley bats them off like flies.
March 22, 2013: "They are together and they will continue their wedding plans," says a source.
August 25, 2013: Miley dances at the VMAs. This evolution warrants its own timeline (featuring a reported fling with her Bangerz producer, Mike WiLL Made It).
September 9, 2013: The "Wrecking Ball" music video drops. See previous entry.
September 13, 2013: Rumors spread that Liam is cheating on Miley, but little does the public know …
September 16, 2013: They've broken up! And now it's official. Miley unfollows Liam on Twitter, though we can't imagine his tweets being more exciting in 2013.
September 19, 2013: Liam kisses someone while out in Vegas, clearly having learned something from the rebound queen.
(Donald Trump is pro-Miley in the breakup, but definitely must hate her now, right?)
September 23, 2013: At her first concert post-breakup Miley cries while singing "Wrecking Ball." It's haunting.
October 2013: Miley begins "secretly" "dating" producer Mike WiLL Made-It, who worked on Bangerz. Or as Nicki Minaj would later describe the relationship, "she sucked Mike WiLL's dick in the studio."
December 16, 2013: Miley tells Barbara Walters that the only reason she got engaged was because she was "scared of ever being alone." Props to her for admitting that on national TV instead of just whispering it into a pillow at 3 a.m. like the rest of us.
December 29, 2013: She makes out with Britney Spears's backup dancer. Long! May! She! Reign!
January 8, 2014: Kellan Lutz has to deny rumors that he and Miley are sleeping together, adding that they are just friends. "Page Six" decides "just good friends" is "p.r. speak for 'it's casual.'"
February 11, 2014: Something heats up between Liam and Nina Dobrev.
July 5, 2014: Liam: "We'll always be friends."
November 5, 2014: Miley: "I'm dating a Kennedy now."
March 16, 2015: Patrick Schwarzenegger, 21, is a still a junior at USC. When he goes on spring break to Cabo (remember when people went to Cabo instead of Tulum?), photos surface of him and a (girl) friend getting close. He tweets "Omg. It's one of my best friends girlfriend. Would NEVER do anything against my GF….." Or his best friend, presumably.
April 25, 2015: Yeah, so that doesn't last.
July 1, 2015: Her Royal Highness Miley spotted making out with a Victoria's Secret model, Stella Maxwell, who she dates casually for a few months.
July 8, 2015: Reports that Liam and Maika Monroe were hooking up on the Fourth of July come out.
July 16, 2015: Miley and Stella go to Disneyland! That's cute, y'all.
August 27, 2015: In an Elle U.K. cover story, Miley opens up about her sexuality and confirms that she's single: "I'm very open about it — I'm pansexual. But I'm not in a relationship. I'm 22, I'm going on dates, but I change my style every two weeks, let alone who I'm with."
September 16, 2015: She's linked to Dane Cook, which what? And also how? And who in their right mind would?
January 4, 2016: Exes fly across the world to hang out! That's the moral of this timeline. (Just kidding — do not text that person.) Even if they were trying to remain best friends, Australia is extremely romantic. Meet in Cleveland! They started 2016 off at a music festival in Byron Bay. That screams Let's get married in three years and divorced six months after.
May 24, 2016: Liam begrudgingly tells GQ that they are officially back together, by saying "People will figure it out, they already have … They're not dumb."
July 9, 2016: Miley Cyrus gets a teeny tiny tattoo of a jar of Vegemite, supposedly Liam's favorite.
October 27, 2016: The singer confirms that she and Liam are engaged (re-engaged?) and planning to get married!
May 11, 2017: Miley drops "Malibu," a song all about their home in the California hills and their relationship. Liam took the photo on the cover art. I cry when she talks about how she's "never been boatin'."
August 9, 2017: Miley, Liam, Stella Maxwell, and her new girlfriend Kristen Stewart go on a double date. The power that this has.
September 29, 2017: Miley's sixth album, Younger Now, comes out and fans immediately speculate that the song "She's Not Him" is about leaving Stella Maxwell for Liam.
November 5, 2017: Cysworth spotted all across the world both wearing wedding rings.
November 13, 2018: They lose their beloved Malibu home to the devastating Woolsey Fire. But all their animals are safe and everything is going to be fine.
December 26, 2018: Liam and Miley tie the knot in Tennessee. They are the only tens they see!
February 21, 2019: "We're redefining, to be fucking frank, what it looks like for someone that's a queer person like myself to be in a hetero relationship. A big part of my pride and my identity is being a queer person," Miley tells Vanity Fair.
July 11, 2019: "I think it's very confusing to people that I'm married. But my relationship is unique," Cyrus tells Elle. "And I don't know that I would ever publicly allow people in there because it's so complex, and modern, and new that I don't think we're in a place where people would get it. I mean, do people really think that I'm at home in a fucking apron cooking dinner? I'm in a hetero relationship, but I still am very sexually attracted to women."
August 11, 2019: Sources reveal Miley Cyrus and Liam Hemsworth are separating after less than a year of marriage. Miley Cyrus is off in Lake Como, making out with Brody Jenner's ex-wife, Kaitlynn Carter. Is this all going to end up on The Hills reboot? Hopefully.
August 12, 2019: Liam wishes Miley the best in an Instagram post confirming their separation, adding that this is the only thing he'll say about the matter. Brody Jenner makes a joke on Instagram about joining in on the drama. Somewhere in Lake Como, Miley Cyrus replies "go take a nap in your truck and cool off #HotGirlSummer." She is radiant in her Rebound Queen Crown.
August 21, 2019: Liam Hemsworth officially files for divorce from Miley, citing "irreconcilable differences." According to The Independent, the couple has a prenup.