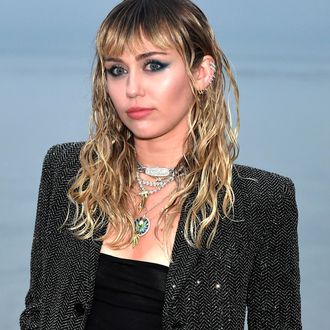 Photo: Neilson Barnard/Getty Images
Miley Cyrus has seen things you people wouldn't believe. She swung on a wrecking ball naked. She got kicked off Hotel Transylvania for having her penis cake and licking it too. She lost a massive Walmart deal at 17. (Who among us hasn't!) All those moments will be lost in time, like tears in the rain.
On Wednesday, Liam Hemsworth officially filed for divorce from Miley Cyrus, citing "irreconcilable differences." The announcement occurred less than a year after the two finally tied the knot in Tennessee, where the on-again, off-again couple finally made things official in the eyes of United States matrimonial law by dancing to "Uptown Funk." Hemsworth first announced the couple's separation earlier in August, around the same time that ET reported Miley making out under a sun hat with Brody Jenner's ex-wife, Kaitlynn Carter, in Lake Como. (Again, we implore, who among us …?!)
Throughout all this, amidst the rumors and breakup tracks and explainer posts, Cyrus took to Twitter on Thursday to claim that cheating played no part in the separation:
It also seems like Cyrus aimed to elaborate on what, exactly, constitutes "irreconcilable differences" between her and Hemsworth, mainly by reminding us all how strange and exciting the past decade of post-Disney evolution has been for her. For one, Hemsworth probably can't claim to have even had a Walmart deal to lose at 17.
Nor did he lose voice work for licking his Very Own Phallic Birthday Dessert.
Unlike his brother Chris, Hemsworth doesn't have Bangerz of his own, least of all about being so turnt up here getting turnt up yeah, yeah, yeah.
Miley would like to remind us that no matter how messy relationships can be, she is simply no longer a younger.
The entire Twitter thread, which you can read here, aims to establish that Cyrus is a "GROWN UP" and to erase cheating from the narrative. It almost raises more questions than it resolves, though. Most pressingly, does this mean that somewhere in the multiverse, there is an alternate reality where the iconic, beloved classic movie monster "Mavis Dracula" is voiced by Miley instead of Selena Gomez? The mind reels!