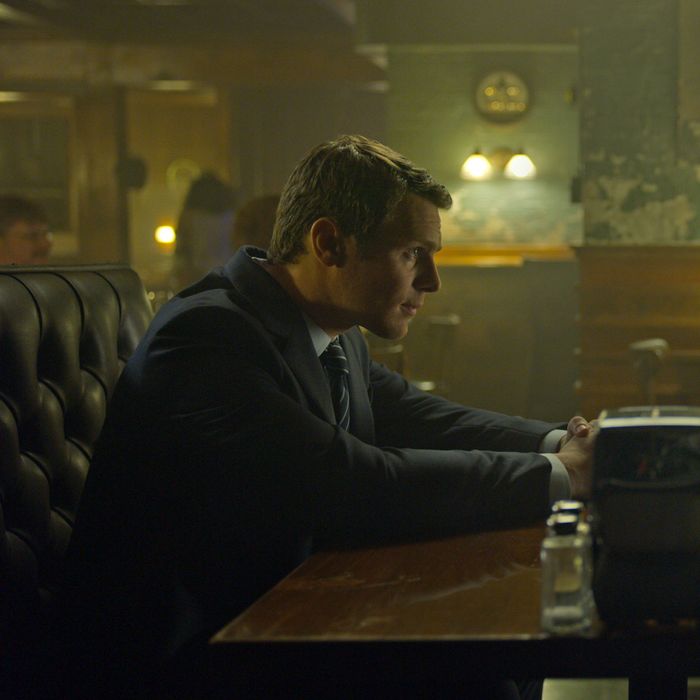 Photo: Courtesy of Netflix
"I'll get you Manson."
These words from Ted Gunn, the new unit chief overseeing the Behavioral Science Unit at Quantico, are like a big shove that sends the second season of Mindhunter careening wildly down the hill. Holden Ford has been pushing to interview the most notorious serial murderers in the country, and Charles Manson is at the top of the list. That's not because he fits a certain psychological profile — as Wendy Carr points out, Manson never killed anyone by his own hand, and thus isn't particularly relevant to their work — but because Holden is compelled by his infamy. He's drawn to extreme criminal derangement like a moth to flame.
Validating Holden's instincts and methods is the worst thing that could have happened to the BSU, despite the massive influx of resources and staff that Gunn immediately makes available to them. With the more conservative-minded Shepard out of the way — more on that in a bit — Gunn wants the unit to shift from "cold case call to first call," and intends to accelerate its data-gathering operation accordingly. On the bright side, it's a progressive approach that shakes off the institutional rigidity of the FBI, and it's absolutely true in some instances that the BSU's insights into criminal psychology have helped solve some cases and suggested a path forward on others. But Gunn doesn't understand the depths of dysfunction within the unit — or perhaps he does and he's willing to roll the dice.
Season two picks up at the absolute low point in the unit's existence, as it's overcome by paranoia, distrust, and infighting. After slipping away to California to meet with Ed Kemper alone — a meeting that ends in the massive Kemper cradling him in a bear hug — Holden suffered what we learn was a panic attack that waylaid him in the psych ward under heavy sedation and restraints. Meanwhile, the Office of Professional Responsibility has taken a renewed interest in Richard Speck's complaints about Holden and Bill Tench's behavior during his interview. The OPR couldn't care less about Speck, but it can't ignore the gap in the transcript where Holden's line of questioning veered into language that could only be called serial-killer-esque. With Shepard's reluctant backing, the group agreed to close rank around the transcript cover-up, but Gregg Smith, the straitlaced new guy who was responsible for the transcription, decided independently to send the recording to OPR anonymously.
Gunn's offer to shut down the OPR investigation may be a relief to everyone involved, but in "Episode 1," the fallout from the whole mess cannot be contained. Holden, Bill, and Wendy are committed to the work and still find it important enough to keep their internal problems under wraps, which explains why Bill is willing to lie to Gunn in their first meeting about Holden's whereabouts and why he flies all the way across the country to bring his wayward partner home. Bill and Wendy agree to babysit Holden, with the directive to encourage his unconventional brilliance while keeping him under control, but they surely know that they're being asked to do the impossible. But what they're really doing is encouraging the misbehavior of an unstable and unhealthy man. Continuing to build the BSU around Holden — and building it at an exponentially increased pace — feels like letting the inmate run the asylum. Gunn's excitement over Holden's initiative is a dangerous form of enablement.
As for Holden himself, he's in a fascinating spot. His panic disorder leaves him perpetually vulnerable, and he has no real support system, other than the colleagues who are frustrated by him most of the time. Yet he has a talent for transcending the messes he makes. His speech at Shepard's retirement party is more excruciating to watch than any of the serial-killer perversion and grotesquerie the show has produced so far — I had to press pause and gather myself before watching it — but it's revealing of his myopia. He doesn't understand why Shepard is "retiring" until the man himself angrily explains why he's having to leave his post after 27 years in the FBI. "You are truly oblivious to the wreckage you leave in your wake," Shepard tells him.
For Holden, myopia is both weakness and strength. In his first meeting with Gunn, Bill is greeted with a horse-training analogy that's about the choice between gelding a yearling with natural speed, which would risk diminishing its "spark," or having it race with blinders on. Bill and Wendy are now responsible for curbing Holden's excesses, but to a certain extent, his blinders are already in place. Take Gregg, for example: Bill remains furious that Gregg broke rank and betrayed the group to assuage his own conscience, but Holden takes a different view. "He has a particular moral code," he says of Gregg. "At least now we can anticipate that." He may be susceptible to panic attacks, but he's totally sanguine about the behavior of others, whether they're America's most notorious psychopaths or a colleague who's acting out of school. He seeks to understand, never to judge.
As with last season, David Fincher directs the first episode with his usual panache, especially during the cold open, which returns us again to Park City, Kansas, the BTK killer, and a sequence of shocking domestic horror. Keep in mind that Paula Dietz remained married to the BTK Killer, Dennis Rader, until 2005, when he was finally arrested and she was granted an emergency divorce. Fincher's eclectic choice of Roxy Music's "In Every Dream Home a Heartache" in this sequence recalls his unforgettable use of Donovan's "Hurdy Gurdy Man" at the beginning of Zodiac. Here the prog-rock escalation of the music and Bryan Ferry's disturbing incantations add to the tension while the lyrics underscore the dysfunction and pain that lurk behind closed doors. Here's to another season of taking a peek inside.
Dillingers:
• The continuity between these BTK cold opens and the file boxes that have now landed on Bill's desk creates a great opportunity to juxtapose the killer's exploits with the ongoing attempt to track him down. That it took a few more decades to do so suggests a lot of red herrings and frustration to come.
• Bill working 65-hour weeks seems only partly a shared obsession with the project. He also doesn't know how to handle domestic life, whether it's fathering an unusual and distant son or playing the role of burger-flipping family man at a cookout. He doesn't know how to relate to either his boy, whom he encourages to run off for a game of "Smear the Queer," or his guests, whom he regales with stories of murder. (Incidentally, I played plenty of "Smear the Queer" as a child in the late '70s/early '80s, along with its slightly more enjoyable cousin, "Fumble-itis." I remember the name of the game making me uncomfortable back in the '70s, but I mostly remember hating a game where all you did was tackle or be tackled. No scoring, just a little friendly brutality.)
• Wendy's wandering eyes during her meeting with Holden at the bar suggests that her closeted sexuality will again be in play this season.
• "I believe all great things are created in the space between method and madness." Wendy picks up on Gunn's Hamlet reference, which paraphrases a line that Polonius delivers about Hamlet's behavior and the shrewdness behind its outward appearance of insanity. Things ended great for Hamlet, so surely Holden will be fine.