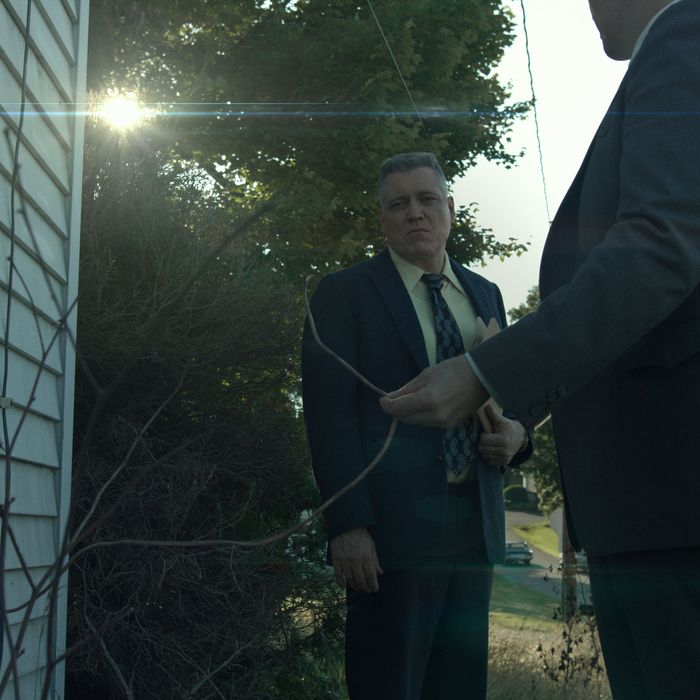 Photo: Courtesy of Netflix
It's a cliché of small-town life — specifically small-town life in an idealized past — that residents feel so safe that they leave the front door unlocked. It was certainly true of my family when I was growing up in a Toledo suburb in the '70s and early '80s, but time and city life has changed all that. Even those who live in a safe neighborhood are generally inclined to lock the door by routine, even if they're in an apartment building that's already locked or may have a doorman to boot. So it was surprising to read this paragraph in a New York Times article on "The No Lock People" from 2010:
The No Lock People: You may doubt their existence, particularly in big cities like New York, but people who do not lock the doors to their houses and apartments do exist — and in surprising numbers. A 2008 survey by State Farm Insurance of 1,000 homes across the country reported that fewer than half of those surveyed always locked their front doors. And while people who habitually lock their doors are incredulous that others do not, those who don't lock are surprised that anyone would be shocked by it.
Shocked, indeed. The article details some extreme cases, like a guy who doesn't even have a key to his place because he wants to simplify his life, but those survey results nonetheless stand out in light of this episode of Mindhunter, in which unlocked doors are a common theme. The chances of anyone being murdered by a serial killer are vanishingly rare no matter where (or when) you live, but as a Wichita detective tells Bill about the BTK killer, the specter of one poses a constant threat. That's what happened in San Francisco at the height of the Zodiac killer in 1969, and New York City at the height of the Son of Sam killer in the summer of 1977. It changed how people felt about leaving their doors open.
For the first half of "Episode 2," Bill travels to Wichita to put a little heat under the BTK cold case. And it's there that the unlocked door theme starts to play with his head: BTK's first victims, the Otero family, surely thought nothing of leaving their doors open, so there was no sign of forced entry. The real surprise for the BTK was that more people were home than he anticipated, with both sets of parents, two children, and a dog to contend with. Bill considers a tour of the Otero house important for context, to match the two-dimensional photos with the three-dimensional spaces. Director David Fincher enhances that perspective by animating the house with a subtle menace: The uncut grass in a neighborhood full of neatly trimmed lawns, the lonely bedrooms and basements where BTK bound and tortured his victims, the careful establishment of each victim's situation.
The real directorial centerpiece of the episode, however, is a scene where Bill interviews a BTK victim's brother, Kevin, who barely survived the incident with his life and currently lives with head wounds, guilt over his inability to help his sister, and a paralyzing fear that the killer will eventually find him. (BTK still lurks around town, after all.) Kevin refuses to allow Bill to look at him during questioning, but otherwise offers a detailed recollection of what happened, with an emphasis on the behavioral details that are so important to the science of serial murder. Bill raises one very Holden-like question ("Could you tell if he had an erection?"), but mostly listens to Kevin's story with only occasional interjections. Fincher locks into the storytelling, too, but the soundtrack rises and falls with train noise in the background, which subtly adds to the tension. It's the smallest touch that really matters here.
Back at Quantico, Bill and Holden recapture their old rhythms and build out a profile on BTK that's mostly — but not entirely — accurate. Holden believes that BTK only expected the mother and daughter to be home, and that based on the killings, the little girl was a primary target. They deduce that he tackled a messy situation through preparation and practice, after spending years fantasizing about it, and that his self-branding and letter-writing indicates that he studied other serial killers. All of which sets up an interview with their first celebrity murderer of the season, David Berkowitz, a.k.a. "the Son of Sam."
What stands out about the Berkowitz interview is how swiftly Bill and especially Holden are able to sort through fact and self-mythology. All the prison interviews they've done in the past have them looking seasoned and comfortable in dissecting Berkowitz without feeling intimidated or uncertain about where to take the discussion. Holden figures out beforehand that Berkowitz targeted women by shooting his .44 caliber on the passenger side of the car, and it doesn't take long for him to dismantle Berkowitz's claim that demons were talking to him, a boast that he mostly ties to The Exorcist. The one important insight they glean from Berkowitz is that he returned to the scenes of the crime — "sometimes I rolled around in the dirt where they died, just to feel it" — and that other serial killers probably do likewise, even if they just pass by in their cars.
The Son of Sam interview also reveals a philosophical divide in BSU's mission that will likely open up all season. Wendy has been pushing for a regimented, scientific study of certain subjects to she can compile the data with sound, practical, publishable findings. She comes from academia, and strict methodology is important to her. But Holden and Bill have been aggressive in applying what they've learned toward actual case work, so they blow off a pair of scheduled interviews in Georgia to see Berkowitz instead. Their decision exasperates Wendy, and it seems likely that some pushback is coming.
Meanwhile, Bill's wife left the back door open when taking out the trash. And she might have left the door unlocked to a property where someone was murdered. Like Holden last season, Bill is starting to bring his work home with him.
Dillingers
• Another icy-cold open in Park City, Kansas, with the BTK killer, who's sleeping on the couch after his wife found him tied up in the bathroom wearing women's undergarments and a mask. In the absence of formal marriage counseling, she leaves him with two books, one of them called Therapeutic Approaches to Sexual Deviancy. He goes back to watching TV.
• Bill gets such good material on BTK, including descriptions of a military watch the killer likely stole from Joseph Otero, that it's easy to forget how far he was from apprehension in 2005. And if Mindhunter covers the Atlanta child murders this season, as expected, much more frustration is in store.
• Holden and Bill are dead wrong in their conclusion that the BTK killer can't hold a real job or a relationship. Those factors alone could throw them off the scent.
• Wendy and Bill discover that both of them know about Holden's panic attacks and vow to work together in containing them. They've sold Gunn on an entire program that rests on Holden's volatile psyche, which is like building a house on a fault line. They have to make the lie of their team stability come true.