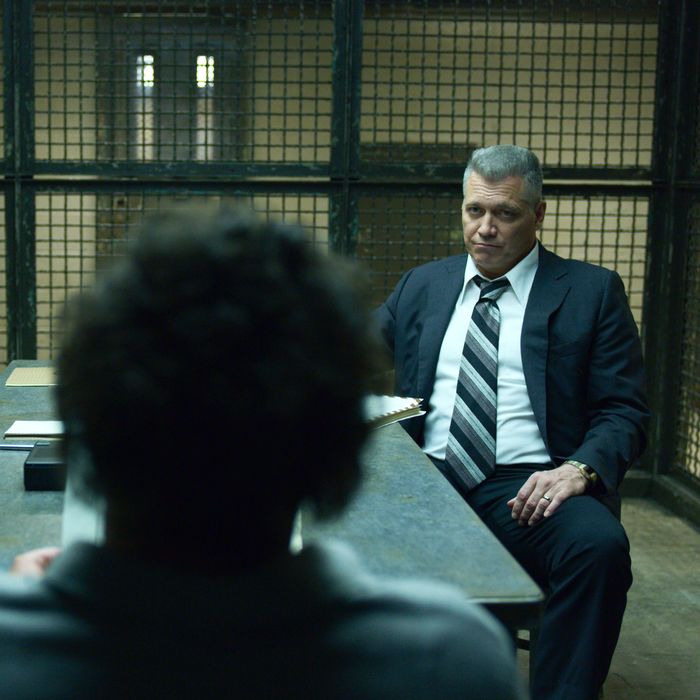 Photo: Courtesy of Netflix
If you've watched Netflix's Mindhunter, you've eavesdropped on conversations between the men and woman who developed how we profile serial killers and some of the most famous mass murderers of all time. The protagonists of Mindhunter may be quasi-fictional, but the series's serial killers are incredibly loyal to their real-life counterparts. Not only does the show cast actors who look and sound like these monsters, it also pulls dialogue directly from actual interviews with them, so when you're watching Charles Manson, David Berkowitz, and Wayne Williams in the second season, you get some sense of what it was like to really talk to those people.
The reason for that is that the real FBI agents who inspired this show — John E. Douglas and Robert K. Ressler — actually did talk to these people, so the way the writers have merged the true stories of Douglas and Ressler with their fictional counterparts could give us a loose road map of where Mindhunter might go in the future. Netflix hasn't yet officially renewed the series for season three, though it seems likely given season two's reception — so let's speculate which killers Mindhunter might turn its attention to next, based on the criminals we know were interviewed by either Douglas or Ressler.
John Joubert IV
This one almost seems too obvious not to happen given the timeline of the show and the pathology behind his crimes. The first two seasons of Mindhunter have focused intently on Ford and Tench's discovery of the connection between sexual release and murder, and leaned into how much of this is formed in childhood. Joubert, who became known as the Nebraska Boy Snatcher before being apprehended in early 1984, started having violent fantasies as a child. According to interviews, he reportedly started to gain sexual stimulation from violence, and nearly killed a child when he was 16. He killed at least three children in 1982 and 1983, and Ressler worked on the case before he was captured, profiling Joubert after the first two murders. Mindhunter season two ends with the capture of Wayne Williams in 1981, which means this could easily be on the horizon for season three.
Ted Bundy
Season two included a few of the most famous criminals of all time, including David "Son of Sam" Berkowitz and Charles Manson, so it makes sense to think that season three will have at least one household name. The argument against using Bundy, whom Douglas did interview in real life, may be one of overexposure. After all, there may be no more well-analyzed criminal than Bundy, the subject of an excellent docuseries (Conversations With a Killer: The Ted Bundy Tapes) and mediocre drama starring Zac Efron (Extremely Wicked, Shockingly Evil and Vile) just this year. Whether the writers use Douglas's conversations with Bundy will likely be determined by the themes they explore in season three. If the cult of celebrity surrounding serial killers comes up, expect a casting call for Bundy look-alikes. Maybe Efron can do it again?
John Wayne Gacy
The killer clown of Chicago was incarcerated on death row by the time the action of Mindhunter takes place, but there's every reason to believe the writers could incorporate when Douglas interviewed him as a part of his research. Gacy's crimes are almost unfathomable given their brutality and how long he was allowed to remain free. For most of the '70s, Gacy lived in the same home in Norwood Park and murdered at least 33 teenage boys, burying most of them in his crawl space. Gacy is one of the most monstrous men to ever walk the earth, and an interview with him could remind Ford and Tench about the human cost of what they're researching.
Joseph Paul Franklin
Given the way that racial division played into the second season of Mindhunter, it's almost surprising that Joseph Franklin wasn't included in the year's interview subjects. After all, Franklin's stated goal was to start a race war, and he targeted black people and Jews on a multistate spree in the late '70s and 1980 before his arrest late in that year. He even later confessed to being the man who shot and paralyzed Hustler publisher Larry Flynt, stating later that he did so because his magazine featured an interracial couple. He also shot and wounded civil-rights leader Vernon Jordan. Douglas profiled Franklin after he escaped imprisonment in the fall of 1980, helping guide the police to where he thought Franklin may return. He would interview him again in the early '90s, and Douglas claims he was inspired by Manson's concept of "Helter Skelter." For so many reasons, he seems an inevitable part of the Mindhunter world. For an interesting read on Franklin from Douglas himself, click here.
Donald Harvey
Given that the "Angel of Death" wasn't apprehended until 1987, this might be further down the road than season three — unless there's a time jump — but he was interviewed by Douglas and seems to fit the themes of the show. Harvey earned his nickname by murdering dozens of people in the '70s and '80s in his role as an orderly. He first claimed that all of the murders of ill people were to ease their suffering, but later admitted that anger sometimes played a role. He's alleged to have killed more than 80 people with such methods as poisoning IV drips and much worse. He reportedly even made people ill with tainted blood, meaning we can never fully know exactly how many deaths he's responsible for. He's the kind of monster that would throw off even the firmly held beliefs in human decency that Bill Tench holds dear.
Gary Ridgway
This would take an even larger time jump, or else it could be part of the background of season three, not unlike the BTK Killer has been for Mindhunter's first two years. Ridgway would become known as the Green River Killer when he was convicted of 49 murders, making him one of the most prolific serial killers in history, although many believe that number could be much higher — he reportedly said himself that he has lost count. He committed his crimes largely against sex workers and runaways in the '80s and '90s in Washington, and Douglas developed a profile of him long before his capture, which could easily become a part of a season-three Mindhunter narrative. While most people believe his crimes were committed largely in the early to mid-'80s, he wouldn't be arrested until 2001.
Sara Jane Moore/Lynette "Squeaky" Fromme/James Earl Ray/Sirhan Sirhan
John Douglas's research into serial killers brought him into the sphere of people who didn't qualify for the term he invented, but did seek some sort of odd fame by killing notable people. Sara Jane Moore and Lynette "Squeaky" Fromme (of Manson Family fame) separately tried to assassinate President Gerald Ford in 1975, and they were both sentenced to life in prison. Of course, James Earl Ray shot and killed Dr. Martin Luther King Jr. on April 4, 1968, forever changing the course of history. And Sirhan Sirhan shot Robert Kennedy later that year. Douglas interviewed all four of them, and while they may not qualify as serial killers, they could easily be included in the future of Mindhunter, especially if the writers dig into how many criminals seek the spotlight.
Jeffrey Dahmer
Given that he wasn't arrested until 1991, the vicious Jeffrey Dahmer seems more likely to be a background character like BTK than an interview subject, at least for now, although Douglas would eventually talk to him after his arrest. Dahmer was a Milwaukee resident who committed the kind of horrific crimes that are hard to even fathom, including rape, dismemberment, cannibalism, and necrophilia. Dahmer fits so many of the themes of Mindhunter, including the way in which his pathology manifested as a child and the sexual gratification he received from his crimes. One of the most interesting things about Dahmer as it pertains to Mindhunter was that Ressler and Douglas reportedly disagreed on Dahmer's sanity, which could make for interesting television drama that would divide Ford and Tench again.
The Zodiac Killer
Season two of Mindhunter really played with the idea of doubt and culpability, ending on a poignant note that suggests the Atlanta Child Murders weren't really solved. So why not allow one of the most infamous unsolved cases of all time to influence the themes of season three? Much as Tench was brought in to help with the BTK investigation, doesn't it make sense that Ford and Tench could offer insight into the Zodiac? Sure, he committed his crimes in the '70s and sent his last letter before Douglas and Ressler started their research, but the investigation never really closed — and, after all, David Fincher's Zodiac has influenced every frame of Mindhunter.