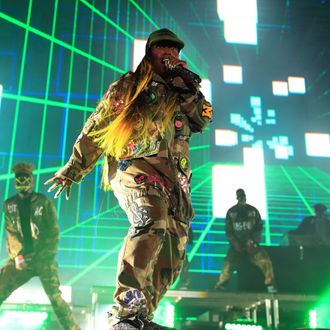 Photo: Christopher Polk/Getty Images for FYF
Get your nails done, get a pedicure, get yourself ready to finally watch Missy Elliott receive an award she should have gotten, oh, 16 or 17 years ago? According to Pitchfork, the "Gossip Folks" rapper will be the recipient of this year's Michael Jackson Video Vanguard Award at the 2019 MTV VMAs, which takes place on Monday, August 26. The timing lines up nicely with her current foray back into the center of pop music's heat map. The timing of MTV's decision to pointedly keep "Michael Jackson" in the award's title, however, remains inexplicable.
In addition to accepting the award, Elliott will also perform alongside previously announced acts like Taylor Swift. If it seems like a throwback to finally give Missy a video award 14 years after her last album, keep in mind this year's VMAs host is comedian Sebastian Maniscalco. MTV: pragmatic about its actual VMAs audience.