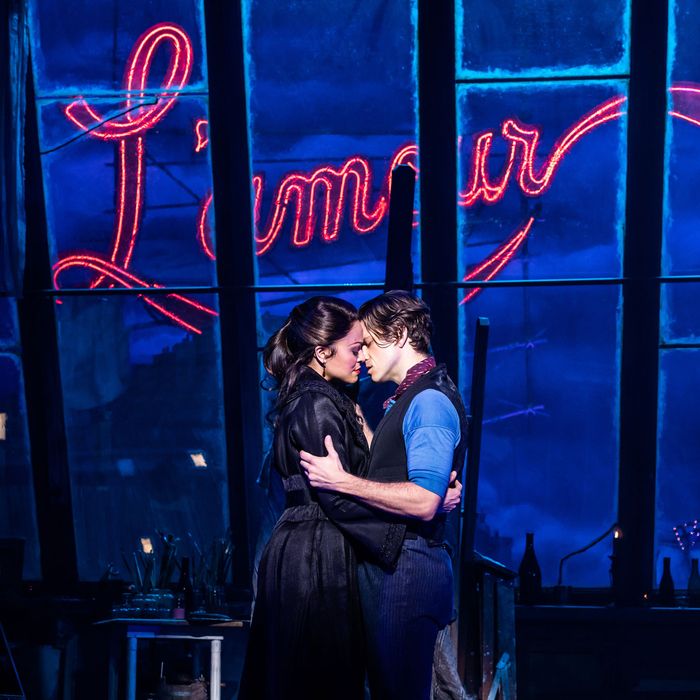 Moulin Rouge, the sparkling diamond of jukebox musicals and, to quote my colleague New York critic Sara Holdren, "Broadway's biggest karaoke night," released its cast album on Friday. It's got 17 tracks on it, including movie favorites like "Come What May" and "Your Song," but for Broadway the songs you might know from the movie have gotten some new friends, too. If you've ever fallen down a YouTube rabbit hole of collegiate a cappella competitions, expect a similar vibe. The new songs mash-up and interpolate tunes spanning decades. The result is over 50 songs covering pop hits (you'll find Sia, Katy Perry, and Walk the Moon), classical music (there is no shortage of Offenbach's "Can Can"), and a little bit of everything in between.
This is where we step in. Consider this your friendly listening guide to the show's very full cast recording. Instead of asking yourself, what was that three measures … it sounded familiar? We'll just tell you and save you from Googling a lot of lyrics to confirm. So here's a complete — we think, if you hear something we missed let us know — list of every song you'll hear in Moulin Rouge. Some of them occur more then once, but these are in order of first appearance. (We're not going to fully spoil the listening experience and tell you what is paired with what.)
"Lady Marmalade" - Labelle (You probably know the Lil' Kim, Mya, and Pink version.)
"Because We Can"- Fatboy Slim
"Hips Don't Lie"- Shakira
"So Fresh, So Clean" - OutKast
"Money" - The Trashmen
"Ride wit Me"- Nelly
"Burning Down the House" - Talking Heads
"Let's Dance" - David Bowie
"You Spin Me Round (Like a Record)" - Dead or Alive
"Royals" - Lorde
"Children of the Revolution" - T. Rex
"We Are Young" - Fun.
"Diamonds are Forever" - Shirley Bassey
"Diamonds are a Girl's Best Friend" - Gentlemen Prefer Blondes
"Single Ladies (Put a Ring on It)"- Beyoncé
"Material Girl" - Madonna
"Brick House" - The Commodores
"My Lovin' (You're Never Gonna Get It)" - En Vogue
"Diamonds" - Rihanna
"Shutup and Dance" - Walk the Moon
"Raise Your Glass" - P!nk
"I Wanna Dance With Somebody (Who Loves Me)" - Whitney Houston
"Firework" - Katy Perry
"Your Song" - Elton John
"Sympathy for the Devil" - Rolling Stones
"You Can't Always Get What You Want" - Rolling Stones
"Gimme Shelter" - Rolling Stones
"Nature Boy" - Nat King Cole
"Pride (In the Name of Love)" - U2
"Play the Game" - Queen
"Love Hurts" - Nazareth
"Take On Me" - a-ha
"I Love You Always Forever" - Donna Lewis
"Love Is a Battlefield" - Pat Benatar
"Don't Speak" - No Doubt
"Everlasting Love" - Carl Carlton
"What's Love Got to Do With It" - Tina Turner
"Fidelity" - Regina Spector
"Can't Help Falling In Love" - Elvis Presley
"Torn" - Ednaswap (You probably know Natalie Imbruglia's cover.)
"Such Great Heights" - The Postal Service
"Love Lifts Us Up Where We Belong" - Joe Cocker
"Heroes" - David Bowie
"I Will Always Love You" - Whitney Houston
"Bad Romance" - Lady Gaga
"Tainted Love" - Soft Cell
"Toxic" - Britney Spears
"Sweet Dreams Are Made of This" - Eurythmics
"Come What May" - Moulin Rouge
"Only Girl" - Rihanna
"Chandelier" - Sia
"Roxanne" - The Police
"Crazy" - Gnarls Barkley
"Rolling In The Deep" - Adele
Excuse me while I go listen to Aaron Tveit belting "Rolling in the Deep" until the Earth's temperatures become too hot to support human life. I think I've got a least a dozen listens left. Join me.