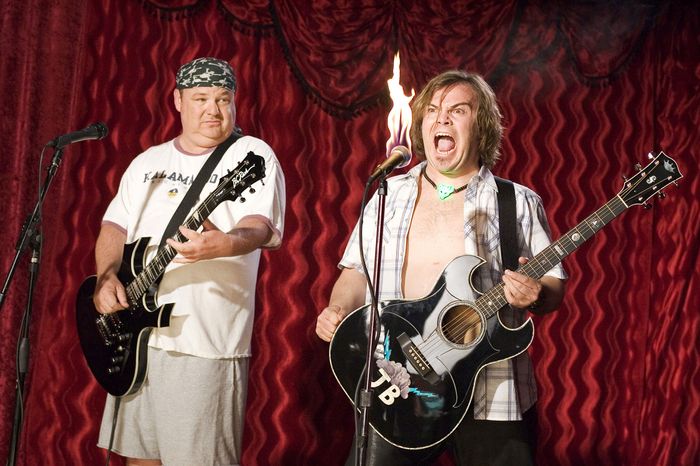 From Tenacious D's
The Pick of Destiny.
Photo: New Line Cinema
Before my glamorous days of performing in dingy-basement alt-comedy shows, I was a meager employee at Clearview Cinema 10 in Roxbury, New Jersey, from the years 2004 to 2006, before the theater closed for repairs. In some ways, it was the best job I ever had. We made jokes; we pulled pranks; I had a poof of shaggy hair — I was operating at peak Halpert, and loving it.
But it wasn't all smirks to the metaphorical camera. I can still smell the odor of burnt popcorn that lingered even after a shower. I can recall the feel of the unwashable layer of indiscernible "sticky" on my hand after an eight-hour shift. I was forever transformed by the injury I received when the pipes froze and flooded the projection booth, dropping a wet ceiling tile from the fluorescent light fixture onto my head as I struggled to evacuate the 5:20 showing of Christmas with the Kranks. I still hear their voices crying out in the night: "I paid for this movie and I'm staying!"
But most of all, I am constantly recalling end-credits songs from movies I did not see. You see, as you gluttonous pigs exit a movie theater, the staff then enters to scrape popcorn kernels off sticky floors with the bristles of the world's filthiest brooms. It's a mild trauma, but can be made worse by the song playing through the credits, which digs into your brain after repeated listens.
I realized this while quietly singing to myself "The Pick of Destiny" by Tenacious D, the titular song from a movie that I (for sure) did not see, though I'm sure it's very fun.
Another song that came to mind was "Vindicated" from Spider-Man 2's end credits, which I just now learned — despite knowing the entire chorus from memory— is by Dashboard Confessional.
Other tracks from unseen movies that I weirdly remember cleaning up your filthy garbage to:
"I Melt With You" and "Save It For Later," two songs I really like, were delivered in a format I really didn't like: over a bright-white screen, covered by Bowling for Soup, and ending the family film Sky High, ensuring a child-level mess on the floor.
There's nothing worse than picking up the "store snacks" snuck in by the post-church crowd on Sunday afternoon cleanups, soundtracked to John Debney's Academy Award-nominated and overwrought score to The Passion of the Christ.
Perhaps the worst earworm of the bunch was "Herbie (Fully Loaded Remix)," a cocaine-speed Disney Channel dance-pop jam with gratuitous car horns and burp sound effects. The artist is the Blacksmoke Organisation, which sounds like a weapons-manufacturing company. Regardless, this is their WMD.
An honorable mention: "Listen to the Music" by the Doobie Brothers, which played after EVERY MOVIE ended, over ads for local dentists and the movie word jumble "HVSIALNNEG." (*The answer will follow at the end of the article!)
I took to Twitter to see if other people had similar memories.
First, I know, I mistakenly referenced the song "Extreme Ways" by Moby as a song from The Manchurian Candidate and not from the Bourne films. Your dad already let me know.
Here are some responses:
"Generique Assault" by KRS-One, from Assault on Precinct 13 (2005)
"Bailamos" by Enrique Iglesias, from Wild Wild West (1999)
I know all of the words from this, but more from my romantic exploits.
"If You Want My Love" by Cheap Trick, from Joe Dirt (2001)
"Suddenly I See" by KT Tunstall, from The Devil Wears Prada (2006)
This one is burned in there forever.
"A Thousand Years" by Christina Perri, from The Twilight Saga: Breaking Dawn (2011)
"Because" by Elliott Smith, from American Beauty (1999)
This song played in a "record store" (okay, an FYE) that I worked at ad nauseam, except it was the Cirque du Soleil Beatles version.
"Entertainment" by Phoenix, from The Bling Ring (2013)
"Sweet Home Alabama" by Jewel, from Sweet Home Alabama (2002)
"Pour Some Sugar on Me" by Def Leppard, from the AMC post-credits radio
I would be remiss to not give some tips to you disgusting monsters on how to help those currently in the trenches: Please bring your trash out of the theater. Someone will inevitably knock over a bucket of popcorn or a soft drink left on the floor. No matter how slow the concessions line is moving, being an asshole won't speed it up. And if the theater is slowly flooding, they have to stop the movie. It's the law.
The smaller a mess you leave, the less chance someone like me will have to endure something like Josh Hutcherson's rap from the "Route 66" performance by the cast of RV, cementing it in their head forever.
*Word Jumble answer: VAN HELSING