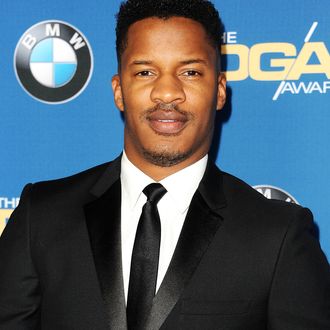 Nate Parker.
Photo: Jason LaVeris/FilmMagic
It was reported last year that actor and director Nate Parker would follow up his debut feature, The Birth of a Nation, with a biopic about LAPD detective Ralph Waddy called Black and Blue. Today, however, it was revealed that his new movie American Skin will arrive first, and will premiere outside of competition at the Venice Film Festival, according to Variety. The news about Black and Blue was notable since it was Parker's first film since the scandal-plagued release of Birth, which was bought for a huge sum at the Sundance Film Festival and pegged to have a strong Oscar push behind it. But the film fizzled in theaters after outlets started recirculating a rape accusation made against him in college. After a three-day trial, Parker was cleared of all sexual-assault charges, but his poor handling of the story when it resurfaced and news that his alleged victim died by suicide in 2012 — her brother citing PTSD from her encounter with Parker and his friend as the cause — left Birth dead in the water.
As he did in Birth of a Nation, Parker stars in and directs American Skin, which is about a former Marine veteran who works as a school janitor and trying to repair the relationship with his estranged son. The boy gets killed by a police officer during a "routine police check," leaving his dad to pursue vengeance after the cop is let off without a trial. According to Variety, Spike Lee is expected to attend American Skin premiere and participate in a post-screening Q&A.