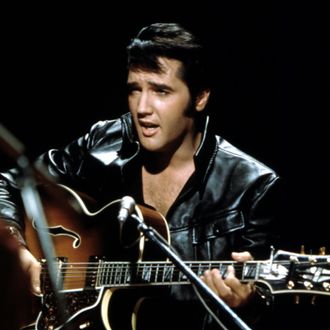 Photo: Michael Ochs Archives/Getty Images
It's been exactly 42 years since the King passed away, and in memory of his untouchable musical legacy, he'll be given the highest honor: a jet pack. Netflix announced Friday their decision to order Agent King, an animated comedy series in which the late, great singer pulls a double shift working covert ops in his spare time. "Elvis Presley trades in his white jumpsuit for a jet pack when he is covertly inducted into a secret government spy program to help battle the dark forces that threaten the country he loves — all while holding down his day job as the King Of Rock And Roll," Netflix said, per Variety.
The Sony Animation series comes courtesy of King's ex-wife, Priscilla Presley, and co-creator John Eddie. Said Presley in her own statement, "From the time Elvis was a young boy, he always dreamed of being the superhero fighting crime and saving the world! Agent King lets him do just that." Presley and Eddie will executive produce, Archer writer Mike Arnold will serve as showrunner, and animated Elvis will rocket across the sky on his super-secret, Netflix-approved jet pack.