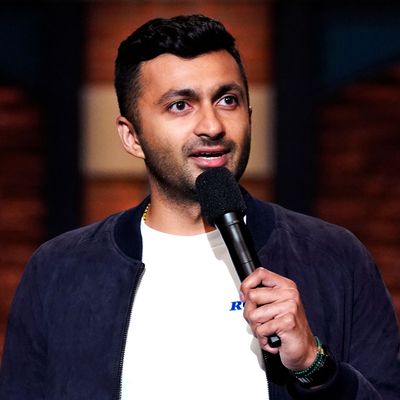 Nimesh Patel.
Photo: NBC/NBCU Photo Bank via Getty Images
Hailed as "Saturday Night Live's most-intriguing new hire" by Vanity Fair in 2017, Nimesh Patel, the show's first Indian-American writer, had written for Chris Rock's Oscars hosting gig, Hasan Minhaj's gig hosting both the Congressional and White House Correspondents' Dinners, a talk show hosted by Awkwafina, and created a pilot for MTV2. Since 2012, he had co-hosted Broken Comedy, a weekly Monday night show at Matchless, a since-shuttered bar in Greenpoint, with SNL's Michael Che and Mike Denny. But mostly he's known for a highly controversial performance that got him kicked out of Columbia University last year, after which he wrote in a New York Times op-ed that "how people process and react has been broken [because] the small group controls the bullhorn."
This week he released Head Nimesh in Charge, his first album — a live recording of a performance in Washington, D.C., some studio rambles, some parody songs, and one track of his grandparents telling a joke in Gujarati. It's his way of celebrating having lasted ten years in the business. Similarly, it's often said that it takes ten years to become a true New Yorker — seven if you're a Mets fan. That milestone and the years that span it — ages 23 to 33, for Patel — resonate for so many born-elsewhere New Yorkers and struggling-everywhere artists as the definitive litmus test for discovering an authentic identity. With a career and an existence built on breaking barriers, Patel has defied stereotypes and conventions in the style of other prominent new-wave South Asians including Utkarsh Ambudkar and Jameela Jamil, a generation beyond Aziz Ansari and Mindy Kaling by culture if not by years. We chatted with him about what ten years have taught him about being a comedian, a New Yorker, and a grown-up.
Your intro to live comedy was bailing on Dave Chappelle.
It was December 2004, finals time freshman year. Some guy barked me into the Cellar, and Chappelle's onstage in front of maybe 15 or 20 people. I had my backpack on and he says, "Sir, we're going to have to inspect your bag. Your skin's a little too olive." A huge, huge laugh. I sat down for maybe 20 minutes but I had to go. I had a fucking exam. I always thought about comedy from then on, but I never thought it was something I could do.
We've known each other for ten years, too. My first text to you is an invite to hang out with Donald Glover in 2010. But you were in New Jersey and too tired.
I was living with my parents in Parsippany. I graduated from NYU a year before. I had bounced around a bunch of shitty jobs: an intern, finding YouTube videos for a start-up called 5min.com. They would teach you how to do something in five minutes. And then my cousin worked as a temp at Bloomberg in Jersey. So I took that for like six to eight months. While I was there, I realized I was in existential crisis. It was the financial crisis of 2009. I remember I was temping with, like, a Princeton Ph.D. — people just bridging the time. I was in Jersey driving my parents' '93 Camry 45 minutes in the morning and 45 minutes a night to this job. On a Bloomberg terminal, I messaged the top boss asking for career help. I ended up with an internship at EDC. That dovetailed with me starting comedy, and being in the city.
You stacked the deck that first night.
First show was August 19, 2009, at Stress Factory in New Brunswick, New Jersey, a bringer show on a Wednesday. You bring five people, you get five minutes. Like 16 of my cousins came.
The Indian Bat-Signal is real.
None of them were even clued in on anything I was doing. Hillary had just lost. It was like six months after Obama's inauguration. And I said Hillary would have won if she had just sucked a dick, proving she would have done anything for the country, which is aggressive. So fucked up, when I think about it now. I did that for like three minutes and I didn't bomb. Then my first spot in New York was in Eastville the Friday after, which is where I met you. I thought, Where are other open mics? Let's go. I'm ready for this shit. I ate a dick so hard. I bombed. It was rough. But it was like, Oh, okay. That's what it is. That's what comedy is. It's also a lot easier to do well for a large group of people than it is to crush with three.
You got better, but so did the scene. I think of you at Matchless every Monday for six years.
I was just talking with a friend about that the other night. Matchless was such a capsule of the scene when we were coming up. Everyone who went through there was just insane. Matchless was the greatest place to do a comedy show. Ever. It was a perfect place. Objectively. [Laughs.] If you could identify a place where you can fit 75 people and create that vibe, a good time for everybody involved, there was no better layout or design. Hang out, smoke some weed in the back.
It did feel like having people over, because people would bring in their food or drinks from elsewhere. It didn't have even the thin formality that UCB had in its grimy, under-the-Gristedes days.
That was sort of like this era of comedy: The sense that it's informal, it's conversational. It's like you're talking about — you're just talking. And Matchless is where I got better at doing that.
You didn't really have Indian role models. Maybe Russell Peters. How did you carry your Indian-ness into your growth?
I'm the most diverse Indian there is, man. My voice is black, my life is white, my legs are chicken. Jay-Z Patel. You're always saying I'm abrasive or salty. Not really. It's just expectations not being met, or being met with a left turn. That's what happened at Columbia. They booked me five months earlier and didn't Google me. That was a perfect storm of a very specific crowd at a very specific event for a very specific purpose. They saw an Indian guy with an Indian name and an Indian face and thought it'd be the same old Indian shit. No! I have some thoughts, too. They were a classic case of thinking you're doing the right thing without thinking things through. It made me realize I was right for pursuing the wrong side of the joke. The wrong side is harder and funnier. It's easy to be on the right side. It's lazy. It doesn't require thought. It only requires Google.
It's that Instagram thing of "Live Laugh Love," as if that's a thought or a position or a conversation-starter. When I think of Aziz and Mindy and Hasan and Kumail, their work — Master of None, The Mindy Project, Homecoming King, The Big Sick — is big on tenderness and vulnerability and sort of dances in a rom-com space. You're so different, your giggly darkness.
When I first started, there was a period of time where I was just writing Jeselnik-type jokes. Maybe a month of that. And there was another one period of time where I wasn't as conversational. That was purely joke, joke, joke, joke, joke. That was more wording, more a function of figuring out what I want to do in stand-up. It was so odd 'cause I was working a job where I had to wear a suit, dress up. As an intern at the EDC, you know — you couldn't wear jeans and a tee.
Your thing was sophistication with street sense, the sophistication of street sense. Now you tell your Camus joke in between cussing. And you do a quiet Miranda Priestly voice to force people to listen harder. A friend calls it "Vin Diesel on lean."
I wish I had recognized that earlier. I feel like that's more my comedy now. I know enough about things to talk about them, but not enough to be arrogant about it.
On arrogance, where are we with woke comedians and woke audiences?
The term "woke" is a term goofy white liberals co-opted to feel good about themselves. "Woke" just means you're aware of how the world operates, and whiteness and money afford the luxury of sleeping through most of it. I've lived a pretty privileged life, but I've been aware — and against — most of America's inequities for as long as I can remember. My comedy is socially aware and willfully ignorant; I liken it to getting the worst score possible on the SATs. To do that, you have to know all the right answers, and then choose the wrong one, because statistically if you just guessed, you'd get some right. Again, it's very easy to be right in comedy, a lot harder to be funny when you're wrong. It's a fun and challenging line to walk. I think audiences now have just grown up with more of the "correct" kind of comedy that when they see something that defies expectations, they can't process it, or process it as anger and blog posts instead of laughs. I don't know when audiences started wanting their comedians to be their woke thought leaders, but I'm not a role model. I do drugs. Mostly because I know how the world works, and that knowledge is a tax on my brain and heart. That's also why I do comedy.
In your career, comedians have always tweeted. The audience has always had smartphones. You came up in comedy's tech education.
Comedy is the one thing where you watch people learn to do their job. People see Chris Rock's Bigger and Blacker, the final product, and they expect it all the time, every time.
Did you ever think, I'm done? The well is dry. Comedy defeated me.
After the Oscars I thought every job on the planet would call. Like, Oh yeah, let's write on this show or write on that show. But no, that didn't play out. And I was like, Okay, well, uh, I guess I should, uh, look for another finance job or something. I booked my first television appearance on Seth Meyers, and a week later I invited the booker to see my set because I had tweaked a joke. Maybe two hours before that set, at 5 p.m. on a Friday, I got a call from my agent that I wasn't going back to SNL. Obviously I was upset, but I had an hour to process it before I had to change gears and go put on the high-energy, tight set. And then two more sets that night.
Besides everything, what do you miss about SNL?
The popcorn. I didn't have a lot of stuff there besides my plants, which I brought home. I have the cue card from the first joke I got on air from the first show, calling Trump a cracker — well, it's [Michael] Che's joke, I just added the word "cracker." I brought two to four guests per show. Mind you, I have 16 first cousins, a sister, and a fiancé.
The same 16 cousins? Through thick and thin!
I hope they are proud and having fun alongside me, 'cause I'm having a blast. Hasan and Prashanth [Venkataramanujam], his [Patriot Act] co-creator, and Travon [Free], a former Daily Show writer — old friends — also came through one of the first shows to come support, which was awesome. Kenan [Thompson] is one of the only people I've ever geeked out at. Kenan I would watch as a kid, on All That. My mom knows Kenan.
He just became the longest-running cast member and was just talking about tanking his first sketch and worrying he was ruining the show. He was only 25!
He's a genius. A savant. One of the greatest, if not the greatest, sketch comedians of all time. He'd dissect a sketch between dress and air. He was the best, is the best. Even with every wild thing I've experienced, I cannot believe I met him. When my mom met Kenan I was like, Cool, I'm done. My photo is on the wall there. Larry David and Hannibal Buress were also one and done. I'm in good company.
How did you keep at it?
Chris [Rock] told me I was really funny. That was my "oh shit" moment. He was probably the first comedian I quoted — in high school. He was everything. And he thought I was funny. And that was a few weeks after I was told I wasn't doing New Faces for JFL, which at that point in my comedy career was like the thing that I thought I should be doing, because I'd been rejected from it like three times.
You're texting right now, helping a buddy polish jokes. Are you other people's Chris Rock? You're not Chris Rock, but people look at you and they see that you joining comedy expanded who can be a comedian, expanded their possibilities as well as yours.
It's hubris to be like, "Oh, of course." But I would be honored and I'm hopeful that that has happened. I'm just here for me, but if some other kid, another Nimesh Patel in Parsippany — oh wait, but also I know for a fact that there was a Nimesh Patel in Dallas that started comedy some time after I did and Googled "Nimesh Patel" and saw I was doing it already. Sorry.
Maybe he could be the Michael B. Jordan of Nimesh Patels! Someone just started comedy in New York. To them, you've always been doing it. You're a fixture of accomplishment.
I'm just trying to stay humble, hungry, and working. Keeping that "it's my first day" mentality, and keeping in mind all I've learned about comedy and myself. Listen to Jay-Z's "My First Song" off The Black Album and you'll understand what I have playing in my head at all times.
This interview has been edited and condensed.