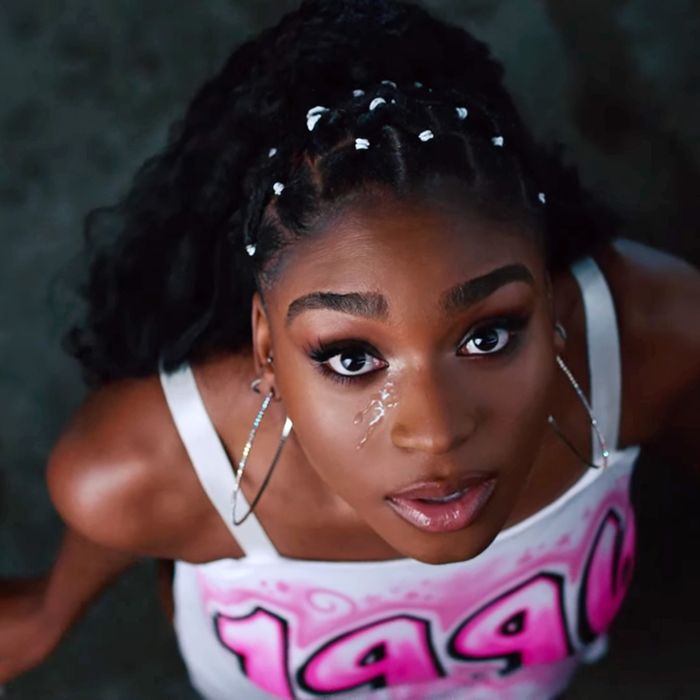 Okay, who else cried?
Photo: YouTube
The music video for Normani's single "Motivation" can be described in one word, but it has to be said in five parts: chor-e-og-ra-phy. Normani doesn't just go all-out, she goes off, she goes in, she goes hard, and we have the best moments GIF'd for you to use as reactions, flirtations, or simply distractions. The Beyoncé-favored 23-year-old has released other singles since even before Fifth Harmony's dissolution in 2018, but "Motivation" is her first with no featured vocals. So, of course, the music video has more memorable moments than time we need to pick our jaws up off the floor. Like, gimme a sec, girl; I don't wanna miss anything by bending down. Here are eight truly perfect GIFs that will loop until you finally tire of seeing Normani absolutely freak it (eternity?).
This is how you walk up to the spot when you know you are that girl. Basic rules of decorum do not apply to you, only the laws of rhythm.
She is literally bending over backward for this man, as graceful as a mermaid, putting her all-white fit on the asphalt, and when she rolls around, perfect arch. Someone has been taking lessons at the Beyoncé Knowles Conservatory of Performing Arts, a.k.a. Homecoming. When it turns out he already has a girl, Normani is unbothered. A gracious queen.
Chain-linked twerk, if you will.
The laws of physics and logic also do not apply to her. The man who gets hit by the (presumably CGI, right?) basketball deserves an Academy Award. I said what I said.
This is peak romance. He's got on the Timbs and the bucket hat. It's dusk. And look at her smile!
A GIF for truly any and every purpose. "Got an A on that test!" "Just binged Fleabag for the third time." "It's Friday!" "Stream 'Motivation!'"
This one is for our viewing pleasure.
"Talented, brilliant, incredible, amazing, showstopping, spectacular, never the same, totally unique, completely not ever been done before, unafraid to reference or not reference, put it in a blender, shit on it, vomit on it, eat it, give birth to it."
First she wears the pink snakeskin Retro Jordan 11s; now she has on the 12s. A woman of taste! The choreography here is, dare I say, transcendent. While I love fantasizing about dancing like Normani, I know in my heart of hearts I'm the guy in the yellow sweater just … chilling, watching.