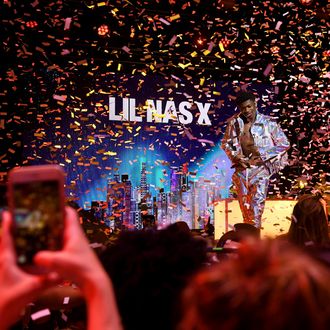 Photo: Noam Galai/Getty Images for BuzzFeed
If you've been driving through Wellesley, Massachusetts, looking for Old Town Road, you're gonna look rode hard and put away wet by the time you find it. According to CNN, thieves/fans have lifted the local Old Town Road sign multiple times during Lil Nas X's complete domination of the Billboard charts — at least thrice by recent count.
"Currently the street sign posts are empty," Wellesley's website declares. "The Department of Public Works is waiting for the song's popularity to fade before replacing the signs again." Uh, good luck. You'll be carrying your horse on your shoulders by then. The town also notes that each sign costs $280 plus labor to replace, if Lil Nas X wants to go ahead and pony up some cash.