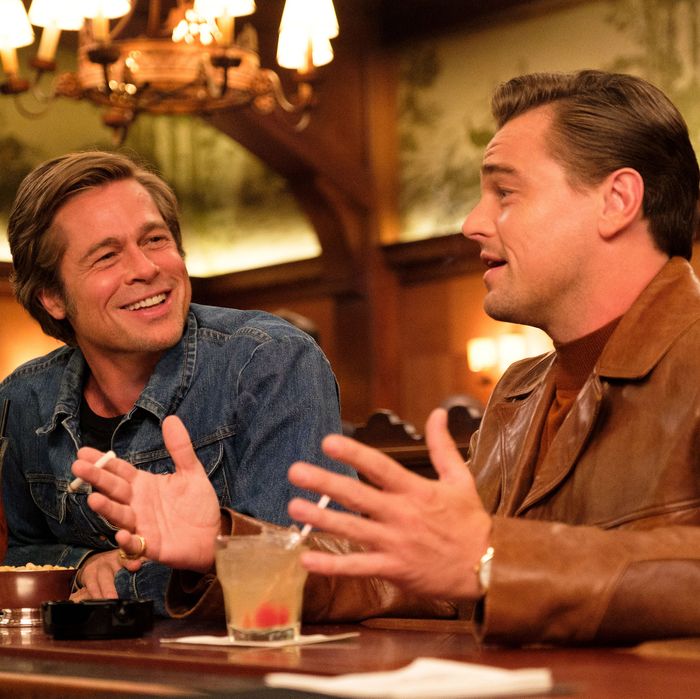 "Sony essentially gave the world away to get a Quentin Tarantino movie."
Photo: Photo: Andrew Cooper/© 2019 CTMG, Inc.
Last Monday, after Once Upon a Time in Hollywood's opening weekend in theaters, marketing executives at the film's distributor Sony gave themselves a round of applause for having pulled off the seemingly impossible. The ninth film by Quentin Tarantino exceeded all box-office expectations to take in $41 million over its first three days in theaters, surpassing the studio's own pre-release projections by $11 million, and becoming the Pulp Fiction filmmaker's strongest opening to date; Once Upon a Time toppled Tarantino's previous record with Inglourious Basterds which debuted to $38 million in 2009.
According to a studio executive (who asked not to be named because the person is not authorized to publicly comment on the film's box-office performance), the victory was all the sweeter considering OUATIH's two-hour, 41-minute run time, its hard R-rating for language and violence, its provenance as an original film hitting theaters in a season chock-a-block with spinoffs, step sequels, and reboots. Then there was OUATIH's competition: Disney's photo-real remake of The Lion King, which was in its second weekend of release but still predicted to suck up most of the oxygen at the multiplex — especially against a director whose movies tend to perform more like art house offerings than popcorn-season blockbusters domestically. And with its $90 million budget, Once Upon a Time in Hollywood had been a risky bet for Sony head honcho Tom Rothman, who lobbied vigorously to finance and distribute the film and trumped other studio suitors by offering Tarantino a rare and exceedingly complex deal in which ownership of the film's copyright transfers from Sony to the filmmaker in 30 years.
In its own second weekend of release, the Brad Pitt–Leonardo DiCaprio two-hander earned $20 million at the box office over the August 1–4 weekend — a better-than-hoped 51 percent drop from its opening gross, given the added competition from the theatrical debut of Fast & Furious Presents: Hobbs & Shaw. (The Dwayne Johnson–Jason Statham film took in an estimated $60.8 million, amounting to one of the lowest grossing premieres for a Fast & Furious installment, but the biggest opening for a non-Disney domestic film this summer, surpassing John Wick: Chapter 3's $56.8 million.) OUATIH's ten-day earnings came in at $78.8 million, setting the stage for ultimate profitability. Due to prints and advertising costs, the film needs to hit about $250 million to break even. Tarantino's directorial efforts tend to make most of their money in Europe, but it won't hit screens there until the middle of the month.
Plenty of analysts are already calling Once Upon a Time in Hollywood's early returns a victory for the movie industry: proof that a non-superhero-centric, adult-skewing film can still break through as a tentpole in an era of franchise saturation. This at a time when a crowded market for comic-book IP is increasingly rendering the grown-up drama an endangered species (outside of OTT streaming services).
RottenTomatoes editor Jacqueline Coley takes a decidedly narrower view of the way OUATIH has been connecting with audiences, however. She points out that holding Tarantino's talky, pop-culturally referential movies separate from mega-budget superhero fare in the modern movie marketplace presents a kind of false dichotomy.
"A lot of people are looking at it like, 'You can tell an original story, have it be R-rated and adult-driven, and people will still show up for it outside of huge IP,'" Coley says. "But it's not really the case. Quentin Tarantino is IP. He's the biggest star of his movies. So in the sense that Quentin Tarantino is an original director and all his movies are different, yes. But no, in the sense that there are expectations people have when they go see a Tarantino film, he benefits from the same thing the [Marvel Cinematic Universe] benefits from. It may be a different demographic of people. But the reason why they continue to show up is almost the same."
Further, she feels that given the mega-wattage of OUATIH's primary cast (which includes Margot Robbie as Sharon Tate) and Sony's marketing blitzkrieg, the film's financial success was already somewhat of a foregone conclusion. "The fact that it has three of the biggest movie stars on the planet and a host of other actors people care about, it is getting the most glitzy Hollywood roll-out possible," says Coley. "Sony essentially gave the world away to get a Quentin Tarantino movie. So if this movie doesn't pull in what it is, it would be even more depressing!"