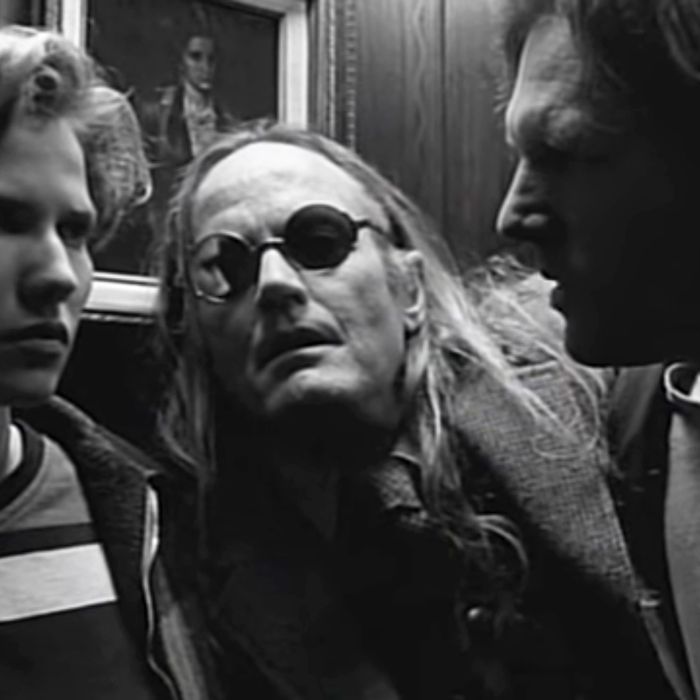 Peter Fonda in
Nadja
.
Photo: YouTube
We were shooting Nadja, a vampire movie, in Manhattan, working nights, keeping vampire hours. Just about everyone in the cast and crew was under 35, but Peter Fonda was irrepressibly, indisputably, the youngest person involved — the most high-spirited, open-hearted, inexhaustible. I'd cast him as Dr. Van Helsing and outfitted him in a tweed suit, one pant leg rolled and bound with a rubber band as evidence of his prowess as a bicyclist. When I think of him on the set, he's always grinning, showing his teeth, his gums, gleeful. He was at a low ebb in his career, I guess, and happy to be working, happy to trade in his cowboy boots, denim, and designer glasses for Van Helsing's tweed.
His one stipulation for taking on the role was that he would not cut his hair. "Let my freak-flag fly" — this, as best I can remember, was delivered by fax, the most urgent form of written communication at that time, the time being March 1994.
Amy Hobby, one of the film's primary producers, recalled in a text, "My first memory of meeting him was in the production office and Prudence asked him if he would try something on and he just dropped his pants on the spot and had no underwear on!" (Prudence, an unfazable Australian, was the costume designer.)
Peter often brought wine bottles to the set, fitted snugly in Van Helsing's satchel — a prop satchel containing superb red wine, uncorked and poured out to other actors at the conclusion of a day's work at sunrise.
His wife was there at least part of the time — Becky, a tiny woman with a huge smile. He seemed absolutely devoted to her; they were giddy in each other's company.
I find myself thinking and writing about him at a run-on clip because, as anyone who knew him can attest, this was his rhythm, his personal velocity, the man could not stop talking. He was an excellent listener but a better talker. Much of the talk was rehearsed and recycled but still charged with a level of high excitement, absolute conviction.
He was sympathetic to the strictures of making a low-budget movie: He flew in from Montana and put himself up in his Tribeca apartment; he agreed to work for Screen Actor's Guild minimum wage, without complaint, the same as everyone else in the movie; and he contentedly shared the single hair and makeup trailer where other actors tended to wait between takes, huddling against the cold, listening to him hold forth.
Part of the proof of his undervalued skill as an actor was his effectiveness in playing silent or taciturn characters. There were the early toughs in biker films, but I think with particular fondness of the shy, self-doubting young man in Lilith, in which Jean Seberg's playful cruelty drives Peter's character to kill himself. In reality, of course, Peter Fonda was gallantly extroverted — a boundlessly democratic, uniquely American aristocrat. He'd explain that he was born famous, bathed in the light reflected off his famous father and famous sister, and he'd be quick to confide the unexpected anguish of that privilege — his father's impenetrability, his mother's violent suicide. His talk was riverlike, rhapsodic, and, not incidentally, overwhelming. I loved him for it, even if I might have been guilty of steering clear of him some days when I needed to keep my head down and make a movie.
Unlike some of Nadja's future critics, Peter recognized that the film was a comedy, but he approached his role with the utmost seriousness. His script was covered with dense, hand-written notations detailing every pause, stammer, and fumble he inserted into Van Helsing's elaborate dialogue.
John Cale had agreed to play Dracula, but at some point a scheduling issue interfered and we had to find another actor. Peter was pleased to take on the double role: Van Helsing, the assassin, and Dracula, the assassinated. I don't think the completed scene — shot in glary Pixelvision against a rear-screen backdrop — quite conveys the audacity and intensity of Peter's performance. He staggered and moaned convincingly, clawlike hands outstretched, wearing the outrageous cape in a blizzard of artificial snow. In interviews afterward, he was pleased to recount, "I got to stake myself."
Karl Geary, who played Renfield, was part of the ensemble that traveled with the movie to the Sitges Film Festival in 1995. Karl just unearthed the above photo and supplied this caption: "Peter was given a special award that night. He was mostly concerned with an issue with his cowboy boots, and all throughout the festival, people would drop by his room to smoke and he'd sit at the first laptop I'd ever seen and instead of writing his autobiography, he'd tell the stories."
I half-remember the special boots — what were they made of? Snakeskin, crocodile skin, scorpion skin?
When Peter received an Academy Award nomination for Ulee's Gold in 1997, I was touched to see how much it meant to him. During his Oscar push, after an appearance on The Rosie O'Donnell Show, we met in the dimly glittering lobby of the Four Seasons hotel and drank our way through a series of dimly glittering martinis. He thanked me profusely, gratuitously, for recommending him to Victor Nuñez, Ulee's writer-director, and for casting him in Nadja, and he started reciting Van Helsing's lines, leaning across the table and racing through the sidewinding monologues, in character and with total recall, although we had shot the movie three years earlier. Through the blur of alcohol, I could appreciate that this hallucination was something akin to seeing a drunken race-car driver madly weaving through pylons in the rain at, say, 100 mph, without hitting anything or spinning out.
I was grateful that he found space in his autobiography to mention Nadja, naming me as "our fearless leader." But Peter was the fearless one, the unhesitating resistor of complacency and clichés. Skimming through his obituaries, I see without surprise that the films he directed go unmentioned or are only glancingly referred to. But The Hired Man and Idaho Transfer are singular accomplishments, rapturous and death haunted, formally adventurous and controlled, telling stories with dire outcomes, not just trippy but tragic. His sunny disposition didn't prevent him from reaching into darker corners of experience and history. (And though he skidded into triviality on Wanda Nevada, his third film as a director, it allowed him a chance to connect with his father.)
Can it be that the last time I saw him was at his ranch in Livingston, Montana, in the winter of 2006? The place was surprisingly modest, surrounded by a vast amount of snow. He was back in his jeans and cowboy boots and wearing a red T-shirt, his hair in a ponytail. We sat together near a cast-iron wood-burning stove. There was an American flag stretched across one wall.
One of Peter's favorite, insistent sayings was "Do not back up — severe tire damage!"
Time floods past, and I'm bereft, wondering how we lost touch over the past ten years. Why didn't he direct more films? Why didn't we make more films together? I was going to reach out, to offer congratulations on Easy Rider's 50th birthday. But Peter's achievement, and his spirit, radiate beyond that one phenomenal flash point. He was, in my book, Whitmanesque, a supreme celebrator of the self, irreversibly optimistic in the gloom, an embodiment of generosity and joy.
Michael Almereyda's films include Hamlet (with Ethan Hawke), Experimenter, and Marjorie Prime. His latest, Tesla (also starring Ethan Hawke and Kyle MacLachlan), is forthcoming next year.