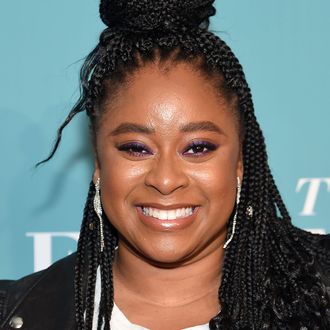 Phoebe Robinson.
Photo: Jamie McCarthy/Getty Images
Comedian, author, and former Vulture TV recapper Phoebe Robinson is getting her very own show. Comedy Central announced today that it's ordered ten episodes of a half-hour unscripted interview series starring Robinson, which will feature "one-on-one interviews and unique experiences with pop culture luminaries." As the untitled show's log line notes, Robinson is "a workaholic who has the luxury of working from home most days at the expense of experiencing the world," so the series will follow her "getting out of the house and meeting the people she's admired from afar." It's the first project to come out of Robinson's newly formed production company, Tiny Reparations.
"This show will hit that sweet spot between educational and charmingly ignorant. Who doesn't love that?" said Robinson on the show. "Well, all older black people who struggled and marched for my rights. But besides that, everyone else does!"
Prior to the Comedy Central project, Robinson co-starred in eight 2 Dope Queens HBO specials alongside co-host Jessica Williams, the last of which aired earlier this year. The 2 Dope Queens podcast wrapped up its run in late 2018 (with guest Michelle Obama, no less), but Robinson continues to host her other podcast Sooo Many White Guys and also published her second book of essays, Everything's Trash, But It's Okay, last October.
Robinson isn't the only comedian to recently get her own interview series at Comedy Central. Stand-up Anthony Jeselnik, who signed a development deal with the network last year, heads to television next month with the debut of Good Talk With Anthony Jeselnik, a six-episode interview series where he chats with his comedian friends like Nick Kroll, Kristen Schaal, Tig Notaro, and more.