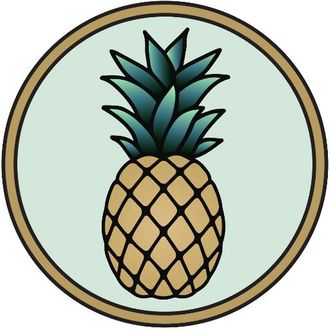 More like Easy Street now, eh?
Photo: Pineapple Street Media
Entercom, one of the largest traditional radio companies in the U.S., has announced that it is acquiring two notable podcast companies: Pineapple Street Media, a Brooklyn-based independent podcast studio that I hear had generated significant acquisition interest over the past few months and received multiple previous offers from other suitors, and Cadence13, the Manhattan-based podcast network led by a group of Westwood One veterans. Both companies were acquired to beef up Entercom's digital-audio brand, Radio.com. The amounts paid for them were not disclosed, though the Wall Street Journal put out a story this morning stating $18 million for Pineapple Street and nearly $50 million for Cadence13, citing "a person familiar with the matter." I'm hearing those figures are not exactly right, but within the ballpark.
The Cadence13 acquisition isn't that surprising, given Entercom already holds a 45% stake in the company following an August 2017 investment. Cadence13 was originally founded as DGital Media back in 2015, starting out as a podcast ad sales and distribution network, with the radio vets essentially leveraging their established advertising expertise within the new on-demand audio context. These days, they're probably best known for being the sales and distribution partner for the progressive media powerhouse Crooked Media and Malcolm Gladwell's Pushkin Industries.
The Pineapple Street acquisition, however, might turn some heads. Arguably the first pure-play independent podcast studio, Pineapple Street was established in 2016 by former BuzzFeed head of audio, Jenna Weiss-Berman, and Longform co-founder Max Linsky. The studio didn't take long to catch fire, drawing considerable attention for their work producing Hillary Clinton's official election podcast and the wildly popular (albeit controversial) Missing Richard Simmons, both within their first year. The studio went on to create shows for organizations like the New York Times and brands like Netflix and Nike. Their most recent project is a co-production with Gimlet Media called The Clearing. For all intents and purposes, they seemed to be doing perfectly fine. Their decision, from what I hear, was driven by the ability to maintain creative control and preserve their current company culture while bolstering with more resources. (Also, presumably, the money.) They'll be rebranded as Pineapple Street Media, and will continue to focus on developing original and branded podcasts.
That Pineapple Street and Cadence13 were acquired at the same time by the same company is not insignificant. While known throughout the industry as the creator of critically acclaimed shows, Pineapple Street has never built out an ad-sales arm, and primarily drove their business off the strength of commission contracts. Other than The Clearing, which just launched, the company does not own any of its shows. Cadence13, on the other hand, derives most of its strength from a capacity to monetize the properties of others. The company recently launched an in-house unit to produce "premium" podcasts, but their core competency remains sales and distribution. As a pair situated under the same roof, they are complementary in more than a few ways. (For what it's worth, the two companies collectively brought in 150 million downloads per month in the second quarter of 2019.)
So, what does this development tell us about the podcast industry? For one thing, it extends the trend of podcast acquisitions that is frontlined by Spotify's purchase of Gimlet Media, Anchor, and Parcast in the first half of this year, and iHeartMedia's $55 million acquisition of Stuff Media last September. (Plus, on a less sexy, ad agency-oriented note, Veritone One's acquisition of Performance Bridge last August.) This is further evidence that the podcast space is in the throes of an ongoing consolidation period.
For an old-school radio giant like Entercom, bringing in podcast companies like Cadence13 and Pineapple Street offers the opportunity for increased relevance and structural growth. The traditional radio-broadcast business is going to be what it is, and though it might have taken longer than expected, the talk-audio medium is subject to the same kind of disruptions and interruptions by the internet as every other form of media. When faced with a situation like this, an incumbent corporation can try to tackle the new world on their own, or it can buy its way in, as Entercom did here, and just as iHeartMedia did last year. It will be interesting to see how Entercom — like iHeartMedia before it — tries to meld its new podcast assets with its existing broadcast portfolio. It might work, it might fail, but either way, it's probably going to be somewhat messy.
Whether deals of this sort make for optimism or pessimism about the podcast industry depends on how you look at things. For those who perceive podcasting as a force of new business creation, this is a good thing: The fact that there are buyers for podcast companies means that, well, podcast companies are valuable, and this should encourage more audio entrepreneurs to build businesses in this space. For those who historically perceive podcasting as a radical force that democratizes creation and publishing, this is obviously a bummer — yet another instance of the scrappy space further corporatizing, yet another instance of the existing power structure co-opting an insurgent group to become something new and more powerful in the process.
A version of this article appears in today's Hot Pod newsletter.