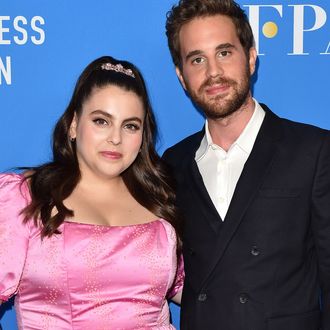 Hey, old friends.
Photo: Axelle/Bauer-Griffin/FilmMagic
After spending 12 years of your life making Boyhood, you might think that a director would want to take a break from the whole slow-progress-of-time movie genre, but not Richard Linklater! Instead, he's decided to go up to a full two decades, and also make it a musical — one of the world's most infamously intractable musicals, in fact. Per a release from Blumhouse Productions (and as first reported in Collider), Linklater has decided to team up with Dear Evan Hansen's Ben Platt, Everybody Wants Some!!'s Blake Jenner, and Booksmart's Beanie Feldstein to film an adaptation of Stephen Sondheim and George Furth's Merrily We Roll Along over the course of 20 years. Twenty years! By the end of the process, Linklater would be 79, Feldstein would be 46, Platt would be 45, Jenner would be 47, and we would all hopefully still live on a habitable planet. (Please pressure your political representatives about the dangers of climate change.)
The musical — for those unfamiliar with either the history of musical theater or the movie Lady Bird — moves backward in time, following a trio of former best friends who've grown cynical and antagonistic toward each other. The story starts in the 1980s and tracks back to their hopeful young selves in 1950s. There's Frank, who's gone from idealistic composer to movie producer; Mary, who's gone from aspiring writer to bitter theater critic; and Charley, Frank's former songwriting partner who's fallen out with him. Blumhouse's release doesn't specify who will play which role, but Feldstein would likely be Mary, with Jenner as Frank and Platt as Charley (at least according to his own Instagram). Per the release, principal photography has already been completed for the first segment of the film, with only a couple decades left to go.
"I first saw, and fell in love with Merrily in the '80s and I can't think of a better place to spend the next 20 years than in the world of a Sondheim musical. I don't enter this multi-year experience lightly, but it seems the best, perhaps the only way, to do this story justice on film," Linklater said in a statement. Merrily's original 1981 Broadway production, directed by Hal Prince, starred a group of young actors as the characters and flopped hard, so much so that it ended Prince and Sondheim's partnership at the time, though the musical has since gone through many revisions and revivals, which have received varying degrees of acclaim. A 2000 London production even won the Olivier Award for Best Musical. Anyway, this is a pretty big gamble, and we're interested to see how it pays off 20 years down the line — that is, if society still functions in the same way around then. We watched Years and Years!