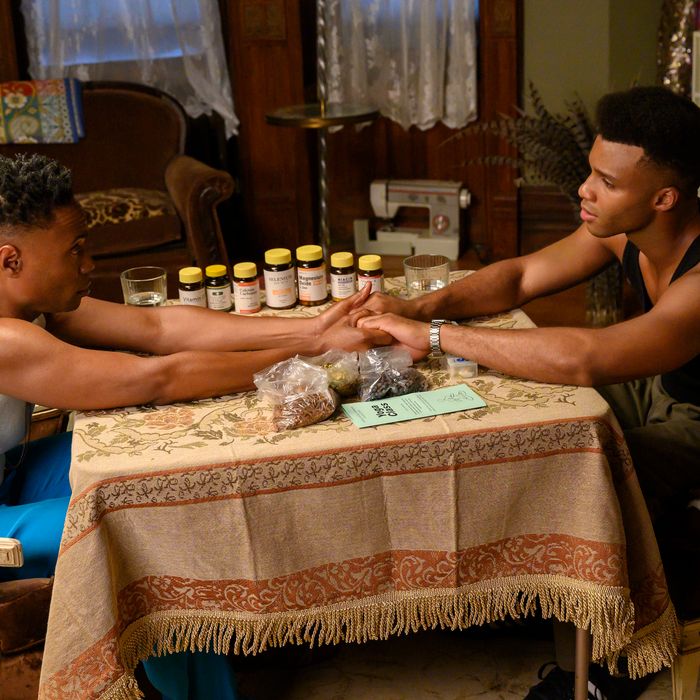 Billy Porter as Pray Tell, Dyllon Burnside as Ricky.
Photo: Jeffrey Neira/FX
The category is … sex!
In Tuesday night's episode of Pose, we saw a whole new side of Pray Tell as he and Ricky became lovers. Even more revealing: The sex scene in "Revelations" was Billy Porter's first nude scene of his entire career, which he told the press he would watch after taking a Valium.
"Listen here!" Porter said, laughing during a TV Critics Association panel in which he appeared via satellite. "I got that contract and that contract said 'nudity clause' and I literally sat and went, Child, they don't want to see my black ass … and I signed it never thinking in a million years that anybody would call me on it. But these bitches wrote a script that I had to show my ass and you will see it tonight."
After the touching ending of last week's episode, "Blow," in which Pray Tell comforted Ricky (Dyllón Burnside) after he learns he's HIV-positive, the two men take their relationship to a new level in "Revelations." The episode is co-creator Steven Canals's directorial debut.
The scene meant a lot to Porter, who says, as a veteran queer actor, his roles have always been asexualized. "I have spent my entire career never having been the object of anyone's affection in anything until now," he said. "I had my first romantic kiss in anything ever in my life last season in episode eight. So to be turning 50 on September 21 and having a very loving, connected sex scene is blowing my mind. My nerves are frayed. I'm gonna take a Valium and watch it tonight."