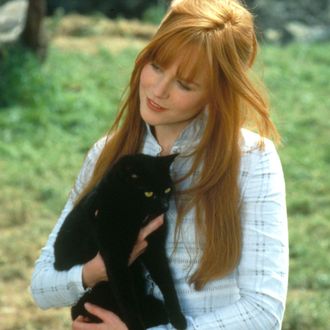 Nicole Kidman, circa 1990s.
Photo: Warner Bros.
Magic isn't real, but if it was, it'd come in the form of reboots we didn't know we needed. Per a release from HBO, a Practical Magic prequel, Rules of Magic, is getting an HBO Max pilot, along with two other shows, Generation and Red Bird Lane. The latter two are not based on a perfect '90s film starring Nicole Kidman and Sandra Bullock, but we guess we're happy for them, too. Based on the novels Rules of Magic and Practical Magic, by Alice Hoffman, the new television show will follow three siblings as they realize that they're actually descended from witches. The sisters go on to accidentally kill men with their love, but their brother ends up on another path.
HBO Max has also set up a writers' room with a ten-script order. Created by 17-year-old Zelda Barnz, Generation is about a group of high-school students coming to terms with their sexuality, à la Sex Education, in a conservative community. Zelda Barnz's parents, Ben and Daniel Barnz, will both executive-produce with the latter taking on co-writing duties as well. Lena Dunham is also an executive producer on Generation. Red Bird Lane combines the spooky with YA when eight strangers arrive at a mysterious house (guess what street it's on?) and instantly regret it. HBO Max is coming together and thank goodness that includes an homage to pre–Academy Awarded Sandra Bullock and Nicole Kidman. Immortalize them!