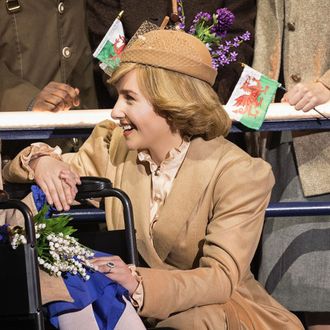 Diana
.
Photo: Little Fang
Right about now, it seems every Broadway musical is closing, from Be More Chill and The Prom (which closed yesterday) to The Cher Show, King Kong, and Pretty Woman (which all close next Sunday). But if you're someone who loves spending large amounts of money to see people spontaneously breaking into song, be assured, there is still hope. This morning, two new musicals have announced Broadway runs this season: The Lightning Thief: The Percy Jackson Musical, and Diana, a musical about Princess Diana. As it happens, they will both play at the Longacre Theater, a fact that makes this all easier to remember, and together, they bring this season's total of musicals with original scores up to three, counting the previously announced Henry VIII's wives pop musical Six. That's almost a full Tony category! (Congrats to the plays with a few noodling piano notes in the background that also get in there.)
First up at the Longacre will be The Lightning Thief, which is based on the fantasy series by Rick Riordan. It'll have a 16-week engagement at the Longacre, starting October 16 — seemingly designed to nab teens who are visiting New York with their families over the holidays. The production has a book from Joe Tracz and direction from Stephen Brackett (who worked together on Be More Chill), with music and lyrics by Rob Rokicki. It previously ran Off Broadway in 2017 and did a national tour starting in Chicago in January this year that recently ended in Boston.
While both musicals are offbeat Broadway entries, the Diana announcement is a little more of a surprise. The musical ran at the La Jolla Playhouse in San Diego earlier this year, starring Jeanna de Waal as Princess Diana and Roe Hartrampf as Prince Charles (they'll both be back for Broadway). Christopher Ashley, who won a Tony for Come From Away, directs Diana, which has a book and lyrics from Joe DiPietro and music and lyrics by David Bryan, who collaborated on Memphis. Diana starts performances March 2 and opens March 31, just in time for Tony season, and to appease people who are eager for more royals content after the third season of The Crown.