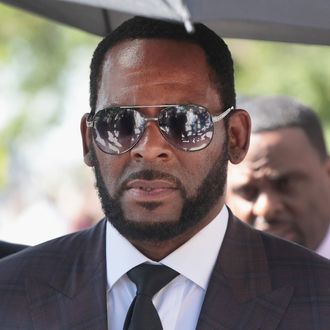 Photo: Scott Olson/Getty Images
A mostly expressionless R. Kelly pleaded not guilty in his Brooklyn federal court racketeering case Friday morning, with the prolific singer-songwriter perking up only when he motioned towards his two live-in girlfriends who were in the courtroom.
Kelly was charged in July with racketeering for allegedly running a "criminal enterprise" to both promote his music and "recruit women and girls to engage in illegal sexual activity," according to court documents.
During the brief proceeding, Kelly was polite to the magistrate judge, replying to the jurist's greeting of "morning, Mr. Kelly" with a "morning" of his own. He said "yes, sir" when asked if he understood his rights.
One of his lawyers, Douglas Anton, told the judge "not guilty at this time" when asked about Kelly's plea.
Kelly sported drab navy blue jail scrubs and neon shoes, but the more than two dozen supporters in attendance remained reverent, as if he were a persecuted celebrity and not a fallen star.
His two live in girlfriends, Azriel Clary and Joycelyn Savage, watched Kelly attentively. When Kelly nodded at them, both offered subdued smiles. When Kelly nodded at them again a few minutes later, they nearly beamed. They both sported black and white ensembles.
Prior to the proceeding, seven women formed a prayer circle in the hallway outside the courtroom, with one saying "give him the strength."
One participant wore a shirt with R. Kelly's photo that included text such as "survivinglies" and "#Him2."
Another supporter, Grace Charles, sported a t-shirt reading "Free R. Kelly" on the front and "Unmute R. Kelly" on the back.
"The people that was involved with him, they put themselves in that position,she said. "I believe he is not guilty."
Both women said they had their shirts made.
Another Kelly supporter, Ruthie Castro, made crowns with supportive slogans.
"He's the king of R&B," she said.
One of her crowns was decorated with silver and gold beads and rhinestones. It also featured a black-and-white photo of Kelly. Another crown was in glittery gold. Castro made a total of 24, she said, and plans on passing then out at future court appearances.
Federal prosecutors in Brooklyn also hit Kelly with four Mann Act counts involving his alleged "interstate transportation of a victim to New York to engage in illegal sexual activity, and his exposure of her to an infectious venereal disease without her knowledge." (The Mann Act is effectively a law that bars bringing people across state lines for illegal sexual activity.)
Kelly, who has long been accused of illegal sexual misconduct, was also indicted in Chicago federal court on thirteen counts: five counts of enticement of a minor to engage in criminal sexual activity, four counts of producing child pornography, two counts of receiving child pornography, one count of conspiracy to receive child pornography, and one count of conspiracy to obstruct justice.
Kelly has been locked up since his July 11 arrest on the federal charges. The magistrate in his Brooklyn case also denied him bail.
Kelly was also hit with many state-level charges in Chicago earlier this year.
Federal prosecutors in Brooklyn are citing specific claims, including Kelly allegedly preying on minors and using psychological manipulation, to make their case that his behavior was a coordinated enterprise. (These claims extensively echo accusations that have previously emerged.)
Kelly, his managers, personal assistants, bodyguards, drivers, runners, and various other cronies had a "common purpose of achieving the objectives of the Enterprise" to bolster R. Kelly's brand and music while luring women and girls into illicit sexual activity, prosecutors alleged.
They charged that these girls and women "were not permitted to leave their room without receiving permission … including to eat or go to the bathroom" and "were required to wear baggy clothing when they were not accompanying Kelly to an event or unless otherwise instructed by Kelly." They weren't permitted to look at other men and instead, "were told to keep their heads down."
"The women and girls were required to call Kelly 'Daddy,'" the chilling indictment also alleged.
Kelly also committed "sexual exploitation of children, kidnapping, [and] forced labor" in this enterprise, prosecutors alleged.
The Mann Act counts stem from Kelly allegedly bringing a victim to New York in May 2017 and February 2018 for illegal sexual activity, and "his exposure of her to an infectious venereal disease without her knowledge." While accusations relating to Kelly and STI transmission had been out there, the indictment made them a key part of the criminal case.
In the Chicago indictment against Kelly, it's alleged that Kelly had sexual encounters with five underage victims in the late 1990s, and "recorded himself on video engaging in sexual contact and sexual acts" with four of these minors.
Update 4:11 p.m.: Lawyer Gloria Allred, who represents three Kelly accusers in the Brooklyn case, said at a press conference this afternoon, "I have no doubt that victims of Mr. Kelly are relieved that Mr. Kelly will continue to be held in custody pending the outcome of his trial."
She also shot back against defense claims that his accusers were groupies.
"This is both inaccurate and hurtful to many of the victims," Allred said. "They are not groupies."
Kelly's legal team gave statements at a press conference in the same location right after Allred. They insisted that the alleged criminal enterprise involving women alongside Kelly on the road "is a touring musician's life," not misconduct.
Vulture then asked Kelly's legal team and Allred, who were standing in close proximity, whether they wanted to say anything to one another.
"We're professionals," Anton said. "Gloria's beat me in arm wrestling before."