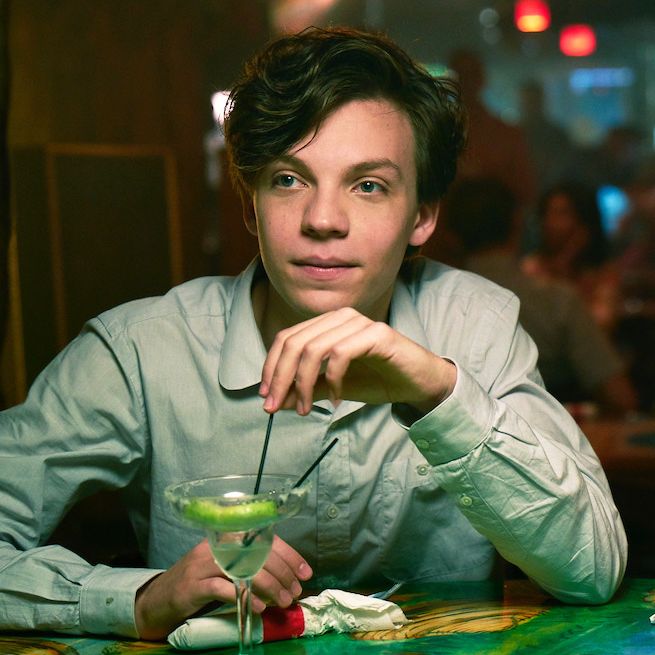 Adam, the debut feature from director Rhys Ernst, doesn't arrive in theaters until August 14, yet over 6,000 people have signed online petitions urging audiences to boycott it. One petition calls the film "extremely homophobic [and] transphobic," and hundreds of posts across social media bear the hashtag #BoycottAdam, warning LGBTQ+ audiences of disconcerting plot details adapted from Ariel Schrag's novel of the same name. Many of those online commenters have yet to see the film. Should a movie — notably one directed by and starring multiple trans people — be canceled before anyone's had the chance to experience it?
Ernst anticipated some of the panic around his decision to help turn Schrag's 2014 novel into a 2019 film. He's aware that Schrag's book has been criticized for its stereotypical portrayals of transmasculine individuals and its dangerous inversion of the "trans deception" narrative found in films like Boys Don't Cry and The Crying Game. Adam's logline explains the latter: a straight, cisgender teenage boy named Adam pretends to be a trans man after a young lesbian woman mistakes him for such. He continues the charade for the majority of the novel, eventually dating the girl and enjoying the support of his newfound group of LGBTQ friends. When the lie is finally exposed, the two continue their relationship, a narrative decision that prompted some readers to wonder what Schrag hoped for them to learn from Adam's deceit.
Even though Ernst's film adaptation takes a different approach to the ending, he was prepared for the baggage of the novel to carry over to his film — especially now.
"I think people feel under attack right now because they are under attack," Ernst tells me over the phone. The filmmaker, known for his work as a producer on Amazon's Transparent and as the creator of the web series We've Been Around, is alluding to the frightening year it's been for members of the trans community, when American politicians have proposed rolling back trans health-care protections and 12 black trans women have been murdered.
"I really understand and can empathize with why people are apprehensive at the idea of something they perceive [to] be upsetting or harmful or negative towards a vulnerable community like the queer and trans community," he adds. Yet the director tells me there's a "cloud of misinformation" around what is actually depicted in his film. Adam the movie, he suggests, isn't the same as Adam the book.
Rhys first came across the script for Adam, also written by Schrag, shortly after he wrapped season four of Transparent. That's when producers Howard Gertler and James Schamus emailed Ernst about the project, which was originally set to be directed by The Miseducation of Cameron Post's Desiree Akhavan. (Akhavan left Adam owing to scheduling conflicts.) Ernst had heard of Adam the book, but that was as far as his knowledge of the story went. Upon reading Schrag's pages, he decided he wanted to reinterpret them "through a trans lens."
"There were a lot of changes that were made by the time it was a script," Rhys told me earlier this year, "and I made further changes in the process of making it."
Having seen the film, I can confirm that it departs from its original source material in several ways. The script reshapes the character of Adam, whom newcomer Nicholas Alexander plays less as the book's willfully ignorant, easy-to-hate interloper and more as an awkward, disarmingly sweet teen grappling with his own identity. Similarly, the film's depictions of trans men are more complex and positive than the ones in Schrag's book, which present transmasculine characters as misogynistic, image-obsessed, and one-dimensional — à la Max on The L Word, a notoriously offensive representation.
Chief among the changes to the movie's plot is the omission of a "corrective rape" scene that occurs in the book, in which Adam has sex with Gillian using his biological penis, instead of a strap-on penis, without her consent. As the novel's critics have noted, the scene happens before Gillian confesses to feeling sexually attracted to cis men, implying that their sexual encounter contributed to her decision to no longer identify as a lesbian. Schrag recently spoke to BuzzFeed about her reasons for cutting the contentious scene from her script: "It's a fine line, but I did consider it consensual, just psychologically complex … and it was just not possible in the movie to depict that complexity in a successful way."
"Basically," Ernst insists, "the things that people are afraid of, who haven't seen the movie, none of those things are in the movie."
The crux of the story, however, is the same. Set in 2006, the film follows Adam in the summer before his senior year, which he's decided to spend with his queer sister, Casey (Margaret Qualley), in New York City. He shyly tags along to viewing parties of The L Word, marriage-equality rallies, and dive-y lesbian bars. When his new crush, Gillian (Bobbi Salvör Menuez), a lesbian, mistakenly assumes Adam is a trans guy, he doesn't correct her. Ernst is aware the elevator pitch still raises alarms.
"It's a tricky logline that sounds like it could be potentially problematic in a moment in which 140 characters is stronger in some cases than a more complicated, nuanced essay," Ernst says.
When the backlash to Adam reemerged online late last month, a year after a Tumblr post dubbed the project a "lesphobic and transphobic mess," Ernst was most struck by the disparity in responses between those queer and trans folks who had seen the film and those online who'd only seen the trailer. "It's almost like living in two different worlds, which is very 2019," he says. As he sees it, in one world are the hashtags and petitions, and in the other world are the overwhelmingly positive audience reactions the director says he experienced at Sundance Film Festival, various press screenings, and, more recently, at OutFest in Los Angeles, where Ernst received a Special Mention for Directing.
Though I initially approached Ernst's film with caution owing to my own objections to Schrag's book, I was among the critics who felt ultimately surprised by the ways Adam cleverly subverts the "trans deception" narrative. Instead of playing into the trope, the movie uses it to tackle the expectations so often placed on trans folks to disclose their trans status. More than that, the film introduces a world where a cis man learns from a trans man how to have a healthy, conscious relationship with his masculinity, and where queer and trans characters are shown joyfully and unapologetically living in a narrative that centers them. As a trans person who came of age without any positive depictions of transmasculinity in media, I thought Adam offered something I felt was worth celebrating.
Among the queer and trans folks who have taken issue with the film, however, are a particular group of dissenting voices: extras who worked on the set of Adam who have come forward with allegations about the film's treatment of trans individuals, challenging the production's purportedly trans-inclusive workplace and accusing the filmmaking team of deceiving background actors who were unaware they were acting in an adaptation of Schrag's work.
In a Twitter thread that's since gone viral, one transmasculine individual who worked as an extra on Adam explained that he was consistently misgendered on the film's set. The individual — who asked to remain anonymous and will be referred to by his Twitter handle, Al — says that a casting agency asked for his pronouns (he uses both he/him and they/them) but crew members referred to him using she/her pronouns multiple times. According to Al, this was the case for several other trans and gender-noncomforming extras who used neutral pronouns.
On set, Al says that he was under the impression that he was meant to portray a cis lesbian in the background of two scenes. Two things led him to such a belief: First, he cites the clothes in which he and other transmasculine people were styled — "things people weren't comfortable with and didn't suit their gender identity." Second, he notes the circumstances of the scenes. One sequence took place at a lesbian bar called the Hole (a reference to the now-shuttered East Village dive bar that hosted lesbian nights, which Ernst attended in the early aughts). The other was set at a fictionalized re-creation of Camp Trans, the annual demonstration held throughout the '90s and early aughts that protested the Michigan Womyn's Music Festival's exclusion of trans women.
"That clued us in to be like, 'Well, were there trans men there?,'" Al explained. "Because if this were a camp that welcomed all women, great, but we're men. So how do we fit into this narrative?'"
The Hole does play a central part in the story of Adam. The titular character and Casey visit the establishment, where a transmasculine character also named Casey (Maxton Miles Baeza) is present. It's where Adam is first mistaken for being a trans man, suggesting it wasn't atypical for trans men to be there alongside cis lesbians. As for the real Camp Trans, which was held in support of trans women, it was known to welcome transmasculine and gender-nonconforming folks, too.
Another extra, nonbinary trans writer KC Clements (who uses they/them pronouns), agrees that the Adam crew "really didn't have a grasp on they/them pronouns at all." Although Clements wasn't personally misgendered on set, they told me that "folks who were not cis-passing, and especially transfeminine folks, weren't being treated with respect."
Clements didn't have the same experience with wardrobe, noting, "I'm fairly cis-passing, so I was put into a butch or masculine role." However, Clements did take offense at the look books they received for a house-party scene. "They sent us these horrendous look books with pictures of what we should dress up like to go to the set as extras," Clements told me. Clements recognizes the photographs are "evocative of that period and what queer folks dressed like at the time" but felt the images played into trans stereotypes.
When I brought up Al's allegations with Ernst, the director said he was upset to learn a trans person was misgendered on his set: "This is something that is really important to me, improving the conditions on sets for trans people." As he's done on the set of Transparent, Ernst says he took great care to hire crew members for Adam who were queer, trans, or LGBTQ-friendly. He tells me "a lot of intent and sensitivity" went toward fostering a trans-inclusive workplace before production began. He and a few other trans individuals Ernst did not name developed a "Trans 101" document that was distributed to every crew member. Trainings were held with members of wardrobe and other departments to educate them on trans identity, as well.
Despite those intentions, Ernst admits, "I do believe somebody could have accidentally been misgendered at some point." He tells me more than once that it's impossible to have a perfect set. "This is a production coming from a good place, and yet mistakes can still be made." Ernst finds it hard to believe, however, that transmasculine extras would have been asked to portray cis lesbians. He says he doesn't find those claims consistent with conversations he had with wardrobe. Ernst wonders if there was a misunderstanding on the extra's part before rhetorically asking me, "I mean, what is the wardrobe of a cis lesbian? What does that mean? And what is the wardrobe of a trans man or a transmasculine person? I'm not really sure where that idea came from."
Al further purports that the filmmaking team behind Adam deliberately withheld the movie's real title, script, and plot synopsis from him and other extras. He says he was never told outright that he was acting in an adaptation of Schrag's novel, and instead assumed he was taking part in an episode of Transparent. (At the time, Adam's working title was City Summer.)
In response, the filmmaking team shared a statement on the movie's official Twitter account noting that it's "standard industry practice" to not provide script pages to background actors. Ernst echoes this, adding, "There was no intent to deceive or obfuscate" the title or premise. A representative for Central Casting, the agency responsible for hiring extras on Adam, told me the practice of sharing script pages with extras varies by project, but the representative declined to comment on the remaining allegations against Adam, claiming client confidentiality concerns. The agency "relay[s] all available and appropriate information to our background actors prior to going to set," she explained.
Ultimately, Ernst says he wishes Al's allegations were brought to his attention two years ago, when Adam was shot. "If anything were to happen that was confusing or misunderstanding or made someone feel uncomfortable on set, the crew I had on this particular set would have been completely available and open to make the corrections necessary." The filmmaking team's statement on Twitter further asserts that "everyone on set was happy to talk about the film and what it was."
But Al strongly disagrees. He says he never felt comfortable approaching the crew with concerns over pronouns and wardrobe. "In fact, we were encouraged to not approach anyone or ask questions or info," he says.
In Clements' case, they did approach a crew member, asking whether the film was a direct adaptation of Schrag's novel, because they had heard murmurs about the project's real title. But Clements never got an answer. "It did sort of seem like they were keeping it from us," Clements said, "as opposed to being upfront about this is what this project is."
Al has not yet seen the completed film, but he says he has little confidence in Ernst's movie or its ability to positively interpret Schrag's novel. Clements, who also hasn't seen the film, wonders why Adam was made in the first place. "I just would have to ask, why at this moment? We have so many other stories to tell."
But Ernst stands behind his debut and his crew, stating, "There was nothing but an intention of inclusion and openness and wanting to get things right."
"In the case of this movie," he adds, "I really think people have to see it to be able to talk about it and critique it in an honest way. There's just no shortcut to that."