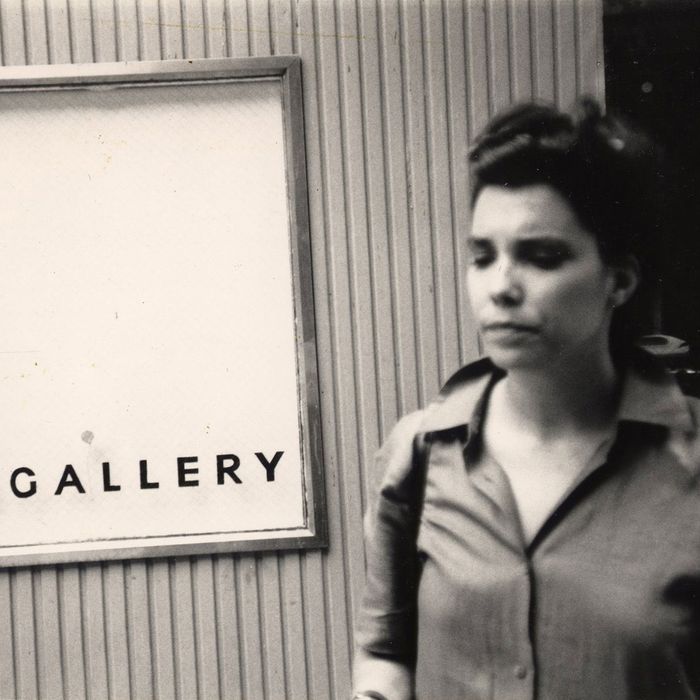 Photo: Courtesy 303 Gallery, New York.
In 1984, Lisa Spellman and some friends rented a fifth-floor, 2,500-square-foot loft at 303 Park Avenue South for $470 per month, and she opened up the part they weren't living or making art in as a gallery. At the time, Spellman, who'd gone to SVA to study photography, was, as Jerry Saltz once put it, this "super-alert, classic, uptown-meets-punk girl telling me about art that I'd never heard of in ways that made total sense, that seemed important, and altered the ways I understood photography." Which meant she was interested in Cindy Sherman and Richard Prince — who were so cutting edge then they were a bit baffling — when the buzz was still on painters like David Salle and Julian Schnabel.
She and Prince were so complicit with one another that they became a couple, lasting from 1985–1991 (they got married toward the end of that run, but that only lasted about a year). If he didn't work out as a romantic partner, Prince was a solid bet as an artist. And Spellman, as a gallerist, made a lot of good bets. Collier Schorr was her gallery assistant before Spellman showed her work. She also showed Andreas Gursky, Sue Williams, Thomas Ruff, Robert Gober, Rirkrit Tiravanija, Karen Kilimnik, Doug Aitken, Rob Pruitt, and many more, as she moved 303 from Park Avenue South to East Sixth Street to Greene Street to several spaces in West Chelsea.
Thirty-five years later, the 303 Gallery occupies 12,000 pristine, column-free square feet in the base of a white-and-gold Norman Foster–designed condo tower, on the corner of 21st Street and 11th Avenue. Even tucked under 19 floors of people who paid something around $3,000-a-square-foot for their condos, her gallery is still selling challenging art. It's there because she'd savvily cut a deal with the developer, who wanted to build on the site of the former taxi garage 303 had moved into back when West Chelsea wasn't yet quite so plutocratic.
She and Prince remain friends. He interviewed her on the occasion of 303's anniversary, which is being marked by a group show at the gallery, and a big yellow book. —Carl Swanson
Richard Prince: I remember getting a message from you asking for a studio visit, in the spring of 1985? 1986?
Lisa Spellman: Yes, it was 1985.
RP: I was living in L.A. and had returned to do a lecture at the ICP and calling you back and telling you I didn't have a studio, but would it be all right to come visit you? You had the top floor at Park Ave. and 23rd Street, 303 Park Ave. South?
LS: Yup, that's it.
RP: You answered the door. We had met before? The Milk Bar? Maybe not.
LS: Perhaps, that's totally possible. 
RP: Anyway. When there's too much of nothing, no one has control. That was my impression of your space … And you lived in your space. Your bedroom was right in the middle. The waters of oblivion.
LS: Yes. It was a three-bedroom loft with an exhibition space that I had built, and a darkroom.
RP: You had some strange photography hanging up. Alan Belcher? Sculpture photography? Anne Doran? Stephen Frailey?
LS: Yes! 
RP: It was pushing. It wasn't Kodachrome, that's for sure. How long before I moved in?
LS: Just a few months. Like a flash.
RP: You had a roommate that thought she was Madonna. I think you gave me her room after she got mad at me. A small back room for a studio?
LS: Yes, it was a good room for a studio.
RP: You were already totally committed to running 303. That's what you did. Can you recall some of the other artists you showed at the time?
LS: Larry Johnson, Jeff Koons, James Casebere, Gerard Malanga, David Robbins, Vito Acconci, you.
RP: You had Colin de Land over. You guys were tight. How did you know him?
LS: I met Colin late one night at Danceteria. We were both in the process of opening galleries, his was going to be called Vox Populi.He seemed really excited that I had a space already. He had the Rolodex.
RP: He gave me a business card with American Fine Arts on it. Something to do with his mother?
LS: His mom was like Zsa Zsa Gabor, she lived on the Upper East Side.
RP: Your space was lean. Black and white. No furniture. You had no assistants. Shoestring right? Day to day? But you had plan?
LS: Yes, just me, there was no plan B.
RP: Collier Schorr showed up? When? She wanted to work for you.
LS: Yes! She was Victor Schrager's student at SVA. She became the intern/director.
RP: I remember a Vito Acconci show. And then Jeff Koons's basketball tanks. What else before you moved?
LS: Larry Johnson, Matt Mullican, Allen Ruppersberg.
RP: How did you meet Charles Ray? I remember a long dinner table. Charlie was there and I think Liz Larner was there.
LS: Yes! I called Hudson at Feature Gallery, or Liz Larner gave me his number. She was like the Martin Kippenberger of her generation. She was impressive to behold, a true force.
RP: Art advisers, that was something new to me. A funny bunch. Smooth for you though, right? You seemed to be able to work with their chips and shoulders.
LS: Thea Westreich was a legend.
RP: You moved to the East Village. When?
LS: I opened East Sixth Street in 1987, with John Dogg.
RP: Same time as Colin de Land on Sixth Street.
LS: I think Colin had just moved from Essex Street to Sixth.
RP: Both of you on the same block. Tree-lined. Open on Sunday — that was sweet. You had that collab show with Wool and Gober. Then Charlie Ray's gravity-defying "ink line." What's it like when you look back? What do you believe went on, and what was and remains real about that time?
LS: It was a surreal space, all a white cloud, the floors and walls. Collier in the office, tons of people on the street, Peter Fend hanging out, lots of artists, then the Tompkins Square riots. We moved to Soho. I think access all around was much easier, easier to meet artists, collectors, writers; everything fit into a storefront. Scary and simple times, the stock market crashed and the East Village started to collapse.
RP: I remember when you showed three of Jeff Koons's basketball tanks, and I think they were trading for like $3,000. Peanuts? Or the peanut gallery?
LS: Yes, around 3K, and between you, me, and Colin, we still didn't have enough money to buy it. I never thought about asking for a payment plan. I remember renting the space out for weddings, and I hired Daphne Fitzpatrick to stand by the tank to guard it. I tried selling one to David Madden, he said I was a terrible salesperson and gave me a seminar on tape on "how to sell anything." When the tanks went for 500K a few years later, he said I could send the tapes back. Jeff would come over and clean out the tanks and I would roast a chicken.
RP: Sixth Street was like a club. Special. Not a members-only vibe but certainly not Vanity Fair megawattage. 303 has always seemed like family. How do you feel about art-world bigness?
LS: I think the bigness is like getting shot of novocaine, it just dulls everything around it. It takes all the oxygen out of the room; at this point, it's a little boring and expected.
RP: What happens in 303 stays in 303? What's your best soap-opera story?
LS: No comment!
RP: Before I forget. You showed Christopher Wool, Bob Gober, Charles Ray, Gursky when they were starting out.
LS: Yes, and Collier Schorr, John Dogg, Thomas Ruff, and Hans-Peter Feldmann, who was just coming back into the art world after a ten-year hiatus. He had just done a show with Kasper Koenig called "The Museum Is in Your Head."
RP: Then you picked up on Karen Kilimnik, Sue Williams, Larry Johnson.
LS: Also Doug Aitken, Kristin Oppenheim, Rodney Graham, Jane and Louise Wilson. And later on, Stephen Shore, Mary Heilmann, Ceal Floyer, Florian Maier Aichen, Nick Mauss, and Dominique Gonzalez-Foerster.
RP: Should I stay or should I go? It's complicated — business, pleasure, friendships. Artists need babysitters. How do you navigate all the therapy?
LS: This is therapy.
RP: What TV show (or movie) would you use to describe each event: Art fairs?
LS: [I do] about nine a year. Village of the Damned.
RP: Auctions?
LS: Hate them. Soylent Green with Charlton Heston.
RP: Biennials?
LS: Love them. The Sound of Music with Julie Andrews.
RP: I loved the scale and feel of 303 on Greene Street in Soho. It reminded me of René Block's space. When was that move?
LS: That was 1989. We opened with Larry Johnson.
RP: And how many shows did you do there?
LS: We were there about seven years; we did 69 shows.
RP: Was there a show there that you remember but no else does?
LS: I know we did a Peter Fend show, his maps of water sources in the Middle East, but I can't find any documentation.
RP: Who do you trust?
LS: No one is really left.
RP: Is art better when it's a secret?
LS: Yes please.
RP: Can you share a story about Colin de Land?
LS: The time he and I came to your studio on East 12th in his rusted station wagon to pick up the Fashion Gang. He wore his plaid corduroy suit. You were not letting that gang into his car.
RP: Is there artist out there you wish you could show but can't?
LS: The list is very long. Richard Long, Hamish Fulton, Vito Acconci, Robert Gober, Chris Wool, you, Andreas Gursky, Harold Ancart, Maria Nordman, John Marin, Charles Burchfield, Lucy Dodd, Allen Ruppersberg.
RP: Why do you think artists and the art world pioneer neighborhoods only to have those neighborhoods gutted by bankers and decorators?
LS: We are just tools for the machine, we make the place look nice, then they swoop in.
RP: I guess it's safe to say you should never marry one of your artists. (You can have your dog answer this question).
LS: Woof, it's okay. I have no regrets.
RP: You were early to Chelsea. Early to Montauk. Do you have some kind of crystal or rad radar that People magazine could profile?
LS: I need a new radar.
RP: Have you ever been in People magazine?
LS: No, but in "Page Six" a few times.
RP: Do you care about popularity?
LS: No, but I care that people support the artists' exhibitions.
RP: Art versus religion? Opposites? Or is there a connection?
LS: I hope there isn't a connection, but whatever gets you through the day.
RP: I know you have a connection to religion that a lot of people aren't aware about. (It's all right Ma, I'm only bleeding). I guess what I'm asking is, how do you feel about Google and social media?
LS: I love Google and social media, except they are moving into my neighborhood and tearing the place apart.
RP: You surf. Do you bring your phone to the beach? Do you ever shut down? Or do you still let a crying artist interrupt your perfect wave?
LS: I do have my phone on me at most times. There are so many things that interrupt a perfect wave, but an artist has not been one of them.
RP: What percentage of art don't you get?
LS: Oh, wow, so much.
RP: Does anyone ever ask you to show you their slides? I guess what I'm asking, do you rabbit hole on Instagram?
LS: Yes, they do. I learn a lot on Instagram. It's a pretty great way to learn about awful art and amazing art.
RP: Do you collect art?
LS: Yes, a little. I'm lucky to have what I have.
RP: How do you deal with collectors who buy with their ears?
LS: I'm glad they are even using an ear.
RP: Art is one of the last unregulated businesses. Do you think it should stay that way?
LS: I think those days are numbered.
RP: Do you go to the auctions? Do you care if one of your artists get hammered?
LS: Yes, it's devastating. 
RP: I leave it there.
LS: Leave it as it lays.
RP: I'm a big believer in "play it as it lays." There's a fine line between sharing and self-promotion. What advice do you, or would you, give to your artists about sending up too many red flags?
LS: I would like to tone it all down. There are so many more factors, all out of our control at the moment, so self-promotion seems to take a back seat to all that.
RP: Have you been in a room where you think art history has been made but never acknowledged?
LS: Yes, that's a good question, but now it's all recorded and acknowledged. Not sure it's history.
RP: I want to thank you for giving me the opportunity for being able to write jokes with a pencil on small pieces of paper, 1986. Who else would you like to get a thank-you from?
LS: The jokes and the tire treads by John Dogg, the wife jokes, the hoods, the purple barge. No thanks needed from you. I'm super grateful.
RP: We spent a couple of cold winter days in Rome in 1990 hanging out with Christopher Wool. I stayed and was saved by a video rental store. Have you ever been saved?
LS: Rome was tough, the total opposite of what I thought the city was. I loved the biography I read about Rome while I was there, which saved me. Books and movies all save us. Surfing saves, water saves, trees and canyons save. Without nature, it's a pretty bad deal. 
RP: 1988: Moving upstate for weekends was a big bust for us, but then, for retreat, you coasted Scott Free out to Montauk [in 1995]. You didn't even have a landline. How important is it to plant your own flag?
LS: I love flags. It was important in order for the gallery to grow to land in all the spots I planted flags.
I had to own the gallery space, otherwise time eventually catches up with you, and then you're drifting out to sea. The artists need a base.
RP: Meyer Vaisman was an artist then a dealer then an artist. Gavin Brown was an artist then a dealer. Betty Parsons was both artist and dealer. And then the granddaddy of American Place, Alfred Stieglitz, super-artist, super-dealer. Did you ever want to be an artist?
LS: Those are all the some of the most brilliant dealers.
I studied photography at SVA, I built a darkroom. Ultimately, I felt I was alone too much, which wasn't a good thing. So then I started the gallery.
303, besides being the address, was the name of Steiglitz's back room where he did special projects with the artists, it seemed to make sense.
RP: How many roads must an artist walk down? Do think artists should be just asking questions, or do you think they should step up and start answering some? 
LS: I think artists have all the right questions and that's all we need.
RP: Hot buttons. Cultural appropriation. Sometimes the art world seems a little stiff. When do the dogs lose their bark?
LS: I know, right? At this point in time, it should be utter chaos every day. Too many adults in the room, too many serious money-shakers. Though I'm glad to have a little break from explaining what institutional critique means, no one really cares anymore.
RP: Gursky used to sleep on your couch. Who sleeps on it now?
LS: Well, I let him sleep in a bed, though I used to sleep on his floor when I used to do the Cologne art fair. He brought me to everyone's studio in Dusseldorf.
RP: Profile question: favorite book, movie, music. I need to know who I'm dealing with.
LS: La Place de la Concorde Suisse by John McPhee. I love The Big Short, I can't stop watching it. I love the Allah-Las and Reverberation Radio.
RP: Digging mercury with a pitchfork, Richard Brautigan. Art is closely associated with poetry. It has its own kind of drift. How do you yarn on about what is essentially visual and spiritually unexplainable?
LS: This is so true. I really try to say as little as possible or just relay the facts and let them have their own experience.
RP: Do you get up in the morning and realize it's too early to wake? Do you ever feel being the pilot of 303 is like a bottle of bread?
LS: I wake up around 4:30 to 5:30 a.m. each day and catch up on stuff, review the day, and hang out in a garden and then get on my bike. I love bread. I try to not think about what I do, otherwise I'm frozen in place. I try to ponder the future.
RP: Aesthetics. Have you figured out anything yet?
LS: Yes, I love flowers and I don't care if that's too pretty.
RP: Love and hate about the art world?
LS: Hate auctions. Love almost all the rest.
RP: There's always art-world fever, puppets and masters. How big is your broom?
LS: My broom is vast, I'm always sweeping. It's a constant stream of debris.
RP: Peggy Guggenheim. Art of this century. For seven years, one of the great art dealers of all time. She had input from Frederick Kiesler and Marcel Duchamp. You don't have people whispering in your ear, right? If you go down in the flood it's going to be your fault. Lo or behold?
LS: I have gone down in a flood and came back up. I would love to find someone who would whisper to me. Is there a time when we run out of ideas?
RP: Artists have no responsibility. They go out and buy a truck or something. But art dealers save their money and rip it up. 303 isn't a red dot gallery is it?
LS: I miss red dots, that was a very satisfying experiment, and when you sold one edition of a few, you would use a hole punch to cut the dot into quarters. Galleries are all risk, all the time. Artists are heavily invested too now though.
RP: Basement noise and easy chairs. What's the plan?
LS: I want to do this for another 35 years, but I want to always have August off.
Refers to Prince's Gang series, large artworks that presented grids of juxtaposed photographic images (in this instance, all fashion images). He was skeptical of the artwork going in the car, due to the artworks dimension (86 inches x 48 inches) and the state of the station wagon — a big, rusty hulk.