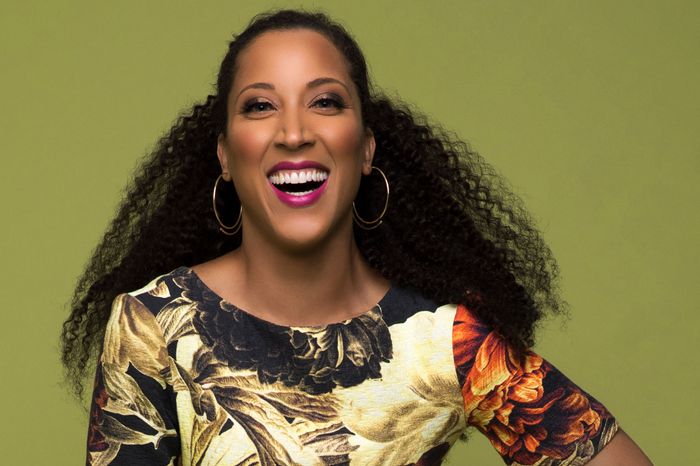 Robin Thede.
Photo: Island Boi Photography
HBO's new sketch-comedy series A Black Lady Sketch Show is bursting with talent and potential. When the trailer dropped last month featuring the likes of Natasha Rothwell, Laverne Cox, Gina Torres, and Patti LaBelle, it was obvious that the show was gearing up to be a big moment in comedy. With a core cast of four hilarious women — Ashley Nicole Black, Quinta Brunson, Gabrielle Dennis, and creator Robin Thede — A Black Lady Sketch Show is carving out a new space for black women in sketch comedy. Ahead of tonight's premiere, Vulture spoke with Thede — who also serves as an executive producer on the show alongside Issa Rae — about her love of sketch comedy, hiring black women writers, and being in awe of Angela Bassett.
What sketch comedy influenced you most growing up?
In Living Color for sure. I was obsessed with everyone on that show, and then I grew up and got the chance to work with Marlon [Wayans], Damon Wayans Jr., and lots of other folks from the show. David Alan Grier, obviously. He gave me a job when I had no money. Chocolate News.
I remember Chocolate News!
Do you remember me on Chocolate News? Probably not. [Laughs.] I only did one episode before it got canceled. I played the White House Etiquette Correspondent trying to help show people how to talk to a black president.
The cool thing is my heroes from In Living Color have become my mentors and acting peers. It's been really fun.
So, you wrote and performed on The Nightly Show With Larry Wilmore, then you were the host of The Rundown, and now you're doing sketch comedy.
The Rundown was an incredible experience. I'm proud of it. I think shows get canceled all the time, and it's not a reflection of your talent, ability, or the work that you do. I will always remember that show fondly.
But I'm really excited about this new sketch show! It's great being able to venture outside of politics and truly focus on my first love, which was sketch comedy. It's always been since I was 5. Even in my late-night experience, sketch has always been a part of my repertoire. So it's really nice to be able to focus on that solely, because it's always been a dream of mine.
I came through Second City and ImprovOlympic and all these schools performing eight shows a week with improv and sketch. So this is really a return home for me. It's really nice, and this show is obviously history-making in so many ways of its own. I think the world will enjoy it.
How did you go about assembling your writers' room for this show?
The great thing is that while people think it's really hard to find black women who are great comedy writers, I know better. And so I literally called up 24 black women comedy writers and met with them over the course of three days. I could have hired any one of them, but unfortunately I could only afford to hire six. I was able to narrow it down, but it was an incredibly hard decision because they could have all written amazingly on the show.
Shame on the industry if they say that there aren't enough funny black women writers out there, because it's a lie. It was very easy. I did not rely on agencies to find writers. I hire writers by word-of-mouth. I go to comedy clubs. Agencies always send the same half-dozen white dudes. Those guys will always find work.
But the writers I chose are so much more dynamic. We have Rae Sanni, who wrote on The Good Place and Rel. We have Brittani Nichols, who wrote on Take My Wife and appeared on Transparent. We have Ashley Nicole Black, who is an Emmy Award–winning writer on Full Frontal With Samantha Bee. Holly Walker, from The Nightly Show and dozens of years in Second City as a teacher and performer. Akilah Green, who wrote on Chelsea. And Amber Ruffin, who is a writer and performer on Late Night With Seth Meyers! Between them and me and Lauren Ashley Smith, who is our head writer and was a dynamic writer on The Rundown, it's a real who's who of black women comedy writers.
I know the work of nearly every person you mentioned, which is so cool. And the work speaks for itself. The sketches are narratively varied and interesting. I really loved the 227 sketch. Your Jackée Harry is so good!
Thank you. I mean, she's an icon. I used to perform with Amber Ruffin, Holly Walker, and all the people in that sketch [except for Quinta]. We had a live show called 227: The Lost Episodes for two years at Second City. I played Jackée every week. So, I'm used to playing her, and I was excited to bring the sketch to this new show.
A lot of sketch comedy, if it's through a black lens at all, is usually from a male perspective. So, I wanted to know if you had a specific creative intention with this black woman-centric show?
My mantra is that it's specifically cast, but it's universally funny. I want to show that black women are funny, but we aren't just one type of funny. It's about showing the diversity amongst black women. We play so many types of characters. Between the four of us, we play 100 original characters. We play men, women, old people, aliens, all sorts of things.
I think for the longest in comedy we were relegated to having other people writing for us who do not share the same voice, or we just don't have the platform. And black women have never been featured this heavily in American sketch-TV history. Even on shows that were predominantly black, women always took a back seat.
Because this show is created by, written by, and starring black women, you get a unique point of view and a range of point of view. I don't think anyone could walk away from this show and say it displayed only one type of humor. I think what's revolutionary about this show is that it will allow every type of black woman to feel seen. And people who are not black women will still be able to find the humor relatable. There are so many sketches that have nothing to do with being black, but because the characters are played by black women it changes the effect of the comedy.
Out of all the sketches this season, do you have a favorite?
Yeah, but I'll never say. I'll tell you after the season airs.
That's fair!
I'm glad that I could get on the phone with you today, because I think that it's important as black women that we get to talk about this show and what it will hopefully mean for comedy going forward. We named this show A Black Lady Sketch Show so we could be one of many. I think that's really critical. My hope for this show is to create something that is a safe space for black women to show their comedic range and to show the world that we can literally do anything. I think it's really special, and I'm so glad you got to see it.
I'm really glad I've had the opportunity to talk to you about the show. [Pause.] I have to ask: What was it like working with Angela Bassett? Having her and Laverne Cox …
And Amara La Negra!
Yes!
So many of the sketches are dream-team sketches! The very next sketch has Gina Torres, Kelly Rowland, Nicole Byer … Every sketch is a dream come true on this show! But specifically working with Angela Bassett was definitely a highlight of our time on the show. More people came to set than I even knew worked on the show. She is a joy from beginning to end. Issa [Rae] and I thought it would be hard to get her, but it really wasn't. I wrote Angela Bassett a letter and she was like, "I'm there!"
So many of the women we asked to be on the show were so game. I think it's because a lot of black women don't get the chance to do things like host SNL and show that they're funny. And they are! Everyone loves to be funny. But yes, that day shooting was such a blast. That sketch probably has one of the best endings in the whole series. We love to do misleads, and that one is wild.
It must be freeing to not have to work with commercials.
It's a lot more work because you have six more minutes to fill, which is an eternity in television, but it is freeing and HBO has been such an incredible partner. They let us do whatever we want. You can tell how good of an experience we had by the quality of what we made. We have the first black woman as head writer of a sketch show in Lauren Ashley Smith, and the first black woman to direct a sketch series with Dime Davis. It's a historical moment.
You're doing stand-up in New York City, right?
Yeah! I've been doing it for about three years.
It'll be seven more years before you get good.