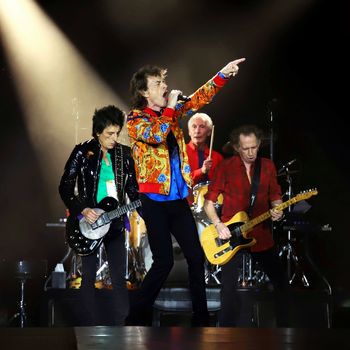 This band could just come out and play its greatest hits, but instead it plays to its individual and combined strengths as much as its most beloved singles.
Photo: Greg Allen/Invision/AP/Shutterstock
The Rolling Stones lived up to their name. Early on, locomotion saved them from stagnation. The London legends escaped the blues-covers circuit in the early '60s, dabbling in garage and psych sounds on the way to a string of rock-and-roll classics that would outpace many of their British invasion contemporaries. But alongside the triumphs of Beggar's Banquet, Let It Bleed, Sticky Fingers, and Exile on Main Street came drug busts, losses, addictions, tax troubles, a bout of self-imposed exile, and a fatal stabbing during the Altamont Speedway Free Festival, the 1969 concert catastrophe remembered as the spiritual death of the decade. The Stones bounced back from all of this and rode the shifting tides of popular music in the late '70s, embracing soul and disco on 1978's Some Girls, reemerging lean and vicious on 1980's Tattoo You, and producing enough sharp tunes through the '80s and '90s to keep them well-oiled on the road.
In the 21st century, the Rolling Stones are still good for an airtight studio album and arena tour every few years, but periodic health scares — like drummer Charlie Watts's 2004 battle with throat cancer and Mick Jagger's recent time off for heart-valve surgery — have challenged the feeling that this band was built to last forever. At MetLife Stadium Monday night for the second tristate area date in the North American leg of the roving No Filter Tour (which was pushed from spring to summer to give Jagger room to recover), the Rolling Stones proved their mettle. Inside the stadium, concerns about Jagger's health quickly evaporated. The 76-year-old never missed a step, a hop, or a shake. His footwork makes walking seem musical. In his hands, a motion as benign as wiping sweat from his forehead becomes a mesmerizing juggling act. His voice is no worse for wear in his fifth decade on the road. His energy is frenetic and seemingly endless.
No Filter is a precarious balancing act, a show that piles on the hits while managing to throw you off guard. You settle into the lush full-band strut of early evening pace-setters like "Jumpin' Jack Flash" and "Tumbling Dice," and then Jagger, Watts, Keith Richards, and Ronnie Wood file out into an outgrowth of the stage positioned in the middle of the audience to do an acoustic set. You lounge in the country-rock majesty of "Dead Flowers," and then the drums from "Sympathy for the Devil" (whose painstaking construction was famously documented in an offbeat Jean-Luc Godard film) signal the return of electric guitars. You guess that Mick's going to sing all night, but you get two from Keith. Early career highlights — including a whopping six songs from 1969's Let It Bleed, perhaps in honor of its coming 50th anniversary — are mixed with '80s and '90s hits like Dirty Work's "Harlem Shuffle" and Voodoo Lounge's "You Got Me Rocking." In the process, every member of the band — including founders, veterans, touring members, and backing vocalists — gets a moment in the spotlight.
Skipping around highlights from three different decades allows the Stones to showcase everything they are and have been. Sixties staples like "Flash" and "I Can't Get No (Satisfaction)" are garage-rock gold. The liquid grooves of Let It Bleed jams like "Monkey Man," wisely selected by fans online as the evening's audience-request number, and "You Can't Always Get What You Want" evidence the elite interplay that once earned this band the honorific nickname of the "greatest rock-and-roll band in the world." On "Paint It Black" and "Gimme Shelter," they're doomsayers accurately predicting the demise of the love movement of the '60s. "Start Me Up" and "Honky Tonk Women" elevate Richards's brash riffage. Backing vocalist Sasha Allen is a commanding presence on "Shelter." Wood stalks the stage like a soldier during the sitar lines in "Black." "Miss You" gives longtime bassist Daryll Jones a lengthy and impressive solo while allotting Jagger space to stretch his voice, strut his stuff, and lead a sing-along. Pacing and balance are sage and surprisingly democratic. This band could just come out and play its greatest hits — which were repackaged in the April compilation Honk, seemingly to coincide with the original start date of this leg of tour — but instead it plays to its individual and combined strengths as much as its most beloved singles.
Deep in the set list, a smoking 12-minute "Midnight Rambler" epitomizes the past and present ethos of the Rolling Stones. "Rambler" is a dark story, said to have been inspired by the early-'60s reign of terror of the Boston Strangler, but it's also a reverent Chicago blues tune. It fingers this band as the teenage American music obsessives they used to be and the worldwide stadium-rock lifers they'd become. It floats because of teamwork, but it gives Wood a moment to rain down lightning-quick notes in a solo. It gives Mick and Keef a spirited call-and-response between lead guitar and vocals, and it gives Jagger a minute to coax the audience into trying its hand at his job, as he belts out runs they parrot back at him. A brief nod to Robert Johnson's "Hellhound on My Trail" barrels out like a mission statement, as Jagger repeats the Mississippi legend's opening line, "I gotta keep movin'." Movement keeps the Stones alive and free. It's a sentiment echoed in Richards's Some Girls nugget "Before They Make Me Run": "After all is said and done / I did all right, I had my fun / But I will walk before they make me run." It took years for the Rolling Stones to locate a sensible pace, in life and in music; now that they've found it, they'll keep at it until the wheels fall off.