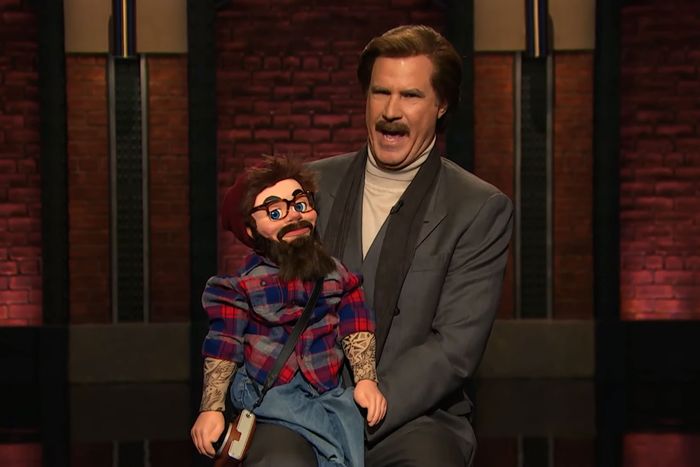 Will Ferrell as Ron Burgundy.
Photo: YouTube
This week, a mystery late-night special guest had folks in a tizzy. Conan, The Late Show with Stephen Colbert, The Late Late Show, The Tonight Show Starring Jimmy Fallon, Late Night with Seth Meyers, and Jimmy Kimmel Live! all hinted at the TBA star.
Conjecture around the late-night-watching corners of the internet went wild. Was someone retiring from comedy? Announcing yet another presidential run? Dying? Turns out, none of those! It was Ron Burgundy. Will Ferrell's dimwitted anchor crossed networks and time zones to bring us ventriloquism, stand-up, and anecdotes about knife fights. On Conan, he joined Julio Torres in bringing prop comedy back to television. The Tonight Show framed Burgundy's appearance as an extended dream sequence — yet another way the show has been bending the late-night genre as of late.
Every segment was different, but Ferrell wore the same turtleneck-and-scarf combo on each show. It was a nice touch that highlighted the surreality of the stunt. This is the first time a guest has been on every network late-night show (plus Conan). In the '90s, late-night hosts battled for guests. Stars' publicists didn't want to diminish a celeb's cachet by overexposure. That fear has obviously passed. The stunt confused some viewers, like Twitter user Alive in Philly, who didn't know that late night pretapes stuff.
The amount of prerecording on late-night shows has definitely ramped up. In the past, when hosts didn't want to do their nightly show (which still would be taped early in the afternoon), they brought on a guest host. This was how Leno, Letterman, and Joan Rivers got their late-night starts. Today, hosts will either air reruns or bank episodes when they want a break, though Kimmel's show has occasionally featured guest hosts. Here's a tip: If the topical monologue is almost all about "recent studies," that's a pretaped show.
All in all, we viewers were left with the question: Why? Ferrell went on late night to promote the new season of his podcast, but why all these shows, and also why these shows? Left out of the fun were Watch What Happens Live with Andy Cohen, The Daily Show, Desus & Mero, and newcomer Lights Out with David Spade. John Oliver and Sam Bee only have weekly offerings, so they're excused. Three of the shows Ferrell went on have an SNL connections, but that doesn't explain Kimmel, Corden, or Colbert. You could argue that they only went with the network shows, but that doesn't explain Conan. And David Spade overlapped with Ferrell for one year on SNL! It's weird optics.
More than anything, I think what this stunt illustrates is the falling worth of a late-night appearance. The folks over at iHeartRadio didn't trust that one Burgundy appearance would be flashy enough press for a podcast's second season. It was nice that all the hosts got together for a fun moment, but they'd be crazy if that fun didn't shake them at least a little.