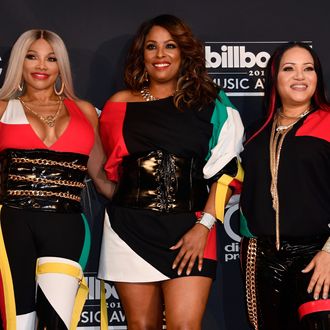 Photo: Frazer Harrison/Getty Images
Girl, what's my weakness? Men, and an understanding of contract law. According to Billboard, a judge sent a lawsuit filed by DJ Spinderella against Salt-N-Pepa into mediation on Friday. Deidra Roper, who has performed with Sandra "Pepa" Denton and Cheryl "Salt" James for decades, accuses her former longtime collaborators of fraud, breach of contract, and trademark infringement after receiving a termination email back in January.
While Salt-N-Pepa issued a statement Friday applauding the ruling, saying they hope their attempt to go their separate ways from their former DJ would be like a "divorce, both peacefully and without rancor," Roper alleges she has lost out on more than $600,000 after being cut out of numerous opportunities dating back years, including Salt-N-Pepa's tour with New Kids On The Block and last year's Billboard Awards show. You can read the full statement from Salt-N-Pepa via their spokesperson below.
A U.S. District Court Judge in the Dallas District today rejected DJ Spinderella's requests for immediate relief against Salt-N-Pepa and its management, ordering the case to mediation. We are grateful for the judge's ruling as Salt-N-Pepa have been extremely generous to Spin over many decades and attempted to settle what amounts to a divorce, both peacefully and without rancor. Unfortunately, Spin and her legal team adopted a scorched earth approach that brought unnecessary attention to a business dispute that all along could have, and should have, been settled amicably and privately.