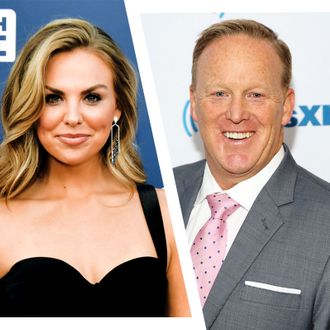 Dancing With the Stars is like Groundhog Day. You're never really anticipating it, but when it comes around, it's always like Hey! It's Groundhog Day. How silly. And then you tip your barista and skip out of the coffee shop. This year, the Dancing with the Stars cast announcement is a little bit more jarring. All 12 contestants were revealed on Good Morning America, but in a shocking twist, we won't find out what professionals they're paired up with until the season premiere on September 16. It's totally fine, though, because the cast list itself is completely bonkers, with enough surprises to last you until next season.
Former White House press secretary Sean Spicer (who previously turned down the show) will be doing the cha-cha alongside Queer Eye's culture expert, Karamo Brown; supermodel Christie Brinkley; Dawson of Dawson's Creek, James Van Der Beek; Fifth Harmony's Ally Brooke; former NFL star Ray Lewis; actress Kate Flannery; comedian Kel Mitchell; the Supremes' Mary Wilson; country musician Lauren Alaina; Khloe Kardashian's ex-husband, Lamar Odom; and Bachelorette Hannah Brown, who will be supplying the chicken nuggets.
Sean Spicer pivoting from helping govern the country to learning salsa is concerning to say the least, but perhaps more interesting than imagining his publicist on the phone with ABC whining "please, please, please, we're sorry about the last time," is Hannah B.'s promotion from Bachelorette to Star. No Instagram spon-con necessary for her! The next time we see her, it will absolutely be on her brand new Netflix show, where she teaches quiet girls how to come out of their shell and be weirdos. It will win an Emmy. The stars start dancing on September 16, and on September 25, we can rule them all out as contestants on The Masked Singer.