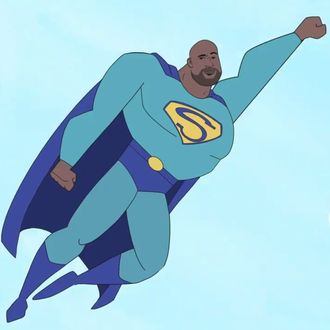 Shaqtoons
.
Photo: Shaq/Twitter
Earlier this year, Adult Swim was roasted on Twitter after it asked for free television-show ideas on the platform, and it looks like that approach has expanded to another Turner-owned network. Yesterday, Gold Bond spokesperson Shaquille O'Neal tweeted about a new contest titled "Shaqtoons," which sounds like, essentially, a spec contest for animators for the chance to have their work featured on Shaq's upcoming TNT docuseries Shaq Life, which was ordered by the network back in May. The catch? For any animator who doesn't want to be completely taken advantage of, it was a pretty terrible idea.
Animators, illustrators, and others were quick to push back on Shaq's tweet, pointing out that what he and TNT are asking for is loads of free work from animators — which, according to the terms on the Shaqtoons website, automatically become the "exclusive property" of Turner and cannot be shared publicly, even for those who don't win. Only a lucky winner would be paid for their time, and the pay would only be $500. Beyond that, any animators who submit agree to give Turner the right to use their "name, likeness, and comments for advertising and publicity purposes, without payment of any compensation." The terms also include a clause that those who submit waive their right to make complaints against Turner for reasons "including, but not limited to, defamation and violation of the intellectual property rights or rights of publicity or privacy."
Here's just a sampling of the response:
The backlash got so bad that TBS eventually deleted its own tweet of Shaq's promo video:
As Deadspin notes, the approximate cost of an animation for the longest audio clip available on the Shaqtoons website would range from $2,900 to $47,000, depending on the style of animation, according to this cost calculator shared on Twitter by stop-motion animator Lawrence Becker. Put in perspective with the $500 a major television network was offering just to the winner — with the rest giving up their free work to be owned by a network that didn't even pay for it — it's not a great look. Thankfully, a quick glance at the replies to Shaq's initial tweet confirms that most people weren't falling for it.
That eventually led to an update from Shaq today, where he confronted the criticism: "To all my animators out there, I heard you. I love your work and want you to feel the love." He also announced that the pay for the winning animation would be bumped up from $500 to $10,000:
This change doesn't address the restrictive terms that animators agree to by submitting — not to mention the fact that the majority of them who aren't chosen to be featured will go unpaid, and as one animator pointed out on Twitter, the terms haven't been updated to officially change the $500 prize to $10,000. But this whole saga is at least an indication that Shaq was listening, and that when enough animators band together against exploitation, at least a little change is possible.