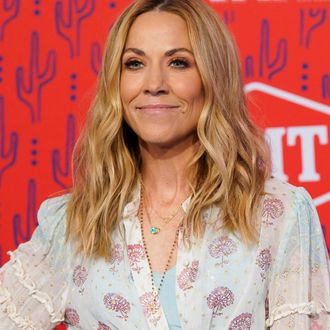 Sheryl Crow.
Photo: Sanford Myers/AP/Shutterstock
Before Sheryl Crow was Sheryl Crow, she toured as a backup singer with Michael Jackson, and now, she has spoken up about the molestation allegations against Jackson depicted in the documentary Leaving Neverland earlier this year.
In an interview with the Guardian, Crow referred to the allegations as "like a death in the family." Crow performed with Jackson a few years after graduating from college on his Bad tour from 1987 to 1989, during which James Safechuck, one of the men who appears in Leaving Neverland, traveled with him. "[Safechuck] was a great kid and the whole time he was with us — which was the better half of an 18-month tour — I always wondered: 'What in the world are his parents doing?', you know?" Crow told the Guardian. When asked if she guessed what Jackson was doing to Safechuck, Crow said that she thought "there were a lot of exceptions made" because of Jackson's status at the time. "He didn't intentionally project it, but it was part of his aura — this almost being untouchable and almost alien-like [figure]," she said, "And yeah, I mean, I'm sad, and I'm mad at a lot of people. I feel like there was just a huge network of people that allowed all that to go on. It's just tragic."
Crow added that Jackson was so detached from the rest of the world, he didn't know her name for a while while she toured with him, and didn't recognize her once she became famous in her own right. The Jackson estate is suing HBO over Leaving Neverland and denies the accusations depicted in the documentary (the Jackson estate is also currently developing a Broadway musical about Jackson). In addition to Safechuck's account, the documentary also includes testimony from Wade Robson. Both claim that Jackson also systematically abused other children and coerced their families into turning a blind eye to what was happening.