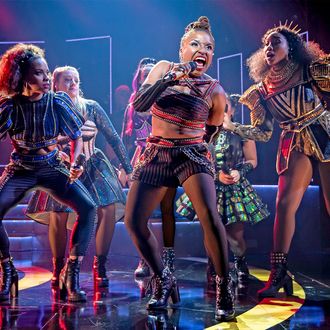 Sing out, queens.
Photo: Liz Lauren
Sing it with me: Divorced, beheaded, died, divorced, beheaded, survived! And tonight, we are live! Those are in fact the exact lyrics from the opening of the musical Six, which imagines a gathering of Henry VIII's six wives in the form of a pop concert. Six, created by the 24-year-old Toby Marlow and 25-year-old Lucy Moss while they were students at Cambridge, is coming to Broadway this spring. It'll start performances at the Brooks Atkinson Theatre, previously home to Waitress, on February 13, 2020, and open March 12.
Originally performed with student actors at the Edinburgh Festival Fringe before travelling to London, the musical has Catherine of Aragon, Anne Boleyn, Jane Seymore, Anna of Cleves, Katherine Howard, and Catherine Parr compete to be the lead singer of their own girl group by performing solos detailing the indignities they had to suffer thanks to Henry. Think of it as somewhere between an Assassins, Hamilton, and the experience of reading gossip posts about Fifth Harmony. Six is also beloved by the internet. Per the show's release, it has the second-highest streaming cast recording (the top spot still belongs to Hamilton), because history is cool to the youth now.
Six's West End production earned five Olivier Award nominations, and is still running. It had its North American premiere in Chicago in May, and will have runs in Cambridge, Massachusetts; Edmonton, Alberta; and Saint Paul, Minnesota this fall. Though there are other new musicals coming to Broadway this season, including Jagged Little Pill, Girl From the North Country, and Tina, Six is the first announced for this season with original music written specifically for it.