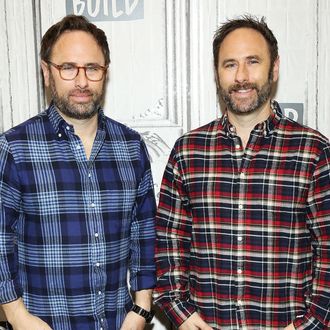 The Sklar Brothers.
Photo: Monica Schipper/Getty Images
Randy and Jason Sklar, a.k.a. the Sklar Brothers, have a new comedy project in development at CBS. According to Deadline, the comedians have teamed up with Scrubs alum Andy Schwartz to write a single-cam comedy series titled UNprofessionals, which is described as "a behind the scenes look at a group of the least important people working at one of the world's most important places: The United Nations." Not a whole lot about the show is known just yet, but it has some impressive comedy names attached behind the scenes: Seth Rogen is credited as an executive producer and Broken Lizard's Jay Chandrasekhar is attached to direct.
The Sklar Brothers most recently appeared in Netflix's Glow, truTV's Those Who Can't, and Kulap Vilaysack's former Seeso series Bajillion Dollar Propertie$, which jumped to Pluto TV last month. Rogen, meanwhile, released his latest movie Good Boys earlier this month, starred alongside Charlize Theron in Long Shot in May, and has a pile of upcoming projects in the works, including a starring role alongside Sacha Baron Cohen, Joseph Gordon-Levitt, and Eddie Redmayne in Aaron Sorkin's Chicago 7. Dude likes to stay busy.