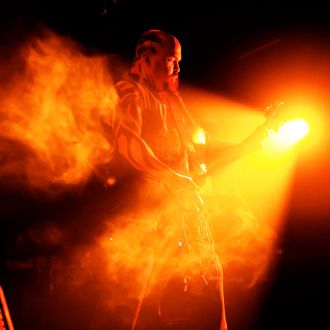 Photo: Ethan Miller/Getty Images
Slayer seems like the perfect band to pair with a night of high-octane NASCAR racing and Monster Energy drink, but inexplicably, there are some who seem to disagree. According to the thrash metal band, they were just removed as sponsors of racer J.J. Yeley's car ahead of Saturday's NASCAR Monster Energy Cup Series at Bristol Motor Speedway in Bristol, Tennessee.
"Today, reportedly due to reactionary concerns from other long-time participating sponsors, Slayer has been pulled as the primary sponsor," the band said in a statement. "After nearly 40 years, Slayer apparently remains as terrifying to some as ever." According to ESPN, Yeley's car, which is No. 54, will instead be sponsored by PODS Moving & Storage, which, while ostensibly a great moving and storage company, probably doesn't inspire nearly as much throat-shredding and headbanging.