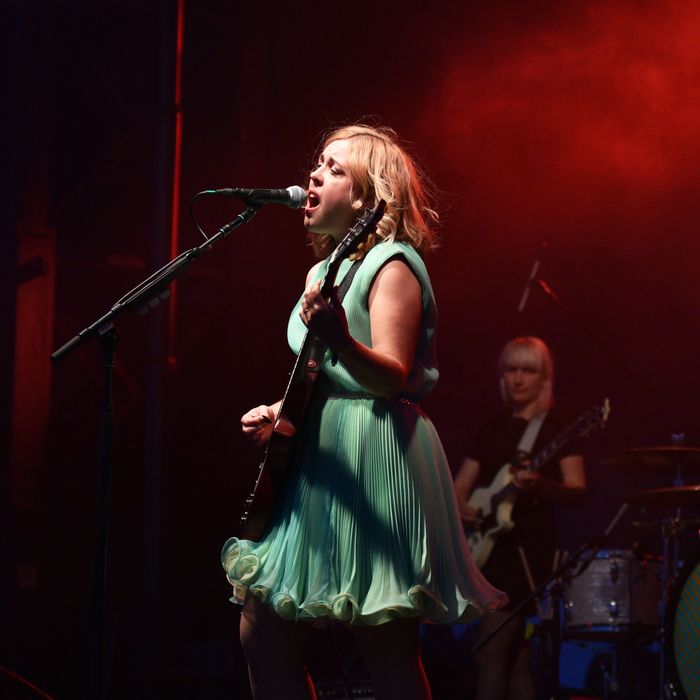 Janet Weiss's departure risks being received as a vote of no confidence that the album doesn't deserve.
Photo: Thomas Cooper/WireImage
Not until two and a half minutes into the ghoulish, atmospheric opening title track does the new Sleater-Kinney album, The Center Won't Hold, unveil its first ripper of a guitar riff. It's a new record for the band in the Guinness Book sense; the previous holders were the 15 seconds it took the audience to quiet down before 2017's Live in Paris blew through No Cities to Love's "Price Tag" and the five seconds 2002's One Beat spent rolling out its inaugural beat. "The Center Won't Hold" is a communiqué, a provocation, really. Center as a whole operates on the same axis of personal reflection, staunch politics, and book smarts that listeners have come to expect from a band with roots in the Pacific Northwest's riot-grrrl and indie-rock scenes and whose self-titled 1995 debut was released on the venerable queercore artist, zine-maker, and label owner Donna Dresch's indie imprint Chainsaw Records; the new album's title name-checks the W.B. Yeats poem from which singer-guitarist Carrie Brownstein's favorite Joan Didion collection, Slouching Towards Bethlehem, takes its name. But the tool kit has changed. If you want the old shit, buy the old albums.
In fairness, Sleater-Kinney's tool kit is always changing. The trio spent the '90s sanding the rough edges off a formidable repertoire of two-guitar punk tunes as Brownstein and fellow vocalist and guitarist Corin Tucker's dueling leads chased each other over Janet Weiss's drums like wolves at play. Around One Beat, Brownstein's and Tucker's riffs stopped racing and started buttressing each other, beefing up the sound by splitting into the identifiable high- and low-end licks that paved the way for the classic-rock turn of 2005's The Woods, on which the band murdered all the popular garage revivalists of the era on their own shit. No Cities is the late-career highlight that takes cues from every corner of the back catalogue; its stewardship and command of Sleater-Kinney's artistic legacy is a best-case scenario for an outfit that took a break for the better part of a decade to work on solo projects, supergroups, books, films, and television. If No Cities was tower defense, a band reinforcing its still-sturdy foundation, Center is Angry Birds, where the objective is to send it all crashing into the concrete.
On paper, The Center Won't Hold is The One With the Synths, wherein a distinguished rock band rapidly acquires a taste for dance-pop style and instrumentation to the shock of the audience. The gear shift is neither as all-encompassingly chilly as hard lefts like Radiohead's Kid A or Sir Paul's McCartney II, nor as evenhanded as balancing acts like the Who's "Baba O'Reilly." It's something like the Stones making it from "Can't You Hear Me Knocking" to "Emotional Rescue" in the span of a decade, or Blondie traveling from the meat-and-potatoes rock and roll of "X Offender" to the drum-machine bossa-nova tones, synth washes, and disco sheen of "Heart of Glass," in the sense that it's reasonable for a band whose talent is bigger than any one genre to evolve, but it observes a cultural mandate in doing so. Would "RUINS" and "Can I Go On" be as light on their feet if rock hadn't spent years spelunking for treasures from other scenes and developing peppy post-genre stars like the 1975 and Portugal. The Man? Perhaps not.
Center is a pop makeover for a band that didn't especially need it, one that cost it a drummer when Weiss announced she wouldn't be continuing with Sleater-Kinney in its new direction. The note risks being received as a vote of no confidence that the album doesn't deserve. Weiss's playing awards a musculature that keeps things grounded. (This isn't a Kid A situation, where you play the record and wonder whether the drummer wishes there were more space to cut loose.) Center deals in mainstream rock and pop sounds that can feel jarringly out of step with the catalogue that precedes it, but it finds ways to impress within the framework. "Hurry on Home" and "Reach Out" imagine what tart, toothy snarl the Pixies might have maintained had they embraced Kim Deal's candy-coated hooks instead of edging them out with squeals and noise. "Can I Go On" crosses girl-group sonics and raucous gang vocals, forging a new path from quiet verse to loud chorus for a band you'd think had charted every available course from A to B.
Center's most daring gambit is its focus on vocals. From the menacing, dissociative lyrics of the title track, to the soaring harmonies that "Hurry" uses to float the idea you've turned on Haim by accident, to the piano ballad "Broken," these songs seem designed to inspire full-throated sing-alongs, while their predecessors led with face-melting guitar grooves and singers shouting over the maelstrom. Here, Center's interests dovetail with those of producer and friend of the band Annie Clark, a.k.a. St. Vincent. Clark's own journey led her from the indie-rock guitar theatrics of Strange Mercy's "Cheerleader" and "Surgeon" to vocal-pop exercises like MASSEDUCTION's "Los Ageless." That album's ideological knot is also this one's: Pop overtures cost the music a good deal of fearless originality. The new textures are clean but not quite fresh. For all its pizzazz, The Center Won't Hold is Sleater-Kinney at its most familiar. Suddenly, a band that for 25 years sounded like nothing but itself is playing the field with everyone else.
The choice is puzzling but not damning. Center hasn't torched the playbook; it just modernized its moves. There's grizzled wisdom in Brownstein and Tucker's words. The new songs astutely appraise the damage of the day, from the disjointed feeling of online connectedness in the face of real-life disconnectedness, captured in "The Future Is Here" ("I walk to work out on the city streets / No one speaks to me, their stony faces beat"), to the fatalism of "Bad Dance" ("And if we're all going down in flames / Then let's scream the bloody scream / We've been rehearsing our whole lives"). "Can I Go On" is a dagger: "Everyone I know is funny / But jokes don't make us money / Sell our rage, buy and trade / But we still cry for free every day." Elsewhere, there are measles outbreaks ("LOVE") and solidarity for the #MeToo movement ("Broken"). The Center Won't Hold is a laundry list of modern ills, but in "LOVE," "Reach Out," and "The Future Is Here," it offers a very simple solution: When you're feeling weary, get around the people who care about you, who really know you, and let their love rejuvenate you. Ultimately, it is a world worth the unexpected turns.