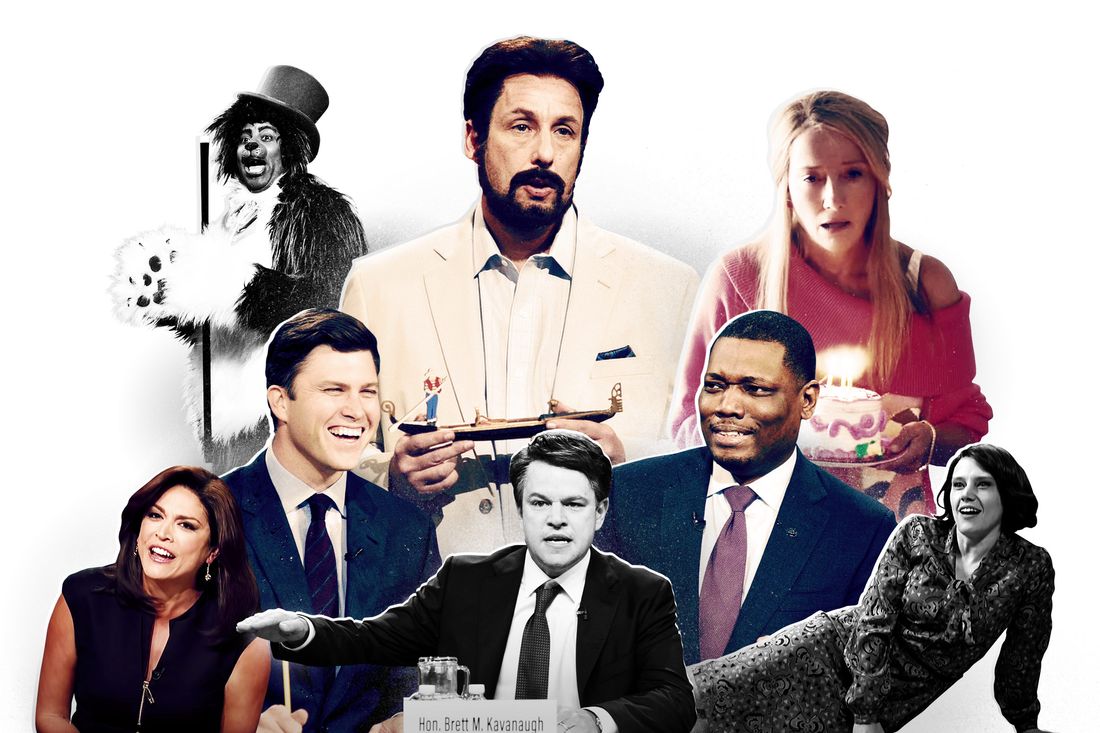 Saturday Night Live
season 44.
Photo-Illustration: Maya Robinson/Vulture and Photo by NBC
Nothing tells the story of a season of Saturday Night Live better than its sketches, the precious gems and oddball curiosities that spring from the minds of its perpetually stressed-out writing staff. And the story of the 44th season of SNL is an interesting one: When the season premiere aired, the first year of Donald Trump's presidency was already over, but the 2020 election season had not yet begun. The result was a truly transitional season for the long-running NBC series, which had to pivot from the grim spectacle of Brett Kavanaugh's Supreme Court hearing to the poignance of Adam Sandler's musical tribute to the late Chris Farley, and everything in between. "It's one of those years that's two years away from an election year. People are not paying as much attention to politics and current events," senior writer Bryan Tucker recently explained to Vulture. "We have to figure out other ways to give the show a voice. Luckily, that leaves holes for experimentation and new voices to come through."
The show certainly didn't shy away from experimentation last season, whether it was through a bizarrely hilarious ad for Italian vacations, a sequel to John Mulaney's "Lobster Diner" sketch about bodega bathrooms, or the introduction of an instantly iconic Kate McKinnon character. "It felt very SNL, like the SNL I grew up watching," supervising writer Sudi Green told Vulture. "It felt like you were seeing a lot of performers having fun, which was really cool. I think a lot of that is due to the writing staff really maturing — also, a lot of risks being taken."
Ahead of what is sure to be a very political 45th season of SNL as the election coverage ramps up, we reached out to the show's head, senior, and supervising writers and asked them to guide us through ten of the most notable sketches and moments from the past year — a year supervising writer Anna Drezen called more "weird, writerly, performance based," and "more old-fashioned" than ever. Like any good episode of SNL, the moments below represent an impressive range of SNL offerings, from political cold opens to "Weekend Update" bits to parades of celebrity impressions to memorable homecomings by beloved former writers and cast members.
Brett Kavanaugh Hearing Cold Open
September 29, 2018: The world was watching when Saturday Night Live tackled the Brett Kavanaugh Supreme Court hearings, which touched on the deep wounds of sexual assault, misogyny, and the future of reproductive rights in the United States. Writers Kent Sublette and Colin Jost turned a dark moment in American history into a live comedy sketch featuring Matt Damon with mere hours to spare.
Kent Sublette, head writer: The cold opens are very often written on Fridays because of the news cycle. If for some reason the testimonies were deathly dull and no one cared, we wouldn't have done that. Colin and I were both very worried about making it something you could laugh at, but also didn't diminish or ignore the fact that it was very upsetting for a lot of people. It was my idea to approach Matt Damon. I thought he could get that sort of unhinged quality [Kavanaugh] had.
Colin Jost, head writer: I think we finished it at 4 a.m. on Friday night. At midnight, we talked to Matt [Damon], who got on a plane. I think he was in Northern California. He got on a plane at whatever, 2 a.m., flew on a plane overnight, landed, probably slept for 45 minutes, then came right into rehearsal. He didn't even have a script when he took off. We sent him a script in the middle of the night. We're very lucky it all came together.
Anna Drezen, supervising writer: I am a survivor of sexual assault, and the Kavanaugh week took me by surprise. It was some of the most emotional pain I've ever been in my whole life. I was kind of in a fog that whole week. [The sketch] was a success story in doing comedy about the fallout of #MeToo that is on the right side of things. Survivors can not feel like we're the butt of a joke. We were also gifted with this cartoon man that said he liked beer several times. Such a blessing.
Jost: The reality in comedy is, there's very few people who can yell in a funny way without it either killing an audience or upsetting an audience. [Matt Damon] is one of those people — in a Will Ferrell way, in an Adam Sandler way. He has the ability to be angry in a funny way. It's a unique skill, and rarer than people assume.
Teacher Fell Down
November 3, 2018: Kate McKinnon shined as a teacher who, as the title points out, fell down. A simple concept executed to absurd perfection.
Drezen: Alison Gates wrote it and it got into the show that week. When a newer person gets a sketch in the show, they put a more senior writer on it to offer guidance. That was me. So from that point, it was me and Gates. But this was always such a Gates sketch. After that, we wrote dozens of sketches together toward the end of the year.
Sudi Green, supervising writer: I thought it was just so unique and cool. It felt like a new voice coming in and people embracing it. The specificity of the performance and the tone. It had that silliness, that first turn of "teacher fell down," that you just laugh at. But as the sketch goes on, you see the perception of this woman, her viewpoint, and what she thinks this means. The music and this weird, almost Virginia Woolf–esque voice that Kate's doing.
Drezen: It was such a collaboration with Hal Willner, who's the music guy there, and getting the shots right. We had a couple of weirder camera moves that made it more like experimental art than a sketch. It was about finding the right balance of signaling to the audience that this was going to be a different kind of sketch without being completely oblique for no reason. What [Kate McKinnon] brought was … there was an element of anger there. "Go ahead and take a whiz on teacher" was in the script, but I think some of that biting Tennessee Williams, "vamp on the way out" energy was from Kate.
Green: The best thing about Kate is, first of all, her talent and, second of all, how collaborative she is. She's really open. A lot of people feel they can come to her with an idea and the odds of her embracing it and giving it her all are extremely high. That's the magic ingredient.
Oscar Host Auditions
December 15, 2018: The controversy around Kevin Hart bowing out of hosting the Academy Awards gave Fran Gillespie and Sudi Green the chance to reinvigorate a venerated SNL tradition: the impression wheel.
Green: It had been a while since we'd done an impression wheel. What we wanted to do from the onset is have a lot of new impressions. It was a good way to hit that Kevin Hart story without needing to do a Kevin Hart impression or being too on-the-nose with it. We could just have fun with the effects of what this scandal was.
Sublette: [Matt Damon] is one of those people who is just naturally good at this. He has an ear for what we do. He's not the kind of person you need to give a lot of notes to.
Green: We knew the cast had [impressions] they were working. We wanted to make it a showcase for Kate, Melissa [Villaseñor], and Heidi [Gardner]. Doing The Marvelous Mrs. Maisel, doing Michelle Wolf, [and] Hannah Gadsby made it feel fresh for us. A lot of those impression sketches are about getting the look right.
Fran Gillespie, supervising writer: [Chris] Hemsworth is hard. If you don't look like him, you don't look like him. It's not like Hemsworth has the Johnny Depp flair. With Helena Bonham Carter, you know who that is. So it's the voice and the particularities. If you just lean into that, people just believe that is who the person is, even if you exaggerate the particularities.
Green: [Fran and I] were at the Emmys, because Colin and Che had hosted, so we wrote for the Emmys. We had watched Amy Sherman-Palladino clean up in this incredible hat and getup. Her totally winning all of those awards and wearing that kooky lady hat, which I love, gave us a character. Fran just went on this run, like, "Amy Sherman-Palladino! Me and my hat will write it all!" She was coming up with all these wordplay puns in this theatrical Gilmore Girls writing. When we were on set, someone said, "Amy should just enter into the shot. She should do a pop-in."
Bodega Bathroom
March 2, 2019: John Mulaney returned to host SNL with a follow-up to his well-received musical collaboration with Colin Jost on the quirks of living in New York City called "Lobster Diner." This time, they turn their eyes to the appalling, magical conditions in a bodega bathroom.
Jost: The set design was fantastic — how the sets rotated and how you revealed the different spaces.
Drezen: One of the designers has a Tony for the original Sweeney Todd set on Broadway. The level of talent in there in the design department is kind of embarrassing when you go to them like, "Hi, this is about a fart that's late for school."
Jost: The first one ["Lobster Diner"] was one of the most stressful sketches I've ever written because there were so many moving pieces. It's musical, there's a bouncing ball, and it got cued at the wrong time on air. I was so irrationally upset. I take sketch comedy so much more seriously than I take my own human life, so when that went wrong, I went in the control room. I was so angry, like, "How did that get messed up?" I thought, I'm a crazy person. Why am I behaving like a crazy person? Five seconds later, Lorne came in and he's like, "How did that get messed up?" And I felt so relieved that he was also irrationally upset about it.
Knowing how many things can go wrong in a sketch, I was nervous doing it again, but it was really fun. I was really happy for John coming back. He brings out the best in a lot of people.
New HBO Shows
April 6, 2019: Kit Harington hosting this late-season episode gave the writing staff a chance to parody HBO megahit Game of Thrones, which they did through this multimedia, multifaceted sketch that featured a cameo by Law & Order: Special Victims Unit stars Mariska Hargitay and Ice-T.
Streeter Seidell, supervising writer: We heard there were going to be five Game of Thrones spinoffs at one point, so we knew we wanted to do something like that. I believe Heidi [Gardner] pitched the White Walker–Jon Snow romance.
Gillespie: You're looking at six full sets, animated elements, and then voice-over jokes. The whole point is they're trying to make a shit-ton of spinoffs. You have to make it a taped sketch, because you have to cover that ground in order to make clear what is funny. As a writer, you're there for all the decisions and making them with the film units, hair, makeup, all the sets. It's 100 percent collaborative. In the edit, you can change the voice-over truly until 11:30 Saturday night.
Green: Very close to the time we had to turn it in that week, Streeter and Mikey [Day] were finishing stuff up. So Fran and I said, "Let's take a pass on this. We'll just go into Fran's office and keep working at it." I remember us going back into Streeter's office and Fran pitching the Arya-Daria thing. That was my favorite part. It was a down-to-the-wire sort of pitch. At first we thought it would just be a logo or a still.
Seidell: I was pretty proud of Arya-Daria and the fact that we could animate it. We wrote it to be live-action, and as we were producing it, we thought, Can we just do it as animation? Because the Daria animation isn't the most amazing. Maybe we can get it done quick. And they were like, "Yeah, absolutely."
Gillespie: Sometimes you'll hear people are around doing this, this person is promoting this, this person is friends with the host, so they're around. You know that at the beginning of the week. [It] was the case that [Mariska Hargitay and Ice-T] were around and interested in doing something. I think Streeter pitched that it would be GOT: SVU.
Seidell: They were so fun, so enthusiastic about it. Seeing them get into that Law & Order mode, as someone who's watched a lot of Law & Order, was fun. "Dire Wolf" instead of Dick Wolf was added, I believe, right before air. I remember being up there and saying "Maybe it says 'Dire Wolf'?" It was so stupid and we very quickly threw it in.
Gillespie: I did ask Ice-T why his name on SVU was Fin Tutuola, which is such an insane name. He said, "I think a writer wanted to be special."
Adam Sandler's Chris Farley Song
May 4, 2019: Adam Sandler had not been back to Saturday Night Live since being fired alongside his best friend, the late Chris Farley, in 1995. His return to host was bound to be memorable, but it was also one of the most poignant episodes of the season thanks to his musical tribute to Farley.
Seidell: [Sandler] seemed like one of those guys who was never going to come back.
Bryan Tucker, senior writer: He had been asked to host for many years, and he was finally at a place where he was comfortable with it. He had that Netflix special, which was just pure comedy, pure him. That went well and was a bridge to coming back and being on SNL.
Sublette: I remember him saying how nervous he was. If you've been away from this place for a while, it's an exciting but also a strange feeling. We took care to support him and make him know, "We're going to give you everything you need to make a great show." He was really happy in the end.
Green: It was one of those weeks where you just pinch yourself. It just felt like everyone wanted to show up for him. People were breaking out their best material — not just because you want to impress Adam Sandler, but also you wanted it to be good for him. You wanted to show up for him and make him feel secure and happy that he came back.
Seidell: It was half excitement to do it and half I don't want to be embarrassed.
Tucker: He forgot a little bit about how rigorous the schedule is. By Friday, he was like, "How do you guys do this?" "You know, you used to do this." "Yeah, like 20 years ago."
Gillespie: When he sang [the Chris Farley song], obviously it was emotional. A ton of people went down to the floor to watch him play it. It's hard not to be affected. It was the same building we were standing in that they became comedy legends.
Tucker: Two-thirds of the writing staff were on the floor watching it. That very rarely happens for a sketch.
Green: I never watch the good-nights from the floor. I'd never gone down for that. I remember it immediately went into good-night and Lorne standing in the center of those two audience sections on the floor and watching the cast pass him and go up to Adam. There wasn't a dry eye in the house.
Seidell: You just knew it was going to be a special moment.
Gillespie: You're thinking about your friendships and your bonds. You can't help but think like, Oh, Sandler's singing this for Farley and they're in the same place we're working in now. It was just sweet. It hit the right tone. It's really hard to do that on a show like SNL. A butt-plug sketch, a commercial, and then the Chris Farley song.
Sublette: I wasn't there for that, but I should have gone.
Romano Tours
May 4, 2019: The standout sketch of the Sandler episode was written by the powerhouse team of Anna Drezen and Alison Gates. Called "Romano Tours," it was an ode to late-night local TV commercials on the East Coast and the delusion that going on vacation will somehow make you a happier person.
Drezen: I'm not a fun person. I go on vacation and am like, "I had a bad time." It's not the vacation's fault. I went somewhere with no plans, by myself, and stayed in the hotel room. It took me a couple times to figure that out, but I took it to Alison Gates. She and I have a similar appreciation for these more feelings-based sketches.
Green: It's so relatable and well observed. It's something everyone's probably felt at one point, especially writers, who tend to get moody and annoyed easily.
Drezen: Tuesday night, writers meet with the host and we pitched it to Adam. He's a very kind, thoughtful, and introspective guy. It was clear he connected to the idea. He pitched the line, "A day is a long time to feel happy for all of it." It was clear the sort of sweet, sad energy was so right for him. I grew up in the tristate area, and the tour commercials were a staple of late-night television. He just seemed like the right host for it.
Green: It was the right amount of aggressive and sweet. That character is pointing out some dark things about the human psyche, but he cares. He's nurturing about it. He's trying to help you.
Tucker: It dovetailed really well with Adam's voice. It's a voice he does well, but not necessarily a voice people know him for. He's known for being cute and silly, but the way he did that world-weary older man that's still Adam Sandler worked out great. Anna and Alison Gates did a great job of providing the right kind of visuals. Mostly it's just a long monologue with a few cutaways to testimonials. In a four- or five-minute live sketch, that can be a bit boring, but the graphics they used, the pictures they used, gave it a tone and a feel that elevated it from being a good sketch to a great sketch.
Drezen: A Kenan [Thompson] reaction shot is like comedy cheating.
The Perfect Mother
May 11, 2019: Just in time for Mother's Day, host Emma Thompson portrayed a mother who claims to be unflappable but is secretly just as much of a mess as every parent.
Seidell: I had done one last Mother's Day with Amy Schumer called "The Day You Were Born," kind of based off my mom telling me stories about the day I was born and how wonderful it was, and having children of my own, knowing it was a lie. We were looking to do another one like that. It had gone over pretty well and I was proud of it.
I wanted to do something where my wife and other moms could see that no one is really good at this. Everyone has their failures. Also, it was a dig at my mom. When she talks about raising me and my sister, she says, "There was never any hard days. Every day was a joy." I was there for those days! I was there when I was raised. I know I wasn't great all the time. I remember not being great!
It was definitely luck that [Emma Thompson] was booked for Mother's Day. We knew we wanted to do a video like that, so we were going to find a way to do it one way or another, but to have Emma Thompson was like, now we can do the best version of it!
Colin Jost and Michael Che Swap Jokes
December 15, 2018 and May 18, 2019: Jost and Che attempted to find the worst, most offensive joke for the other anchor to tell in these two "Weekend Update" desk pieces.
Michael Che, head writer: It was Colin's idea. I don't really know how he came up with it. We have a lot of jokes we don't use that might be too harsh, so I just find stuff that I've always wanted to use. That's the spirit of it, but I'll tweak it and rewrite it so that it sounds funny coming out of Colin's mouth.
Jost: It's the most terrifying and the most thrilling moment of my life to look up and see a cue card and not know what's on it and to know it was written by Michael Che. You don't have that experience ever in your life on live television, where you don't know what you're gonna say and you're really worried about what he might have you say.
I was hearing snippets of conversations during the day on Saturday [of the first sketch airing], and one of the writers for "Update" goes, "No way, you can't make him say that! You just can't do that. His career is over. That's not a word he can say!" I'm like, Oh my God, what is this going to be?
At the time, I didn't even think of how he could use that to exploit me. I was foolish to not even think about the consequences of that.
The first time we did it, the graphic that came up was Rosa Parks. Everyone in my family was like, "Oh, no. This is our son, our poor son. This is the end for him. It's over." I didn't even see the graphic the first time we did it, I was just reading the joke. Then this second time, the graphic came up and it was Martin Luther King Jr. and I did see the graphic. I was deeply worried about what was coming. I was almost relieved that it wasn't worse than what it was.
Jeanine Pirro on Weekend Update
May 18, 2019: Cecily Strong joined Colin Jost on "Weekend Update" as Fox News host Judge Jeanine Pirro, martini in hand, to stan for her beloved President Trump and lament her suspension from TV. Unfortunately for Colin, she spills as much as she drinks.
Tucker: I had seen Jeanine Pirro on TV two years ago and told Cecily that we should do a sketch on her. She's loud and kooky, and Cecily could do that well. We wrote a sketch for her that made it to dress rehearsal, but did not make it to air. I think part of it is she just was not in the consciousness as much. Luckily for us, Donald Trump has made her much more of a national celebrity.
We talked about doing Jeanine as an Update, a little less poignant and just a little more silly and fun. It was Cecily's idea to fall down, Cecily's idea to spit martinis in Colin's face. At one point, she wanted to sing, which we abandoned for the spitting. She really wanted to embrace her as a character, rather than a commentary on our times. We thought people had enough of that. It was time to just try to make it a little more fun.
There's so many shows that do commentary, and there seem to be more coming up every year. By the time we're doing it on Saturday, it feels a little bit like old news. What we used to have as an advantage over people is we could bring in new characters. We could have Kate McKinnon as Jeff Sessions or Beck Bennett as Mike Pence, but a lot of those characters have already been introduced to the world. We can make it funny, we can make it say something, but what we can't make it anymore is new. We're all looking forward to the Democratic primaries next year where we can get a new take on these candidates who are running.