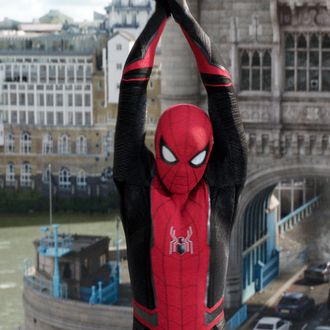 After a day of fan hand-wringing over the future of cinematic Spider-Man, Sony Pictures says it will continue on with the franchise without Marvel Studios producer Kevin Feige's involvement. "We are disappointed, but respect Disney's decision not to have him continue as a lead producer of our next live action Spider-Man film," Sony explained in a statement. "We hope this might change in the future."
According to several reports ahead of Sony's statement, Spider-Man was under threat of eviction from the Marvel Cinematic Universe if the two companies controlling the character's future couldn't come to an agreement over producing and revenue sharing. In 2015, Marvel and Sony brokered a deal to share Spider-Man that involved Disney co-financing Spidey movies in exchange for a share of profits and for use of the web-slinger in its sprawling network of interconnected films. That original deal ran out after this summer's smash hit, Spider-Man: Far From Home — which recently became the highest-grossing movie in Sony history — and the two studios have apparently been at odds for months over what a new operating agreement would look like.
News broke on Tuesday that Disney and Sony weren't finding their way to a middle ground, claiming a no-deal outcome would result in Marvel Studios losing access to Tom Holland's Peter Parker for its future MCU storylines, and Sony losing access to the ultra-successful guiding hand of Kevin Feige and the Disney machine behind him. The latter seems to have occurred, but the extent of the former is still unclear.
"[We] understand that the many new responsibilities that Disney has given [Feige] — including all their newly added Marvel properties — do not allow time for him to work on IP they do not own," Sony added in its statement. "Kevin is terrific and we are grateful for his help and guidance and appreciate the path he has helped put us on, which we will continue."
Deadline was the first to report on the troubled negotiations, saying that the conflict has, naturally, boiled down to money. And considering how lucrative these movies are, we are talking about lots and lots of money. Per Deadline, "It's easy to understand why both sides refused to give ground. Disney asked that future Spider-Man films be a 50/50 co-financing arrangement between the studios, and there were discussions that this might extend to other films in the Spider-Man universe." Sony reportedly turned that offer down outright and "just simply didn't want to share its biggest franchise. Sony proposed keeping the arrangement going under the current terms where Marvel receives in the range of five percent of first dollar gross, sources said. Disney refused." Reporting by BuzzFeed reiterates that a 50-50 financing deal would mean 50-50 profit sharing, too.
Before Disney acquired the Iron Man–led MCU that has dominated the global box office for a decade, a leaner Marvel Entertainment sold off some of its superhero assets. That's how it originally lost the X-Men, Fantastic Four, and Spider-Man. But thanks to the Disney-Fox merger, the Mouse House once again owns these heroes — save for the Sony-helmed Spidey. The trouble for Sony is that Spider-Man movies struggled in the Andrew Garfield era, while the MCU became a singular force in film. Now, Disney is seen as having saved the Spider-Man property by bringing the character into its Infinity Saga. (It's also worth noting that Marvel already owns the merchandising for Spider-Man.)
In 2019, Sony understandably wants to maintain the lion's share of profits after Far From Home's billion-dollar performance worldwide, particularly in light of Disney's already monstrous share of Hollywood otherwise. Based on reporting by io9, "a Sony representative said it's their belief this dispute is simply over a producer credit and negotiations are ongoing." But now that Feige has exited his role as a Spider-Man producer, it seems likely that a cinematic split between the two companies is on the horizon.
Regardless of his MCU status, Spider-Man and his associated characters are far from retired. Tom Holland is still reportedly set to return as Peter Parker in two more films for Sony, and Jon Watts is slated to return as director. Those movies have not been reported as compromised by this week's news, and Sony still has the Venom sequel in the works, along with a sequel to Spider-Man: Into the Spider-Verse.