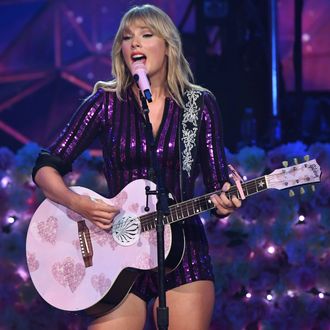 Taylor.
Photo: Kevin Mazur/Getty Images for Amazon
Hello, Lover! Taylor Swift's seventh studio album is here and ready to be streamed on a platform near you. It's been a long, winding, secret-code-strewn road, but we made it! Remember when Taylor performed at the Stonewall Inn for an audience of primarily Jesse Tyler Ferguson in the middle of Pride Month? Remember Taylor's Diet-Beychella-Lite drumline at the Billboard Music Awards? Remember when "ME!" still advocated for the fun of spelling? (Because we'd rather not!)
We've had three lead singles and one promotional track off Lover up until now. First was the aforementioned "ME!" — which, the less we afore-mention it, the better. Then came "You Need to Calm Down," which put the likes of the Fab Five, Hayley Kiyoko, and [checks notes] Jade Jolie in a trailer park and saw Taylor and Katy Perry squashing their beef patties. "The Archer" was a Sagittarian anthem released on day one of Leo season, and "Lover" recounts her "three summers"–long relationship with Joe Alwyn by way of the Hereditary dollhouse.
And the theories, oh, the theories! As always, Taylor has teased us with enough symbols to justify a third season of Mindhunter. The pastels and the butterflies seemed to mostly represent a tonal shift away from Taylor's snake-emoji-filled Reputation era toward something more poppy and optimistic. The numbers — like all of the 5's that appeared in her videos before the "Archer" release or the "ten" dice on her Instagram exactly ten days ago — mostly teased track listings and release dates. Most confounding of all was how Swift used queer imagery, rainbows and bi flag colors galore, in a way that baited Kaylor truthers but ultimately led to declarations of allyship.
And somehow, amid all this, she had time to extol the virtues of Digital Fur Technology before her upcoming role in Cats.
Lover is Taylor's first album with Republic Records, meaning she'll own its masters outright from the time of its release. Taylor started Thursday off with a Good Morning America interview where she announced that she will rerecord her first five albums, whose masters were bought by her nemesis Scooter Braun from her former label, Big Machine Records, in June. Later Thursday afternoon, Taylor did the absolute most on her live YouTube "Lover's Lounge" feature, premiering the third music video off the album and showcasing its tie-in Stella McCartney merch line.
Then we all had six hours to catch our breath. Whew. And now, after the Summer of Swift, Lover has arrived. The album clocks in at 18 tracks, all of which have writing credits from Taylor. Three songs — "Lover," "Cornelia Street," and "Daylight" — are solo Swift-written enterprises. Lover finds Taylor renewing her collaboration with Jack Antonoff from 1989 and Reputation for eight tracks. Producers and songwriters Joel Little, Frank Dukes, and Louis Bell also figure prominently. Cautious Clay and Sounwave join in on "London Boy." The Dixie Chicks grace us with their presence on "Soon You'll Get Better," which is a monumental collab. Another collaborator of note is Annie Clark, a.k.a. St. Vincent, who shares a credit with Swift and Antonoff on the Bananarama namesake "Cruel Summer." And Brendon Urie … well, we've all heard "ME!"
If you're not one of the almost-million Swifties who have already pre-ordered Lover, you can stream the whole thing here: