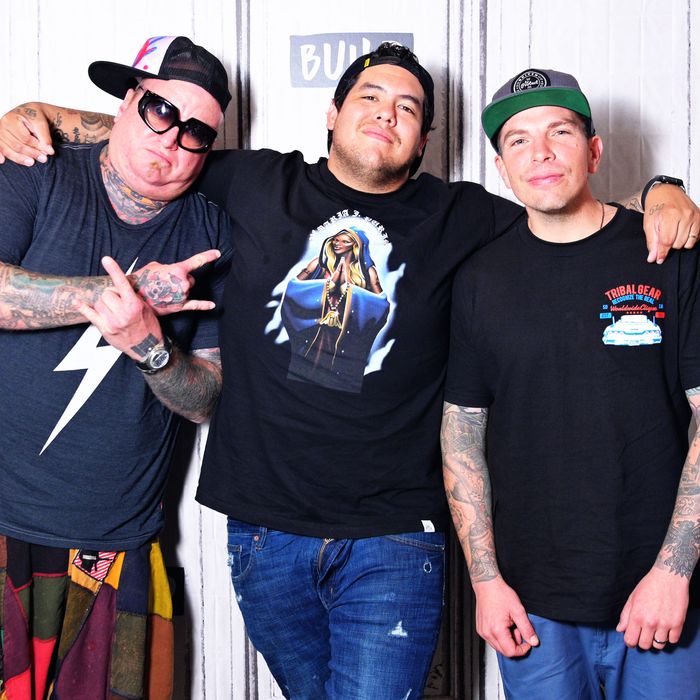 Sublime with Rome (currently: Eric Wilson, Rome Ramirez, and Carlos Verdugo) is an unlikely second act.
Photo: Michael Loccisano/Getty Images
Long Beach punk-ska legends Sublime's first act ended tragically in 1996 with the loss of singer and guitarist Bradley Nowell, but the music still lingers. "What I Got" and "Wrong Way" still carry the power to ignite public singalongs at parties from Los Angeles to New York City. Before the internet made having good taste easier, back when concerts, liner notes, television, and word of mouth were the main vectors guiding fans to new artists, Sublime was a musical education for the vigilant music nerd. The trio's 1992 debut, 40 Oz. to Freedom, blended sharp, irreverent originals with covers and samples of punk-rock lifers Bad Religion and the Descendents, ska greats Toots and the Maytals and the Melodians, jam titans the Grateful Dead, rap vet KRS-One, classical composer George Gershwin, and '50s rockers the Champs.
The sound was catnip for alt-rock radio in the years where acts like Beck, Fishbone, No Doubt, and the Beastie Boys were gaining cultural and commercial cachet across the country for torching rock and roll conventions. But Nowell's struggle with addiction got the best of him in the weeks before the release of the band's 1996 self-titled album, leaving it without a frontman at the doorstep of national fame. Sublime crept up the Billboard 200 into 1997 off the strength of the wistful, summery "Santeria" and "Doin' Time." After a two-album stint as the Long Beach Dub All Stars, remaining members Eric Wilson and Bud Gaugh regrouped with the young singer and guitarist Rome Ramirez as Sublime, settling on "Sublime with Rome" after Nowell's estate objected to the use of the original band name, of which he was technically the sole owner.
Sublime with Rome is an unlikely second act, an expansion of a beloved intellectual property that doesn't try too hard to change it or to mimic what made it great. Rome is a gifted songwriter getting a little better at the craft every time. Eric's bass is steady and catchy. The trio had some issues with drummers — Bud split in 2011 not long after a public outburst at a live show and was replaced by hard rock's man about town Josh Freese (Nine Inch Nails, A Perfect Circle, Rob Zombie), who, in turn, stepped out in 2017 to tour with Sting. Carlos Verdugo of the San Diego reggae unit Tribal Seeds mans the kit for this year's Blessings, an album that feels like a new dawn for a band that has had its share of stormy weather. The music is achingly pretty, and the lyrics — in highlights like "Spiderweb," "Blackout," and "Light On" — make Rome's unique experience of joining a band he loved since childhood feel captivating and relatable.
The guys seem rejuvenated, and they're having a lively summer. Eric played on Lana Del Rey's recent cover of "Doin' Time" at the singer's request, and the trio just turned up at Post Malone's Bud Light Dive Bar Tour stop to jam with him on "Santeria." Sublime with Rome stopped by the Vulture office on a day off from tour to discuss the past, present, and future of the band.
Your new song "Light On" describes the feeling of watching people grow up while you're not around. Does it sting, having to experience friendships from a distance on the road?
Rome: 100 percent. I wrote the song about my mom, and how every time I see her she looks older and older. It's different when you're with somebody all the time. You don't really notice when the wrinkles start to form and shape like that. People gain weight, lose weight. It's about constantly being responsible enough to make time for your loved ones, because motherfuckers get caught in the game, you know? They wanna win, win, win, win. It's at the sacrifice of time.
I like that song because it's a song that only you could write. You sort of grew up in this band, in a way. You were 21 when they picked you up. Did it feel like a tornado?
Rome: For sure. It was so fast. I went from only leaving California once when I was a kid to getting on airplanes and flying all over the world.
A lot of us can say we grew up with Sublime, but not everyone can say they grew up in the band.
Rome: I've been into Sublime since I was 11 years old.
Eric, was there a specific moment where you knew that Rome was going to be your lead singer?
Eric: When my manager said, "Rome is gonna be your new singer." [Laughs] I mean, I felt it before that.
Something about the new album feels different. Maybe it's that you picked up a new drummer, or that you picked up a new producer. Talk to me about how your process changed since the last two albums.
Rome: The majority of the records were already written lyrically as well as melodically, so when we got to the studio, we didn't spend any time waiting for my ass to come up with fucking hooks or some bullshit like that. It was just focusing on making the music sound sick.
Eric: We learned to live with each other and become like a family, and that makes a huge difference.
On the listener end, it feels like a solid lineup clicking into place. It's not that the band didn't feel like the band before. But this is a different animal.
Rome: We agree! [Laughs]
Eric: If you're not happy, you're not going to have a good outcome.
Rome: It's like marriage. You gotta have the right combination.
Eric: It's like being married to three guys! [Laughs]
Blessings talks a lot about appreciating what you have, and cutting off what's extra in your life. What was the inspiration?
Rome: For me it was just kind of chronicling the last ten years of this whole thing, from when we played our first show to today. I wanted to speak a lot about that specific part, and just how thankful I am. My whole life changed because of Sublime. It probably will affect my grandkids and kids after that. Shit's nuts.
Is it tricky trying to balance the band's past while pushing it into the future? Do you ever feel like there's expectations from the fans?
Rome: You can't fuck Sublime up. [Laughs]. We're like fire. You know? We've been a band long enough. We've got our albums down. We're playing a lot of new shit. Like, there's no filling Brad's shoes …
Eric: Yeah, but we ain't trying. We're not Sublime. We're Sublime with Rome. My favorite part of the show is when we're out there playing our new songs, and people already know the lyrics. We're doing something there.
So, it's not like fans are only coming to see the old-school stuff? They're really on board.
Rome: It was like that [where fans only wanted the old songs].
What changed?
Rome: Everything. Literally everything.
Eric: I didn't know if I was gonna be doing this a year or so ago.
What did you have in mind a year ago?
Eric: I would be happy just getting on a budget and living in a hotel room or something. We weren't that happy. We had a drummer … I'm not going to say his name. He's a good friend of mine, but in the band, he was like having a terrible girlfriend. He's also one of the greatest drummers, supposedly, in the world. So that had a lot to do with it. On the plus side, we've got Gabe [McNair], the trombonist for No Doubt. He plays keyboards, and he's an awesome guy.
I think that Sublime stuck with a lot of music fans because the mentality was ahead of its time. Right now, there's a lot of people in pop and rock music mixing aspects of reggae and hip-hop. This band thought of that 25 years ago.
Eric: We put all those elements in one song and made it cool. No one else did that.
No one else was putting kids onto the Grateful Dead in 1992. You also got a generation of kids into Bad Brains and Bad Religion who wouldn't normally have heard that stuff. New York City kids I grew up with … that stuff expanded our minds. There's something to be said for that.
Eric: We just wanted to be the Bad Brains when Brad was around. They played punk rock and then metal, and reggae, and mixed it in the same album, but not on the same song. There's no other bands that I can think of [who were doing that].
Rome: That was the Sublime formula.
Eric: A lot of people just didn't get it. We were mixing all our favorite influences, making it ours by putting it all together. Then you listen to it, and you're like, "What the fuck is this?" You got time signatures and dynamics, and the speed of the song changing. There was chemistry. It was fun. It was effortless.
Brad did a cover [of Half Pint's "Loving"]. He took lyrics from a B-side, in my opinion one of the not-good songs of Half Pint's library, and turned that into "What I Got." He's got legendary hits, Half Pint. I was a fan, but I'd never even heard that song before. I didn't remember it. Even after we recorded it, I didn't know it was a Half Pint song. I found out after Brad passed. Now, I'd say I'm really good friends with Half Pint. I did a long tour with him, hung out in the back of the bus, and talked.
The self-titled album was an insane moment, because the music was everywhere but Brad wasn't.
Eric: Imagine going to the award shows …
Jesus. It took you some time to get back to the idea of being in this band. What was the process?
Eric: It just happened, you know? We all met at a studio and jammed and got a song together, and then the manager that's our manager now had the big idea. He was developing the Dirty Heads, and then he heard us jamming, and he called me in and said, "Hey, man, Rome can sing." "Yeah." "You guys should restart Sublime." "Okay, but uh … Bud's really hard to deal with." So we went out and started that.
Carlos, talk to me about coming on as the new drummer.
Carlos: I was in a band called Tribal Seeds before and met these guys, and we vibed and hung out a lot and shit. We ended up really getting a good relationship and Eric lives pretty close to me in San Diego, so we hung out and chilled out and eventually I got to try out for these guys. I practiced a lot and it all worked out, so, here I am.
Eric: He's a perfectionist. He's hard on himself because he doesn't think he's all that good.
Whaaat!
Carlos: No, no. I still got a lot of work to do.
Eric: Don't put that on paper! [Laughs]
Rome: [Air typing] "Carlos is not confident." [Laughs]
It can be a little weird when a band gets back together with different members, but this isn't that.
Rome: Well, you can't fake [chemistry].
Eric: It was weird with a couple of older members, because when you wake up in the morning, and, someone's in a pissy attitude, like almost every morning, it's hard to have a good time. I started music for a good time, you know? And for myself and my group of friends. [Points to Carlos] He always has a fucking smile on his face. He's just got a great attitude.
Carlos: We have a good ass time.
Rome: We love our job.
Eric: [Rome] likes to drink, but he knows he can't drink before we go on.
Rome: It took me about ten years to learn that.
Talk to me about your new song "Blackout."
Rome: That's probably our favorite record, playing live anyway.
Carlos: That's my favorite one.
Rome: [Carlos] kind of co-wrote that as well. It was a demo. We were about to head out to Texas, and I was going through my hard drive looking for beats. I came across this demo that they did, him and one of my producers I signed. There was a part that I really liked, and I brought it over to the studio. It always becomes a whole different song once you put the band on it. From that point, man, weirdly I really wanted to touch on the feeling like you're always being put in the spotlight. You always have to be on ten and be perfect. Sometimes you wanna say fuck the spotlight and blackout.
I assumed it was a drinking song, but that could be me projecting.
Eric: I thought it was about Bud. [Laughs]
Rome: You gotta be able to perform. In my case now, as a husband and a father, looking out for my brothers and my family and everything, providing for my parents … it's all these pressures that come on. Sometimes you just wanna fucking pull the plug.
I feel that.
Rome: Don't!
Stay in the game, kids! Eric, you played on Lana Del Rey's cover of "Doin' Time."
Eric: It was really awesome because we recorded in this mansion that was owned by Charlie Chaplin … no, his manager. The producer [Andrew Wyatt] was really good. He wanted me to play some classic bass. So we did that. It went real smooth. Josh [Freese] was there, and I hadn't seen him since he was in the band with us, and I was happy to see him because I wasn't when I was in the band with him.
Rome: Whoa!
Eric: Now I'm different. Now we're buddies again. It's all good. We're not fucking each other anymore, you know, musically. I like him again. What were we talking about?
Lana Del Rey.
Eric: There was this 80-year-old lady [who played the harp] that was like part of the crew and shit. I wasn't there when she did it, but it sounded angelic, like a harp should. She did that instead of the vibraphone part on the original. That was awesome. I was supposed to meet Del Rey, but I couldn't wait because H.R. [of Bad Brains] was playing. I live in San Diego, and he was playing some little club in Hermosa, so I said, "All right cool."
That's incredible! You could meet a chart-topping pop star and you're like, "Sorry, gotta go to the H.R. show."
Eric: He's mellow now. He had brain surgery.
I think the commonality between your music and Lana's music is how California looms over it as a character. Talk to me about how the West Coast filters into your music.
Rome: Well, that's where Sublime started, you know? It pulled from a lot of different inspirations. A lot of East Coast hip-hop too. And obviously the implementation of music from the Caribbean and reggae and stuff. But I think it really resonates in Southern California, specifically. It put that style on the map. It promoted a lifestyle that people really wanted to be about.
Eric: Well, there's two lifestyles: there's one where you're on the beach, and you're surfing all the time, and everything's fucking bitchin'. You go a mile or two from that, and you're in the ghetto, and you're fucking strung out or whatever … That's happened to some people here. [Laughs] Seems like. Fucking walking around. You put those together, and you get Sublime.
This interview has been edited and condensed.