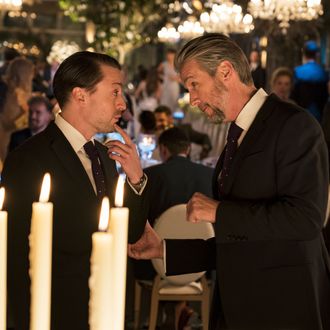 Connor Roy, on to something for once.
Photo: HBO
Amid the many weird, ultrarich hobbies that consume the Roy family on Succession, none are as strange as the hobbies that consume Connor Roy. The awkward half-brother of the family, Connor (Alan Ruck) is very interested in launching his libertarian presidential campaign, buying out the world's water supplies, and, as he reveals in Sunday's season premiere, buying "Napoleonica." Specifically, Napoleon's shriveled penis.
While meeting up with the rest of the family in "The Summer Palace," Roy's dealer alerts him that Napoleon's penis has just gone on the auction market, and he is very excited about it. Like much else in Succession, there's actually a large amount of truth here. Yes, Napoleon's severed penis is something that people have bought and sold. But no, right now, it's not on the market.
The story begins back after Napoleon lost the Battle of Waterloo, when he was exiled to the island of St. Helena. According to some accounts, when Napoleon died during his exile, the doctors cut up parts of his body, including his penis, and stole them away, because how better to continue to humiliate him? The penis's journey is hard to track after that point, but it supposedly reemerged on the market in London circa 1927 and then traveled around for decades — while the British tabloids made fun of its size — until John J. Lattimer, an American urologist, purchased it in 1997.
Now, the penis is in possession of John's daughter Evan Lattimer, according to Tony Perrottet, who wrote a book on the subject. Perrottet went to view the penis in question at the Lattimers' residence in New Jersey. In a phone interview with Vulture, Perrottet said he isn't sure of the penis's exact location because he's since fallen out with Evan, though he hasn't heard anything about it hitting the market. Sorry, Connor.
Now, for the important question: What does Napoleon's penis look like? In Succession, Willa describes the penis as sort of like a "strip of beef jerky," but Perrottet said it's more "pale and grayish. It's like a baby's finger, curled up." Curled up like a baby's finger? Honestly, that's a great Succession insult.