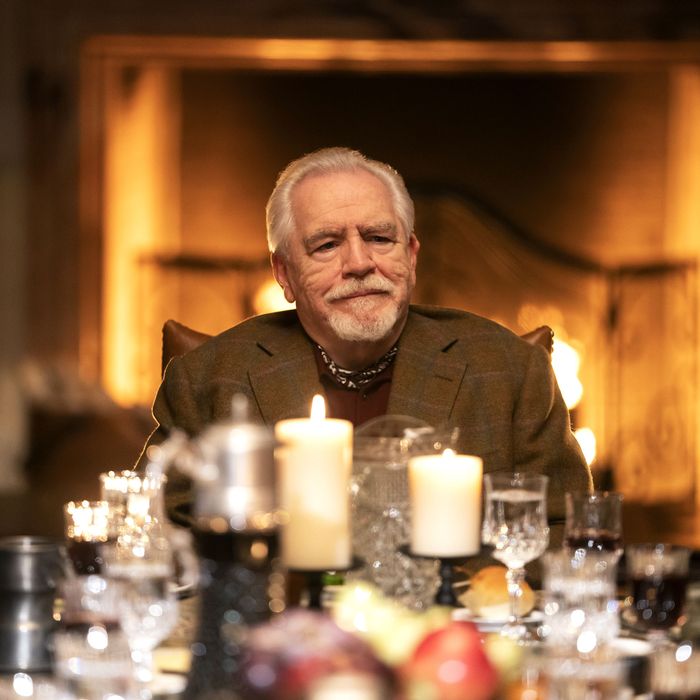 What if Logan is wrong?
So much of Succession is about the Roy children, those Large Adult Sons (and Daughter) scheming haplessly at the feet of the master, that it hasn't felt right to question whether the master himself has actually lost it. Logan's health issues were the catalyst for this entire drama, after all, creating a power vacuum that Kendall was particularly eager to fill. But the notion that the man who had built the company into a media Goliath was no longer mentally equipped to run it seemed like spin from those coveting the throne. And now that he's back and in command — "in command" being a euphemism for "ritualistically terrorizing everyone in his orbit" — there wouldn't seem to be any reason to believe his instincts aren't as sharp as they ever were. He's marshaling forces to beat back Sandy and Stewie's "bear hug," and he's nothing if not self-assured about his strategy to do it.
The first scene after the credits is an indicator that Waystar's leader may not be in full possession of his faculties. His doctor is concerned about his health and gently suggests that he step away from the company retreat and use the downtime to recover. Logan brusquely dismisses the advice, because the future of his business requires his attention. In the wake of Kendall's various failed betrayals, Logan has reason to be on the defensive, but fury may be clouding whatever part of his judgment isn't affected by his diminished mental capacity. In his not-a-meeting with Logan's biographer, Cousin Greg says "he can be scary, vindictive, paranoid, violent," and that's the only side we're seeing currently.
The bid to take over PGM, a respected news organization that's also a family business, run by the Pierces, reads like an act of pure vindictiveness. Logan's argument is that the PGM acquisition will make Waystar too big and unappealing for Sandy and Stewie to snap up, but the personal reasons can't be overlooked. Logan wants to stick it to his brother Ewan, who watches the network, and ATN would gain further influence as the premier news outlet/propaganda arm on cable. But all the characters we might recognize as smart people on Succession are together in thinking it's a bad idea: Gerri and Karl are actively whispering about it, Shiv hates it so much that she cajoles Tom into raising objections ("It's a snake eating a crocodile"), and even Kendall mumbles the very real possibility that a debt acquisition of that size "could be a reputational and financial disaster for all of us" before adding, "it's nonetheless extremely exciting."
"Hunting" lays bare the legitimate doubts about Logan that have been hiding in plain sight from the beginning. Poor, put-upon Frank gambled and lost by aligning with Kendall last season, but it says something that he was willing to take the risk on a man whose personal and executive weaknesses have been so painfully apparent at every turn. That's more than a bet on Logan's health — that's a bet on his decision-making, too. Those who have been around Logan for a long time aren't necessarily surprised by his behavior in Hungary — it's Karl who oinks the loudest when ordered, as if he knows how these things go — but they're not persuaded by him in the least. They've been cowed into playing sycophants, but they're desperate and determined to keep this mistake from happening.
For Roman, it's a terrible trap. Of all the siblings, he's the most spineless, someone who likes to throw around loose, provocative talk, but caves instantly when tested. He bailed on Kendall's "no confidence" vote last season, and he bails in little ways this episode, when he tries to object to Frank's return to the fold ("If you bring him back I am walking … back to my office") and when he attacks Kendall for backing their dad on a deal he also supports. ("I love it, but that's my honest opinion.") For the second time, Roman treats a business transaction like a trip to Party City: At Shiv's wedding, he hurried the satellite launch as a "surprise," which resulted in unintended fireworks, and in "Hunting" he uses his girlfriend's connection to the Pierce family to set the table for the deal his father wants.
The look on Kieran Culkin's face when Logan calls Roman "a moron" is utterly crushing. That's the strange magic of this show: For a scabrously funny satire about the miserable scoundrels who rule the world, the tragedy of it stings harder than seems possible. Roman is vicious, arrogant, and unfeeling, the type of guy who's thrilled that his grievous mistake only maimed a few people he'll never meet. But he's reduced to a quivering child in this moment. His father hasn't questioned his judgment, like calling this specific maneuver moronic. He has branded him permanently, with a scalding hot iron. Gerri visits him the next morning to help pick up the pieces, but like a child, he cannot even button up his shirt. The thought of Roman having any sort of power recalls Tyrion Lannister's assessment of young Joffrey Baratheon on Game of Thrones ("We've had vicious kings and we've had idiot kings, but I don't know if we've ever been cursed with a vicious idiot for a king"), but he's been perpetuating his father's abuse, like a good boy.
Meanwhile, Shiv is free and clear from the whole mess. She may fail in her mission to prevent Connor from posting his idiotic tax video on Instagram, but getting left out of the corporate retreat turns out to be a blessing in disguise. If she were in Hungary, she'd have been asked her opinion of the Pierce deal like everyone else and she's the type to be honest about it, which would have done her no favors. (Neither would lying. The point of "Boar on the Floor" is to punish everyone for their collective disloyalty.) She gets to send Tom on the suicide mission of defying Logan while treating herself to a pretty/dumb actor on the side. While Logan rants and rages over "snakes in the fucking basket," Shiv is quietly executing power, without a drop of sweat on her. She doesn't need three years of management training to do the job.
Sad Sack Wasp Traps
• Gerri really should be the one who runs the company, and would probably be devastatingly effective if she wasn't forced to spend so much time politicking. Typically understated on the Pierce deal: "It's an interesting challenge, because last time we tried it, their surrogates called us cultural vandals and poison in the well of public discourse."
• Great to see the veteran character actor Danny Huston get a nice role for himself as Logan's financial adviser. His description of the Pierce play ("It's delicate, like French-kissing an armadillo") is a solid line-of-the-night contender.
• Photos of the ultrawealthy hovering over endangered animals is real-life stock villainy, from the Trump children to the Jimmy John's owner. "Hunting" lays out the essential cowardice of these big-game hunts, where the action is staged by guides ("we're just shooting piggies in a barrel") and the kills are tough-guy photo ops. At least the Waystar executives eat the boar.
• Shiv's assessment of Connor's political ambitions is absolutely leveling, but he seems accustomed to tuning such things out. He's basically Howard Schultz, the Starbucks CEO who's been flirting with a presidential run should the Democrats fail to nominate someone sufficiently moderate enough not to raise his taxes. Shiv is impressed by his consultants ("Those are serious guys. They're fucking pieces of shit."), but isn't certain he has the common touch. ("You think if you're looking down on the elites from this penthouse, maybe it's indicative of something?")
• One mark against Shiv is that her attempt to use Tom as the tip of the spear presumes a sharpness that isn't present. He doesn't want to voice his disapproval of the Pierce deal. He wants to survive like everyone else. And so his solution is perfectly invertebrate: "I think that people think of me as a kind of leader because there was an issue that they wanted raised, but don't you be under the impression that I'm against what I'll say I'm against."
• More classic Greg/Tom material to add to the highlight reel. Tom gently chiding Greg for revealing information he can turn against him later is sage yet sleazy, but his greeting is funnier, describing Hungary first as "war-torn, spooky, anti-Semitic, vampire-y, authoritarian Europe" before adding, "Hey Greg, it's good to see you."
• Regular decanting is pouring wine into your fucking mouth. Shiv is many of us.