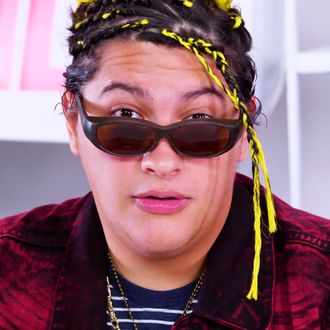 The former Super Deluxe series
Cheap Thrills
.
Photo: Tatered/YouTube
It appears that the Super Deluxe brand has fully disappeared from the internet. The comedy site and production company, which was officially shut down by Turner last year in part due to AT&T's acquisition of Time Warner, popped back into the news in May when a group of comedians and filmmakers who had previously produced work for the outlet discovered that their videos had disappeared from the Super Deluxe YouTube channel. With the exception of Super Deluxe series Thrift Haul, Cheap Thrills, and Stoned Mode, work by Tim Heidecker, Vic Berger, Jamie Loftus, Brandon Wardell, Dean Fleischer-Camp, and more had been mysteriously removed from the channel, which a Turner rep later explained to Vulture was because they had to "go through a standard rights auditing process." Sometime between May and now, however, the channel was moved to a new home on AT&T's WarnerMedia, Fullscreen, that decided to rebrand it to — wait for it — Tatered. The Super Deluxe Facebook page has also been rebranded as @TateredVideo, while its Twitter and Instagram pages have yet to be changed.
According to a former Super Deluxe employee, former staffers have been aware of the rebrand for the past few weeks, and the news has been "divisive." A handful of them, however, are reportedly working on new content for Tatered, which will begin to release new videos in the coming weeks. A rep for Fullscreen did not confirm anything on the record, but the rebrand suggests that Fullscreen wasn't interested in the Super Deluxe brand so much as its audience — it currently has over 1.6 million YouTube subscribers and over 4.1 million Facebook followers. It's unclear whether or not the videos that went through the "rights auditing process" will ever return to the channel or what kind of content Tatered plans on releasing. One thing the former Super Deluxe staffer did confirm? "Everyone universally seems to hate the name."
This good-bye Super Deluxe post on Instagram from last year sums it up pretty well:
Note: This article has been updated to clarify that Fullscreen is owned by AT&T's WarnerMedia, which also owned Super Deluxe.