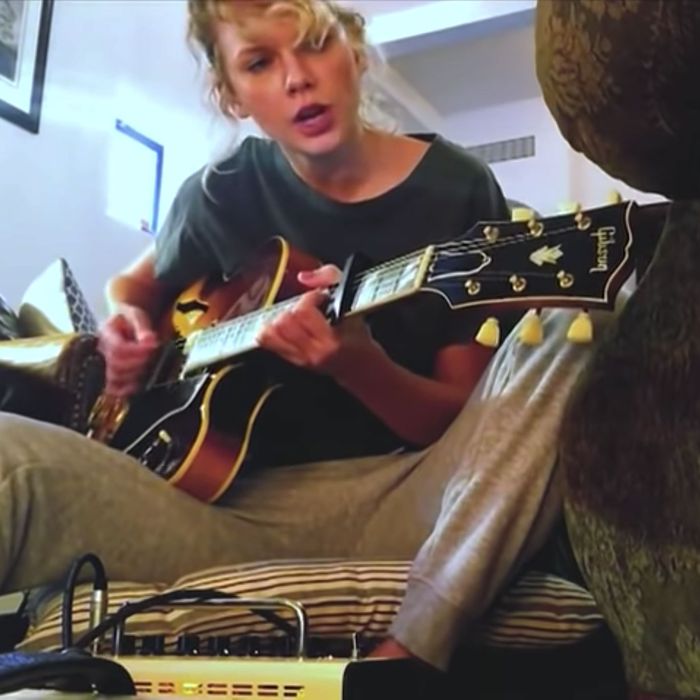 Taylor Swift writing "King of My Heart" in her Cornelia Street rental.
Photo: YouTube
In the first verse of "Cornelia Street," a song from her new album, Lover, Taylor Swift sings, "'I rent a place on Cornelia Street,' I say casually in the car." They're quite literal lyrics, inspired by the Greenwich Village apartment she briefly rented a few years ago, and Swift continues to sing about how hard it would be to walk down that street again if her lover ever left her after all the memories they shared there.
Former Soho House executive David Aldea owned the home that serves as the muse for the song for 15 years and rented the townhouse to Swift in 2016.
Aldea admits he wasn't even sure who she was at first.
"I'm afraid to tell you this, but I will tell you this: I really didn't know her," he says. "I'm just not a pop-culture guy, and I even said to someone, 'I'm meeting a person named Taylor Swift who wants to rent my home.' Now, mind you, I knew her songs because I had them on my running playlist. I just didn't match the name to the song. I know, it's silly."
After he realized who the pop star was, he figured it was some kind of joke. But it wasn't — and Swift's management team told him she needed the place right away. ("As I understand, she was undergoing some renovations [at her Tribeca townhouse]," Aldea says.)
Once Swift saw the place in person, Aldea says, she instantly fell in love with it.
"She walked in, and I'll never forget this — she said, 'Oooh, it's so crafty,'" Aldea recalls. "And in Taylor-speak, that means 'I like everything.' She asked if she could rent not just the house but my style as well. So towels and dishes and glassware and furniture and just kind of 'Take your clothes and go.' So I did. She was an absolute delight to deal with."
He left the 5,500-square-foot townhouse about two weeks later and moved down the street into another penthouse.
Aldea, who works as a consultant to start-up companies, is the visionary behind 23 Cornelia Street. What started out as a two-story house was transformed into a four-story home with four bedrooms, five and a half bathrooms, a swimming pool in the living room, and a white marble staircase.
The home also has several outdoor spaces, Aldea says, and Swift references the roof in "Cornelia Street."
"She was probably talking about the outdoor space off her master bedroom, because I had that set up as sort of an outdoor living room," Aldea says. "And there's artificial turf on the ground and stuff, so it felt like you were outdoors but indoors, and there was a fireplace outside. It was very, very private."
The roof is also referenced in "King of My Heart," a song from her previous album, Reputation; in a Making of a Song video, Swift films herself writing its first few lines in Aldea's home.
Aldea has rented to other celebrities, such as French Montana, but says the home is perfect for someone as famous as Swift because of its privacy and garage.
"It was ideal from a security perspective for her because her SUV could pull into the garage, the garage doors would be closed, and from the outside, it kind of looks like a fortress," Aldea says. "You never really see anything from the street. All the windows are facing up or facing behind."
Even with its security, Aldea says it took only about four days for TMZ and the paparazzi to figure out Swift lived there.
"It was a zoo on the street for probably the first two months," he says.
There was even a security scare once, Aldea says. His mailman told him the home's alarms were going off and the door was wide open. Aldea called Swift's security team, and they told him to stick his head in the door to see if he could hear anything. He didn't, so he left the premises, turned off the alarm, and then security did a sweep of the house.
"In the end, I think her brother had been there and just didn't close the door properly or something like that," Aldea says.
Even after Swift moved out of the townhouse in 2017, Aldea says fans left bouquets of flowers and invitations on the doorstep for months.
And since Swift released Lover, Aldea says friends have been texting and calling him about "Cornelia Street." He takes the song as a compliment.
"I'm so honored, to be honest," he says. "I put my heart and soul into building, designing, and decorating this house, and for somebody like Taylor to come along and see what I saw and love what I loved, love what I created, it was a total compliment and I will always be grateful to her for that. And when I heard the song came out, I just thought to myself, Wow, that is the most incredible sort of thank-you and nod that anyone could ever get."