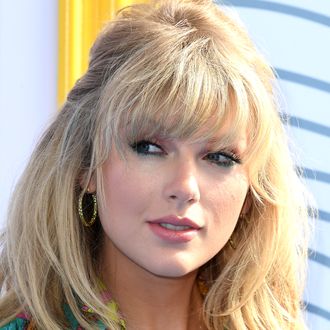 Photo: Steve Granitz/WireImage
The old Taylor Swift is back with the release of her new album Lover, but with all those corkscrew curls and cats, a new Swift has also risen from the glitter: A politically outspoken one, who has expressed remorse that she didn't strongly speak out against Donald Trump during the 2016 presidential election. In a new interview with The Guardian (which was excerpted earlier this week), Swift confirmed she voted for Hilary Clinton and said two main factors went into her silence: Her lack of general political knowledge, and knowing the catastrophic backlash the Dixie Chicks received for criticizing George W. Bush in 2003.
"I come from country music. The number one thing they absolutely drill into you as a country artist, and you can ask any other country artist this, is 'Don't be like the Dixie Chicks!'" Swift recalled to The Guardian. "I watched country music snuff that candle out. The most amazing group we had, just because they talked about politics. And they were getting death threats. They were made such an example that basically every country artist that came after that, every label tells you, 'Just do not get involved, no matter what.'" She added, about her lack of political education: "I hate to admit this, but I felt that I wasn't educated enough on it. Because I hadn't actively tried to learn about politics in a way that I felt was necessary for me, making statements that go out to hundreds of millions of people."
Swift wound up collaborating with the Dixie Chicks on her final Lover track, "Soon You'll Get Better," a devastating (and deceptively simple) love ballad. As for the 2020 election, she's going to be all-in, whether you like it or not.