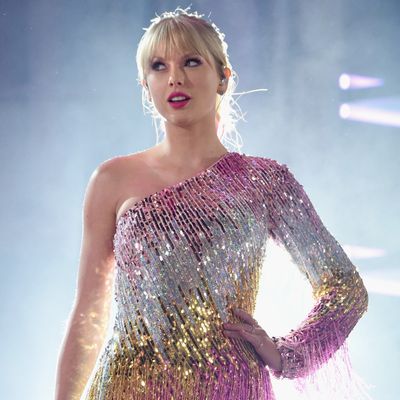 This is a great sentiment to kick off the album after
Reputation.
Photo: Kevin Mazur/Getty Images for dcp
The diabolical laugh in the last chorus of Taylor Swift's "I Forgot That You Existed" is my energy for 2019. Senseless cruelty is tough to grasp. You live with the immediate effects, the hurt and self-doubt that stew in your thoughts during the worst of it, but then you dwell on what motivates people to act on their worst impulses, to betray trust, to tear each other down. The letting go can be as bitter as the strike itself. The wondering why can cloud your mind long afterward, like the pervasive smell of smoke that follows a fire. The feeling is quite like having another person take up residence inside your head, soaking up time and emotional resources just making you angry. "I Forgot That You Existed," the opener to her new album, Lover, is about the day the fog lifts, when you manage to put enough time between your bad days and your present that they start to slip your mind.
This is a great sentiment to kick off the album after Reputation, where Taylor Swift took a swan dive into the feelings of anxiety and resentment she experienced after a rough-and-tumble press cycle in 2016. "Forgot" is much subtler than the loud signaling at the beginning of the "ME!" video, where the previous album's snake explodes into a kaleidoscope of rainbow-colored butterflies, but it's no less passive-aggressive. It's self-care as snark. The best revenge is securing the inner peace required to make your naysayers' worst sound irrelevant, then chuckling at the idea that they might still be out there somewhere seething while you're getting on with your life. The song revisits the trenchant snarl of early hits like "Mean" and "Picture to Burn" through the production values of Swift's newer music.
"I Forgot That You Existed" also signals Lover's intent to scale back the feistier hip-hop flourishes of the last album. The song namechecks Drake's "In My Feelings" and taps the Canadian rhymer's frequent collaborator Frank Dukes for production, but the beat, an uncluttered volley of piano hits and finger snaps, hews closer to the Chance the Rapper school of impossibly chipper motivational pop-rap than the trap values Reputation summoned in order to accentuate the singer's heel turn. It's a recalibration that steers the artist in another direction without divorcing the new music from the pre-existing catalogue, which is the primary objective of a great first track on a pop album. On that front, "Forgot" is a success.