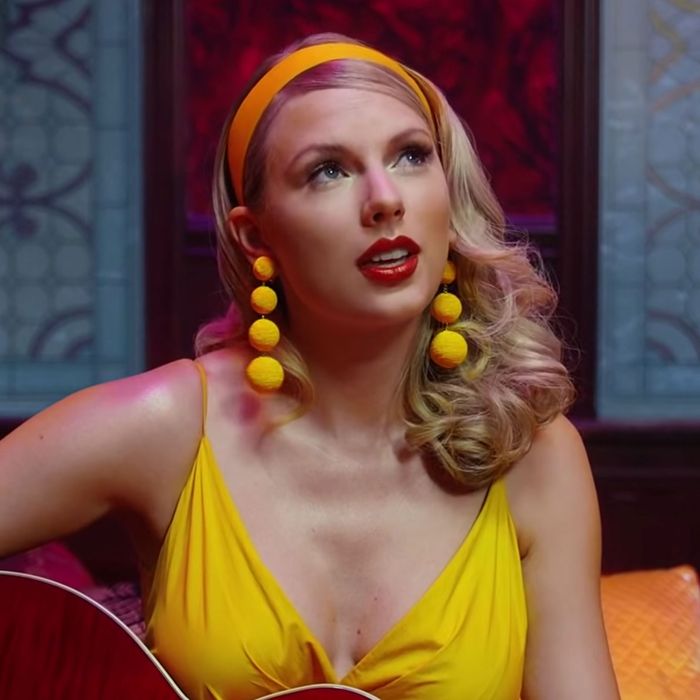 Lover
is revealed to be a diaristic exploration of the experience of Being Taylor Swift.
Photo: Republic Records
Taylor Swift fumbled 2016. A lot of us did, in a way. It's arrogant to believe that things will always turn out the way we need them to. This is true of people whose blind faith in the inevitability of progress was swept out from under them last Election Day. This is also true of Swift's movements that year, which suggested an artist with an unwise faith in her ability to marshal the public perception of her art and image. Avoiding political endorsements to keep from fracturing the fandom only led to deep public criticism and dodgy factions irrationally reading her silence as veiled support. Playing the tête-à-tête with the Kardashian-Wests over lyrics in Kanye's "Famous" as though there were clear heroes and villains, when the truth was knottier than that, is the kind of mistake you make when people have taken you at your word for so long that you begin to get too cozy with it. Swift's memorable tagline from that era — "I would like to be excluded from this narrative" — was deeply telling. It must have been unnerving for a writer who deals in story songs with sharply defined characters and a solid sense of right and wrong to suddenly find herself designated the villain in real life. The fallout from that era — the walking backward into cars to avoid paparazzi cameras, the rumors about traveling inside giant suitcases — was the chilling image of someone publicly adjusting to a new reality.
Reputation was a natural reaction to the backlash. The general order of responses to getting dragged in the court of public opinion is to hit back and defend yourself on impact, and then, when the smoke gets too thick, and you find yourself being misrepresented in ways too great to resolve in short order, to bide your time with people who know you well enough to trust your intentions while you sort out how to avoid the guillotine next time. Reputation split the difference between playing the heel and seeking out the company of a lover. (The singer's romance with British actor Joe Alwyn, supposedly memorialized in 2017's "Dress," is believed to have begun around this time.) As keen of a social experiment as that album was, it is in the moves Swift has made since that the lessons learned in her 2016 spin cycle have manifested. Last fall, she backed Tennessee Democrat Phil Bredesen in his race for the Senate in a post on Instagram credited with spiking voter-registration numbers for the month. The rollout of her seventh album, Lover, began with some vocal advocacy for LGBTQ-rights issues and will continue this weekend, in a forthcoming interview with the Guardian, with the singer's sternest rebuke yet of the president's politics. She seems more at ease having the prickly conversations she used to handle with strategic silence. She's mobilizing her base.
If Reputation documented Taylor Swift's dark night of the soul, Lover is daybreak. (In a chat with fans last night, she noted that the album was nearly named after its closer, "Daylight.") The cover artwork, a pastel study of pink clouds and blue skies, feels like an organizing philosophy. Lover finds Swift getting back to the business of writing aching, universal love songs, and business is good. After "I Forgot That You Existed" sages away the bad vibes, the album stretches out over its hour-long running time, exploring the ins and outs of love. It's frequently giddy, like a friend enumerating the virtues of a love interest you've yet to meet. "I Think He Knows" blushes about physical features that make the singer's heart flutter. "Paper Rings" approaches a crush like a school research project, obsessing over his social-media profiles and books that he loves. The level of detail in these songs calls back to the Taylor Swift of old, whose characters were drafted with novelistic specificity. Personal haunts are name-checked — from "Cornelia Street" to the West Village shoutout in "False God," this is Swift's most New York-centric album since she barreled into town on 1989. (Though the 16th Avenue she skips down in "I Think He Knows" is likely Nashville's country-music hub Music Row. More on that in a bit.) Taking inspiration from her own love affair, she's crafted a song cycle celebrating the sensation of meeting someone you'd happily spend the rest of your life with.
Lover's not all pink hearts, yellow moons, and orange stars, though. It's not just Swift's fairy-tale ending. "If the story's over," "Death by a Thousand Cuts" asks, "why am I still writing pages?" Balancing out lyrics about admiration and co-habitation are songs that explore the pitfalls of relationships. "The Archer," "Afterglow," and "Cornelia Street" touch on self-sabotage in bad breakups. "Miss Americana and the Heartbreak Prince" is a deceptively layered "us against the world" tune that opens on the scene of a high-school romance, complete with a chorus mimicking a cheerleaders' call-and-response. By verse two — "My team is losing, battered and bruising / I see the high fives between the bad guys" — the story starts to look like a diorama of the grift and stress animating 2019, albeit one cleverly disguised in Taylor Swift Connected Universe tropes like crestfallen teenagers and prom scenes. "You Need to Calm Down" rebuffs internet trolls; "The Man" wonders how much more work the singer could get done were she allotted as many passes and privileges as her male counterparts. The inclusion of these songs alongside the ones about shacking up reveals Lover to be a diaristic exploration of the experience of Being Taylor Swift.
Woke overtures fit into the wider strategy of using Lover to reposition Taylor Swift at pop music's center. (For years, she was the holdout in a landscape where singers used their music to poke at pressing issues while continuing to express and explore the self. Katy Perry's Witness treaded loudly into this territory in 2017, and Lana del Rey is voicing her politics more directly with songs like "Looking for America," joining vets like Beyoncé and Lady Gaga in balancing the needs of the audience and the pet sounds of the artist.) Reputation addressed the same urge via hostile takeover, employing hip-hop sounds and iconography, and in the process perhaps overcompensated for the relative reluctance of 1989 and Red to play on those fields. Lover travels miles in 18 tracks. "Forgot" dabbles in the peppy church-pop of Chance the Rapper, while "The Archer" casts itself in the image of an '80s synthpop torch song. "Paper Rings" toys with pop-punk; the pretty guitar figure at the base of "Death by a Thousand Cuts" carries a whiff of the Beatles' "Blackbird." You still get a heaping serving of Swift's synth-heavy trademark sound, but working with producers Jack Antonoff, Joel Little, and others, she's created a more pleasing iteration of it than the last album was able to muster. It's enticing and also structurally impressive, an obstacle course of smart turns of phrase and bridges that build tension as its choruses rocket into the stratosphere.
Lover's most surprising twist is its country undertones. The title track visits the autumnal Americana Jenny Lewis perfected when Rilo Kiley broke up, and "Soon You'll Get Better" taps the Dixie Chicks for elegant backing vocals on a quiet acoustic number that could be the album's most personal. "Better" tackles the return of Swift's mother Andrea's cancer with grace and frailty, offering a word about summoning the courage to put on a brave face for someone weathering a serious illness even as you privately fret about how much longer they can handle it. The lyric at the song's bridge — "I hate to make this all about me / But who am I supposed to talk to? / What am I supposed to do / If there's no you?" — is a painfully honest expression of the thought spirals that happen when someone you love is not well. It shatters the mask Swift donned to hide her feelings in the Reputation era. It's the closest to complete candor we could expect on a record from a singer who treasures secrets, riddles, and strategic distance. Taylor Swift's willingness to open up about her desires, her fears, and her politics makes Lover the most complete full-length she's delivered in years. She's off the defensive, finally, and back to coolly breaking hearts.