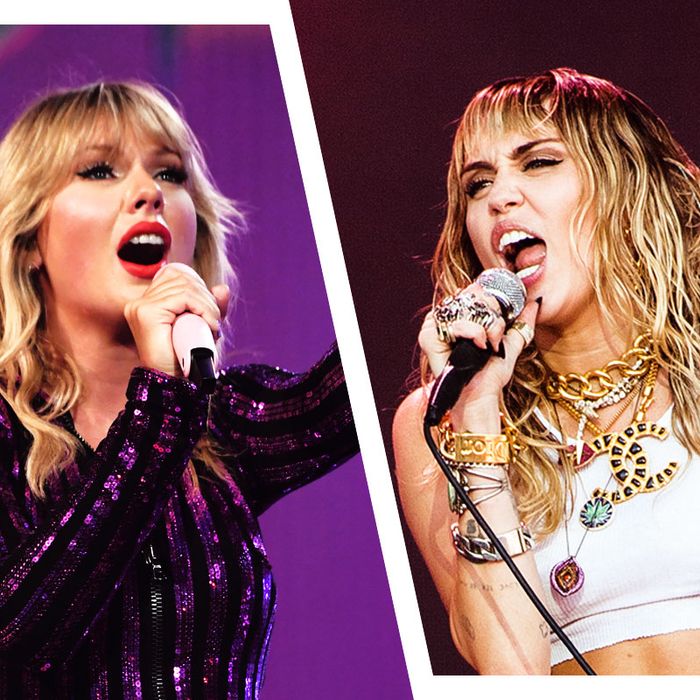 Miley Cyrus and Taylor Swift both released new songs today that filter their country lineage through the prism of their growth in the years since.
Photo: Vulture and Getty Images
Taylor Swift and Miley Cyrus are Nashville prodigies who walked away from the flock in search of a larger platform, and although their destinations have differed greatly, their paths are not without parallels. Both stars sought freedom of expression in hip-hop, and both succeeded at the cost of arousing the suspicion of the community. Cyrus's Bangerz scored hits but raised hackles for the speed at which it coopted and later dramatically abandoned southern strip-club culture. Swift's Reputation took up hip-hop values like a sword and shield in the wake of a storm of negative press; she recently told Vogue that the album was an act of embodying the character she felt the public had foisted on her during a tiff with Kanye West, and has since eased off the cheerful depravity of "Look What You Made Me Do" and "I Did Something Bad." The previews of Swift's forthcoming Lover are all positive vibes. Cyrus has walked back some criticism of hip-hop's political and lyrical content while gearing up to return to pop on this year's She Is Miley Cyrus. Cyrus and Swift both released new songs today that filter their country lineage through the prism of their growth in the years since.
Swift's "Lover" is the turn in a string of singles geared toward making the listening audience feel better about itself. "Me!" and "You Need to Calm Down" are empowerment anthems of a sort, the former in its proud affirmations and the latter in its tired dismissal of people who spend too much time trying to bring others down. "Calm Down" was Swift's power play as a queer ally; the video was a Who's Who of LGBTQ luminaries from Olympian Adam Rippon to pop's "Lesbian Jesus" Hayley Kiyoko to actress Laverne Cox to the cast of RuPaul's Drag Race. (The single was well-received, though reservations about the singer contributing to the commercialization of Pride linger.) "Lover" is the ideological inverse, a song about shutting out the world and shacking up with a significant other one assumes to be her boyfriend of three years, Joe Alwyn, presumably for the long run. It's the quietest music to come out of her collaboration with pop producer Jack Antonoff since Reputation's closing piano ballad "New Year's Day." The smoky low end is reminiscent of '90s country and country-adjacent gems like the Cowboy Junkies cover of Lou Reed's "Sweet Jane," or Mazzy Star's "Fade Into You," but in burying pretty piano and guitar notes under a hokey walking bass line in the interest of effecting a slow build, "Lover" doesn't take flight until the last chorus.
Cyrus's "Slide Away" manages to feel quiet and intimate without any flatness. Producers Mike WiLL Made-It and Andrew Wyatt mix hip-hop drums, warm guitars, sweeping strings, and layered samples as Cyrus eulogizes her marriage to actor Liam Hemsworth, a split made public mere days ago as rumors swirl that the singer is seeing reality star and blogger Kaitlynn Carter (after her split from The Hills' Brody Jenner). "Slide Away" isn't vindictive or tabloid-y. It's just about knowing when to cut your losses and move on. The music suits Cyrus's voice, pushing her without overwhelming her. The mix doesn't sound like anything else from this decade; this is the kind of record the gifted British singer-songwriters landed on at the end of the '90s, when everyone started jet-setting around genres and playing with samples. It's much more like Blur's "Tender" or the Verve's "Bittersweet Symphony" than anything on Bangerz, Dead Petz, or Younger Now. A fitting end to a ten-year period of wild swings and big changes would be for Cyrus to find sturdy middle ground between her jibing interests and make a record that sounds like all of her all at once. Time will tell.
"Lover" and "Slide Away" play like opposite sides of the same coin. Taylor Swift shot out of Nashville to become pop music's picture of chipper Americana, and after a bit of turbulence, she seems to want nothing more than a quiet place to retreat to when the rigors of life in public get her down. Miley Cyrus ping-ponged between running from the normie life and leaning way into it, partying with rappers and psych-rock bands and then disappearing into married life. She seems to want a life less ordinary … but not too out of the ordinary. If there's anything to be gleaned from these singers' divergent walks, and the ease in their voices as their music briefly revisits the factory default setting, it's that there's no stress-proof way to live in the public eye, but when you do get tired, you can always come back home.