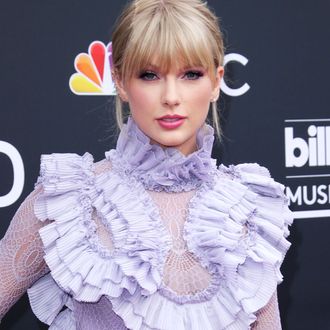 Taylor Swift.
Photo: Matt Baron/Shutterstock
Taylor Swift has a lot of explaining to do.
The singer–songwriter–Cats star spoke to Vogue for its September cover, touching on everything from the 2016 election to the drama with Scooter Braun to why being an LGBTQ+ ally is important to her now. Finally, no more Easter eggs or vague Instagram posts. It all started when Todrick Hall asked her what she would do if her hypothetical son was gay. "The fact that he had to ask me … shocked me and made me realize that I had not made my position clear enough or loud enough," she told Vogue. "If my son was gay, he'd be gay. I don't understand the question." So, she decided to get really loud about it, advocating for the Equality Act, highlighting LGBTQ+ artists and activists, and scrubbing homophobic lyrics from past songs. Just being the best ally she could be. (Emphasis on ally, Kaylor shippers: "I didn't realize until recently that I could advocate for a community that I'm not a part of.")
When it comes to choosing who or what to advocate for, Swift finds herself in a tricky spot. Take, for example, the 2016 election (remember it?), which happened right around the time Taylor Swift was being canceled. Swift decided not to publicly support Hillary Clinton because she thought their narratives were too similar. "Would I be an endorsement or would I be a liability?" she explained. "Look, snakes of a feather flock together. Look, the two lying women. The two nasty women." Now, she's making up for lost activism. (And potentially endorsing Cory Booker?)
The Lover era isn't just rainbow-colored music videos and drag queens, though. It's happening just as Scooter Braun, who Swift accuses of bullying her, gained control of her masters, owning all six of her previous albums. Last fall Swift decided to switch labels to Universal Music Group, leaving her masters behind at Big Machine Records only to be sold to Scooter Braun in June. "It was either investing in my past or my and other artists' future, and I chose the future," Swift defended her move to Universal. It's not clear if she'll try to get her masters back eventually. The future has new music, like an unreleased track from Lover called "The Man," which she sampled for Vogue.
"The Man" is a "thought experiment" à la "If I Were a Boy" by Beyoncé, where Swift tries to imagine what her career would be like if she were a man. "If I had made all the same choices, all the same mistakes, all the same accomplishments, how would it read?" she wondered. Lyrics played for Vogue include: "I'd be a fearless leader. I'd be an alpha type. When everyone believes ya: What's that like?" Seeing as half the music industry rallied to defend her after Big Machine's sale and the fact that 65,000 people registered to vote after she posted about it, Taylor Swift might have an idea of what being an influential leader is like. But, go off, girl! Beautiful gowns.