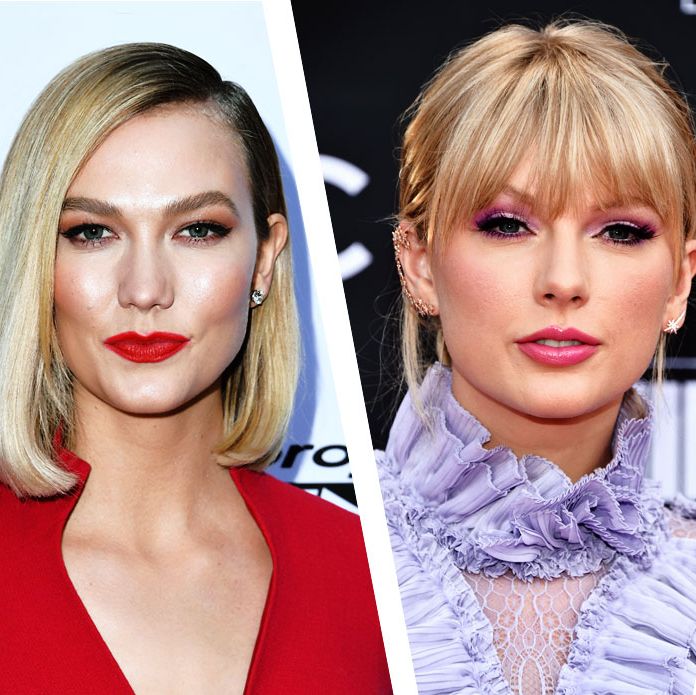 It's just like watching a reality show.
Photo: Getty Images
For better or for worse, Taylor Swift's "squad" has become just as much a part of her brand as "writing about boyfriends" or "cats" or "trying too hard." And as annoying as it must be to have all of your interactions with your friends be misinterpreted as some sort of Illuminati power play, bringing (white) women together to bolster their positions in the entertainment industry, it's also not that far from that. At the end of the day, it's just like watching a reality show: The Fourth of July parties are special episodes. The drama with Kim Kardashian West is a crossover episode. And we're rewatching every season. Over the years, the squad has transformed, taken on new members, and let many, many go. Ahead of Lover and just after her feud with Scooter Braun, get a refresher on Taylor Swift's squad below.
September 2008: Katy Perry and Taylor Swift meet at the VMAs right as Taylor's stardom is about to take off. Surely they'll be friends forever!
2008: Taylor Swift and Selena Gomez meet while dating two-thirds of the Jonas Brothers. Taylor was dating Joe, Selena was dating Nick, and although those relationships didn't make it, their friendship did.
September 13, 2009: A day that the world will never forget. Kanye West jumps onstage at the MTV Video Music Awards and steals the mic from Taylor Swift. You didn't need a reminder, but pocket that for later anyway.
April 15, 2010: Katy Perry and Taylor Swift perform "Hot n Cold" together. Pals!
2012: Taylor meets Ed Sheeran through their management. It's a collab made in heaven, although their first song together, "Everything Has Changed," won't be out until later that year. Welcome, Ed, the first male member of the squad.
January 17, 2012: The pop star tells Vogue that she wants to bake cookies with Karlie Kloss, then Kushner-less. Karlie is happy to! Fans almost instantaneously create archives of content all about Karlie and Taylor falling in love.
August 22, 2012: Lena Dunham tweets all about how much she loves Taylor's music. Taylor responds saying she loves Girls, which is maybe when we all should've predicted the performative clusterfuck that is the Lover era.
Also, Katy Perry and John Mayer (a.k.a. Taylor's ex, a.k.a the John in "Dear John") begin an on-again, off-again relationship that lasts two years.
October 22, 2012: When Red comes out, the liner notes have a secret message: "ASHLEY DIANNA CLAIRE SELENA." Ashley Avignone, her stylist; Dianna Agron (Glee); her hometown BFF Claire Winter Kislinger; and Selena Gomez all get a little thank-you.
February 10, 2013: Lena Dunham gets her wish. She and Taylor hang at the Grammys and its special and lovely, and who invited Lena Dunham to Beyoncé's Grammys? 2013 was so weird. Even weirder: Katy Perry attended with her then-boyfriend John Mayer. Just BFF things!
March 16, 2013: MTV asks Haim who they think Taylor Swift should date next. (She's just come away from her fling with One Direction's Harry Styles.) "T.T. Swift, don't date someone else," Alana Haim replies. "Come out with us, and we will party, and we will be together as girls and be merry and we don't need guys."
November 12, 2013: Lorde & Taylor grab Shake Shack together. To be honest, this is an ideal hang. Crinkle-cut fries, Madison Square Park on a crisp fall day? Sold. This isn't the first time they've hung out, though. Taylor sent Lorde flowers after a performance, and they hung out after the Grammys earlier that year.
November 13, 2013: While taping the Victoria's Secret Fashion Show, Taylor hangs out with Cara Delevingne, Lily Aldridge, and Martha Hunt. Lily and Taylor had actually already met at a Kings of Leon concert. We won't be commenting.
November 7, 2013: During this time, the Aramis and Porthos to Taylor's D'Artagnan were having an indirect feud. Lorde thought Selena's "Come and Get It" was objectifying women. Selena highly disagreed. To be fair, no one really knew what feminism was until Beyoncé explained it at the 2014 VMAs.
December 7, 2013: Just ahead of the fashion show's air date, Martha Hunt shares a snap of Taylor.
December 13, 2013: Taylor celebrates her 24th birthday in Melbourne with Lorde. There's a weekend of events, including a dinner and a garden party.
February 6, 2014: Taylor, Cara, and Ed have a little jam sesh at the U.S. ambassador to the United Kingdom's house. Taylor shared the moment on Instagram, but it's since been deleted, perhaps a victim of the Reputation rebrand. So many men lost.
March 2, 2014: Taylor Swift meets Gigi Hadid for the first time at a Harvey Weinstein Oscars party. Yikes all around.
March 5, 2014: On their way up California's coast, Karlie Kloss and Taylor Swift take a pit stop at the beach to enshrine their love. How many fan fictions has this photo graced?
July 4, 2014: Taylor throws her very first Fourth of July party at her home in Rhode Island. History is made. Lena Dunham attends.
August 23, 2014: Taylor credits Lena Dunham with her feminist awakening (as if she wasn't at the 2014 VMAs when Beyoncé spelled it out with her ass). "Becoming friends with Lena — without her preaching to me, but just seeing why she believes what she believes, why she says what she says, why she stands for what she stands for — has made me realize that I've been taking a feminist stance without actually saying so," she explains to The Guardian. Sounds almost exactly like what she recently told Vogue about her relationship to LGBTQ+ community.
September 8, 2014: Rolling Stone takes a tour of Swift's home. Inside one of four bedrooms, there's Karlie Kloss's favorite Whole Foods snacks and a rack of vintage nightgowns that Taylor and Lena Dunham wear all day long. Okay, Little Women.
Taylor also opens up about the "mysterious" celebrity she's feuding with. "She did something so horrible," Swift says. "I was like, 'Oh, we're just straight-up enemies.' And it wasn't even about a guy! It had to do with business. She basically tried to sabotage an entire arena tour. She tried to hire a bunch of people out from under me. And I'm surprisingly non-confrontational — you would not believe how much I hate conflict. So now I have to avoid her. It's awkward, and I don't like it."
September 9, 2014:
October 27, 2014: Taylor Swift's fifth album, 1989, comes out. The deluxe edition comes with a bonus song, "You Are in Love," co-written by Jack Antonoff, Lena Dunham's then-boyfriend. Dunham calls it her "someday wedding song." And this is why we don't count chickens before they hatch, people.
October 30, 2014: Karlie and Taylor crack open a cold one courtside at a Knicks game.
December 13, 2014: Taylor Swift's 25th birthday party is attended by Karlie Kloss, Beyoncé, Jay-Z, and Haim, among others.
January 24, 2015: Haim and Taylor jet off to Maui.
February 13, 2015: Karlie Kloss and Taylor Swift cover Vogue together. That's an unbreakable bond, and yet.
March 4, 2015: Taylor Swift kindly throws newcomer and longtime fan Camila Cabello a birthday party! Haim and Selena are there.
April 30, 2015: Lorde holds Taylor Swift's foot and the internet is like … "What?"
May 17, 2015: The Bad Blood music video comes out. It's an obvious dig at Katy Perry, but truly that's not even the remarkable part. It's that Taylor Swift got Mariska Hargitay to be in a music video. Notably, the only Real Squad Members are Selena Gomez, Cara Delevingne, Martha Hunt, Karlie Kloss, Gigi Hadid, Lily Aldridge, and Lena Dunham. Selena Gomez plays the villain, wearing a blunt black bob that looks oddly like a certain other pop star.
June 27, 2015: Martha Hunt, Kendall Jenner, Serena Williams, Taylor Swift, Karlie Kloss, Gigi Hadid, and Cara Delevingne take the stage with Taylor at her concert in London.
July 3, 2015: This year's Fourth of July party includes Martha Hunt, Haim, Ed Sheeran, and Gigi Hadid! Gigi is currently dating Taylor's ex, Joe Jonas, so he and Nick come along, too.
September 21, 2015: YouTuber Todrick Hall uploads a cover medley of four Taylor Swift songs. She finds it, loves it, and they become good friends.
November 15, 2015: Kendall Jenner drinks bird saliva instead of answering which Taylor Swift squad member she likes the least. Thanks, James Corden.
February 11, 2016: Karlie Kloss and Gigi Hadid attend the Yeezy Season 3 fashion show. Karlie posts, then deletes, a photo of her Yeezy sneakers. Gigi tweets that just because she was at Kanye West's fashion show where they played that Kanye West song that features a lyric her friend claims she isn't comfortable with doesn't mean that she supports the song or the person who wrote the lyric. Dating Taylor's ex? Attending Yeezy shows? Gigi Hadid is the worst squad member and we love her for it.
February 14, 2016: Kanye West releases the song "Famous" (only on Tidal) that famously features the lyrics "I feel like me and Taylor might still have sex / Why? I made that bitch famous." Taylor Swift denies signing off on the line.
One important note: At this point, Kanye West and Karlie Kloss are both being managed by Scooter Braun. Kanye drops him soon after, but Karlie remains close to Scooter to this day.
June 25, 2016: The "Famous" music video features a naked (wax) Taylor Swift in bed with about a million other celebrities. Taylor doesn't comment, but Lena Dunham has something to say!
July 4, 2016: July already? Ruby Rose, Haim, Taylor's then-boyfriend Tom Hiddleston, Gigi Hadid, Blake Lively, Ryan Reynolds, Martha Hunt, and Karlie Kloss are in attendance at Taylor's annual Illuminati meeting.
July 17, 2016: Kim Kardashian West posts footage of Taylor Swift agreeing to the lyric in "Famous" on Snapchat. Happy National Snake Day! Selena Gomez doesn't comment on it, but she doesn't not comment on it. Martha Hunt and Ruby Rose also tweet their support for Taylor. Katy Perry takes the opportunity to promote her song.
July 18, 2016: Taylor Swift maintains that she never agreed to be called "that bitch."
July 20, 2016: Kendall Jenner, BFF to Gigi, favorites tweets supporting her sister. No direct correlation, but fun to note that Kendall and Taylor were both connected to Harry Styles.
November 8, 2016: Taylor Swift, party planner extraordinaire, throws Lorde a birthday bash fit for a royal. Lena Dunham and Karlie Kloss come!
February 15, 2017: "When I was lesser known, I was like, 'Who could not share their opinion?' Then I found out that when you talk about politics, people straight up tweet you the floor plan of your house and say they're coming to your house," Lena Dunham defends Taylor Swift's silence during the 2016 election. "You have to fucking watch it because people are nuts."
May 18, 2017: Katy Perry's "Swish Swish" drops and fans suspect the confrontational lyrics are about Taylor Swift.
May 28, 2017: Kim Kardashian West says Kendall Jenner was never part of Taylor Swift's squad.
June 11, 2017: "I forgive her and I'm sorry for anything I ever did, and I hope the same from her," Katy Perry tells Arianna Huffington about her feud with Taylor. "I think it's actually like, I think it's time. There are bigger fish to fry, and there are real problems in the world."
June 12, 2017: While performing "Swish Swish," Katy changes the lyrics to "God bless you on your journey / Oh, baby girl" instead of "Don't you come for me / No, not today."
June 19, 2017: "It's like having a friend with very specific allergies," Lorde explained her relationship to big celebrities to The Guardian. "There are certain places you can't go together. Certain things you can't do. There are these different sets of considerations within the friendship. It's like having a friend with an autoimmune disease."
June 20, 2017: She takes that back, actually.
July 7, 2017: Lorde basically says she's not in Taylor Swift's squad.
But she takes that back, too.
August 14, 2017: Amid Taylor's groping trial, Lena Dunham and many more celebrities publicly support her.
August 27, 2017: Taylor Swift drops a brand-new music video for "Look What You Made Me Do," and it's all about getting revenge. Todrick Hall features as a dancer. And at the end, there's a T-shirt filled with names, like when friends signed your shirt on the last day of school. Names that made it? Ed Sheeran; Danielle, Este, and Alana Haim; Selena Gomez; Claire Winter Kislinger; Abigail Anderson; Blake Lively; Ryan Reynolds; Todrick Hall; Lily Aldridge; Martha Hunt; Lena Dunham; and Gigi Hadid. Lorde, Cara Delevingne, and Karlie Kloss didn't make the cut, I guess! Also missing: Kendall Jenner, but fans think she was specifically called out through a snake tattoo and thigh-high orange boots.
October 20, 2017: "Gorgeous" drops. It features Blake Lively's daughter, James, at the beginning of the track.
March 16, 2018: Karlie to the New York Times: "Don't believe everything you read."
May 8, 2018: Katy Perry sends Taylor Swift an actual olive branch and a note.
July 14, 2018: Gigi Hadid and Taylor Swift reunite at one of Taylor's concerts!
August 26, 2018: Karlie attends the Reputation tour, too.
October 18, 2018: Karlie Kloss marries Josh Kushner in an intimate wedding upstate. According to Elle, 80 guests attended, but Taylor Swift doesn't make it. She was in Perth, Australia, on the Reputation World Tour.
December 31, 2018: Taylor shares a photo of her New Year's Eve costume party! Gigi Hadid and Blake Lively are the only squad members to attend.
January 10, 2019: Taylor Swift posts a photo on her Instagram with Selena Gomez and Cazzie David, daughter of Larry David and ex-girlfriend to Pete Davidson. Welcome to the squad!
March 9, 2019: "In my twenties I found myself surrounded by girls who wanted to be my friend," Taylor explained in an essay for Elle. "So I shouted it from the rooftops, posted pictures, and celebrated my newfound acceptance into a sisterhood, without realizing that other people might still feel the way I did when I felt so alone."
March 14, 2019: Karlie Kloss tells Andy Cohen that she and Taylor are still close. "Taylor is incredible and I feel really lucky to call her a friend," she said.
April 23, 2019: Taylor attends Gigi Hadid's birthday party.
April 24, 2019: Martha Hunt and Ashley Avignone help Taylor prep for the Time 100 Gala.
June 11, 2019: Katy Perry tags Taylor in a photo of a plate of cookies with "Peace at last" written on the side. Baked goods are the cornerstone of the squad.
June 17, 2019: The "You Need to Calm Down" video features Todrick Hall and Katy Perry. Their feud is officially, formally over.
June 24, 2019: Karlie Kloss and Josh Kushner have a second wedding in Wyoming. This time, celebrity pals like Katy Perry and Scooter Braun are in attendance. Taylor Swift is not. Instead, she was working on a new music video.
June 30, 2019: News breaks that Scooter Braun has purchased Taylor Swift's former record label, including masters for all six of her previous albums.
July 1, 2019: Taylor's "grossed out" about the news. She insinuates in an open letter that Scooter Braun has been behind all of the bullying she's faced, likely referring to the Kim Kardashian West–Kanye West debacle. Cara Delevingne, Martha Hunt, Todrick Hall, Haim, and more comment on the situation in support of Taylor. Ed Sheeran's comment is that he's "speaking directly with [Taylor]." Camila Cabello unfollows the talent manager. Kendall Jenner likes Scooter Braun's wife's post defending him.
July 7, 2019: Lorde, Taylor Swift, and Haim exit a plane using umbrellas to hide their faces. It sounds just as ridiculous as it looks.
July 12, 2019: Ashley Avignone likes tweets suggesting that Karlie and Taylor are no longer friends.
July 22, 2019: Katy Perry attends a Kamala Harris fundraising event hosted at Scooter Braun's house. Do olive branches have expiration dates?
August 10, 2019: Karlie Kloss goes on vacation with Scooter Braun and his wife, Yael Cohen. All smiles! Notably, Karlie doesn't post a picture with him in it, but he does.
August 14, 2019: Cazzie David shares a selfie of herself, Taylor Swift, Danielle Haim, and Este Haim with the caption "Lover(s)." The squad will never die!